---
India Budget Accommodation
Pushkar in Rajasthan
---
"Reviews of accommodations in Pushkar, Rajasthan"
"India Budget Accommodation Pushkar" was last updated on April 13, 2012
All information below is subject to change
Looking for a place to stay in Pushkar? :-)
Pushkar is a small town catered towards tourists and backpackers. So, that means plenty of sleeping options; from budget to more luxury variants.
I only spent a couple of days in Pushkar (March 2011), so I only stayed at Hotel Oasis.
Fear not, I will add more reviews to this page as I stumble upon them.
Hotel Oasis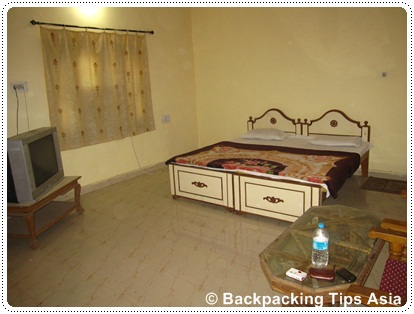 India Budget Accommodation: My room at Hotel Oasis
Price per night: Rs 500 (single non-AC room), Rs 1200 (AC double room)
During Pushkar Fair, the rates go up: Rs 1200 (non-AC room), Rs 2200 (AC double room)
Internet: 30 min = Rs 10
The reason I chose Oasis is because they advertised on their website that they had a swimming pool.
I arrived at this hotel around noon. The Indian manager was very friendly and nice. What struck me at first was the two wall clocks hanging behind him.
One stating the time for India, and one for Israel.
The manager told me that the hotel was almost fully booked and that they had one room left. He told me several times that I should take a look at the room first before I made a decision.
Based on this behavior, I sensed the last room was the worst room they had.
And boy, I was right.
During the day, I looked into my neighbor's rooms and they looked cleaned and less shabby.
India Budget Accommodation: Bathroom at Hotel Oasis




My room was worn out. They hadn't even cleaned the room when I arrived, so I had to wait for the cleaning boy to appear.

The toilet was disgusting, it was still brown with things I don't want to even mention here. It looked like someone had taken a dump everywhere in the bathroom.

I still decided to take the room because I REALLY wanted to take a dip in their swimming pool.

Even if I said 'yes' to the manager about taking the room, he still asked: Is the room OK? Are you sure?

So, he was not trying to sell me a bad room. Even if I had pre-booked a room a couple of days in advance, he still gave me a chance to not accept the room and move on to another hotel. I really appreciated that.

I would just advise you to not choose this room. The manager will probably tell you that.
India Budget Accommodation: This is one of the better rooms at Hotel Oasis
The major drawback of this hotel was the trance parties played all night long. I'm not exaggerating.
I only slept for 2 hours before I had to wake up to catch a bus. The trance party stopped around 04.30 in the morning. The walls are thin at this place, so you can hear everything.
For Israeli backpackers, I think this place is very good. A sociable place.
I didn't encounter any other nationalities at the hotel. To me, it was a hotel that catered towards Israeli travelers (hence the Israeli wall clock). Israelis are cool people. I got to know a lot of Israelis in Goa back in 2007.
But for me, I prefer a combination of nationalities. I didn't get to try their swimming pool either because they were in the process of cleaning the water. It was ready in the evening, but I was on a camel safari then.
Best-rated accommodation in Pushkar
Here are some suggestions on where to sleep in town:

Hotel Mama Luna: from Rs 150 per night
Read reviews of Hotel Mama Luna at TripAdvisor

Atithi Guesthouse: from Rs 250 per night
Read reviews of Atithi Guesthouse at TripAdvisor

Hotel Kanhaia Haveli: from Rs 300 per night
Read reviews of Hotel Kanhaia Haveli at TripAdvisor

Inn Seventh Heaven: from Rs 950 per night
Read reviews of Inn Seventh Heaven at TripAdvisor
Return to top of India budget accommodation
Have A Great Tip on Where to Sleep in Pushkar?
Got any recommendations for where to sleep in Pushkar? Or maybe you own a guesthouse and want to promote it?

Share your story, tip or review of a hotel or a guesthouse you like! :-)

PS: I reserve the right to delete a submission if it's not original, duplicate content, or if it's too short.

By original I mean the content is NOT copied from another website. That also means your own website. I will check if the content you provide is duplicate or not. Sorry for sounding strict, but I aim to deliver excellent and original content to my readers - that's my priority no. 1.

Any submission below 300 words will be deleted.
---
Other pages you'll enjoy:

---
---
Do you need help with your itinerary for India?
Don't want to miss out on the must-see's in the country?
Don't know how to travel around in India?
Map Your Adventure India is a step-by-step guide on how to create itineraries.
I will help you create a good itinerary - one you'll never forget.