---
Cambodia Food:
Review of the food
in Phnom Penh
---
"Cambodia food" was last updated on Dec 28, 2013
All information below is subject to change
Looking for cheap Cambodian food in Phnom Penh?
Finding food in Phnom Penh is not a problem!
The cheap restaurants and street food are scattered at the food area at Central Market and some around Sihanouk boulevard, while the more "expensive" restaurants are located in the famous Sisowath Quay located by the river.
You'll find delicious cuisine in Phnom Penh: Khmer, Chinese, Vietnamese, Nepali, Indian, Lebanese, Thai and Western.
It's all there for you, and you have to try it! It's clear that international dishes have reached the capital of Phnom Penh - a city with economic growth!
Your cheapest option?
Eat at food stalls (like noodle stands), or pick up some cheap street food from vendors walking inside the market area.
Find food vendors along the riverside, selling goodies like baguettes, fried noodles, fresh fruit shakes, or the popular sugar cane juice! Ah, great Cambodian food!

Here are some prices for you!
Baguettes: Between 200-500 riel
A bowl of noodles and vegetables: From 2,000 riel
Fruit shakes: From 1,500 riel
Curries: $1-2
Bottle of water: From 500 riel (depends on the brand)
Watch out when buying water from food vendors - check if it's tampered with!
Frizz Restaurant
You're going to be impressed by Frizz' large selection of food!
Their traditional Khmer dishes were delicious - I especially enjoyed the vegetarian tofu with coconut milk and potatoes. And you should definitely try the mouthrunning Amok (fish meal)! Amok is the national dish of Cambodia and it is said that Frizz makes the best Amok.
And if you're up for Western dishes, they have that as well: Mexican burritos, pasta, sandwiches etc. Most dishes cost between $ 2-6.
They've got weekly specials including main dishes, salads and appetizers. Worth a visit!
Want to learn the secrets of Khmer cooking and Cambodian food?
Frizz also provide cooking classes for $ 23 (full-day) and $ 15 (half-day).
If you're a vegetarian, the dishes can be adjusted! ;-)
An English-speaking cook will first take you to the market to buy all the ingredients you need, and explain why and what the various vegetables, herbs and spices are good for. Then... it's show-time!
For more information, visit their website. (opens in a new window)
Address: No. 67 Street 240.
Capitol Restaurant
Cheap cheap Khmer and Western meals and therefore popular among backpackers!
Most meals cost less than $2. You can get Khmer, Vietnamese, Chinese and Western food. And you have to try the Vietnamese fish soup! Or the chicken with chips!
Capitol restaurant is part of Capitol guesthouse.
Where: 14 A Street 182
Russian Market
"Toul Tom Pong"
Fortunately, Russian Market is a lot more than clothing and souvenirs. If you get hungry, they sell a variety of meals near some of the entrances. Inside, there's a type of food court where they sell fresh meat, sea food, vegetables and fruit.
Where: South of Mao Tse Tuong Boulevard
Cafe Yejj
Before diving into shopping at the Russian market, stop by Café Yejj and grab a decent coffee! What so great about this place is that they help unprivileged people, especially women. We enjoyed this place, it was calm and the coffee was the best we tasted so far in Cambodia.
Price range: We tried the Starbucks cappuccino ($3) and a local double espresso ($1.25), and fresh pineapple juice ($2.25).
Where: By the Russian Market, #170, Street 450
Website: Cafe Yejj
Metro Bar and Cafe
| | |
| --- | --- |
| | Food at Metro Bar |
If you're damn tired of Asian food and want to try something else, I recommend you Metro Bar.
Yes, the food is pricier, but we thought it was worth every penny. They had this great mini burgers and bacon salad with balsamic (balsamic is rare in Cambodia). My boyfriend tried the satay grill, and it was perfect!
Price: Most dishes cost between $8-15.
Where: Corner Sisowath Quay and Street 148
Foreign Correspondents' Club
(FCC) Restaurant and Bar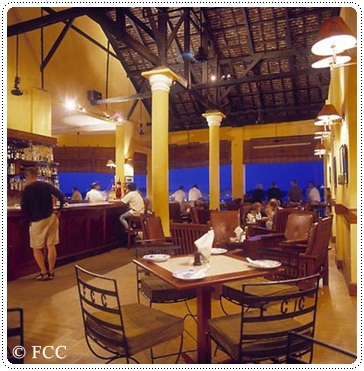 FCC is really a stylish "expat-club" where fries come in special torch-like "plates" and the food cost more than a two-days backpacker budget!
If you want real pizzas, you definitely have to go here. I can understand why a lot of people come here - FCC is probably the restaurant with the best view of the river. I think it's a great place for backpacker couples who want to splurge and take a romantic dinner in town!
Did you say Happy Hour? Yes, they have Happy Hour from 5pm to 7pm.
Prices: We tried the Tomato and Pepper pizza ($9.50), just a small bottle of water cost $2, espresso ($2), fresh juice ($3.30).
Where: South of Sisowat Quay, next to Happy Painting
Riverside Restaurant
At Riverside you'll find Khmer and Western food. My boyfriend was craving for a real steak, and so we stopped by Riverside. There was so much to choose from the menu, but I ended up with beef lasagna ($ 8.50 and which I missed for weeks!) and my boyfriend got to dig his teeth into a juicy tenderloin steak ($18). Great food!
Where: Sisowath Quay, near Metro Bar
Other Restaurants
The restaurants below are not tried and tested by the author
Lazy Gecko Cafe

Lazy Gecko makes decent food - both Cambodian and Western.
But if you're tired of Southeast Asian cousine, try the burgers at Cozy Gecko ($3-4). They have of course other Western meals on the menu - like pizzas.
Where: Lazy Gecko has moved to 1D, street 258 after Boeng Kak was 'shut down' for development. Lazy Gecko has also a guesthouse.
Le Liban
The fact that Phnom Penh can offer you Lebanese food tells us that this capital is more international than what meets the eye!
Prices: "mezzes" from $2-6, meat and fishes $10-15.
Where: Number 3, street 466, near Thai and Indonesian embassies.
Frog and Shamrock
What sets it apart from other restaurants is its love for English food and Irish stew. They also serve Khmer beef loc lac ($4), deep fried frog ($3.50), mince beef and onion pie ($6).
Where: 175 Sisowath Quay
Nordic Bar
If you're Scandinavian and missing Norwegian meat balls, this is the place to go! They offer Scandinavian specialties, and this is a rare opportunity in Cambodia :-)
Where: Number 22, Street 136, just off the riverfront
---
| | |
| --- | --- |
| Further reading: | Like this page? |
Return to top of Cambodia food

---
---