---
Reviews of
hotels in Manila
---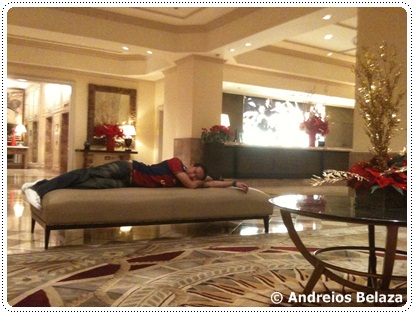 All prices listed below are subject to change
Last updated on Dec 26, 2013
Manila was last visited on Jan 10, 2010
Considering splurging during your travels in Manila?
Most of the luxury hotels in Manila are spread around Makati City, along Makati Avenue.
Makati is the posh, financial and commercial district of this giant capital.
We spent time at Mandarin Oriental Hotel, while my cousin Andreios Belaza and his friends stayed at one of the 5-star hotels in Manila - Intercontinental Hotel in Makati City.
Here's our reviews!
Review of
Mandarin Oriental Hotel
CLICK ON ONE OF THE PICTURES TO START THE PHOTO GALLERY!
Price per night: from PHP 5,500 (internet rate superior room - for December high season)
Mandarin Hotel is truly an exciting and astonishing hotel, with all the amenities you need.
I spent two nights at this hotel with my family and boyfriend.
Our Deluxe room was exquisite in terms of interior, cleanliness and space. Indulge in a large and comfortable bed, and relax in a hut tub. Walk around with a puffy, white bath robe and new, white slippers. It's a hotel dream!
Their large bathroom is one of a kind, with hot showers, hot tub, marble walls and a large sink. They change towels every day.
Downstairs they have a restaurant, called Paseo Uno, where they serve breakfast buffet. There's so much fresh food there that you have to return several times to try each and every one :-)
On the menu: Filipino dishes like sinigang, adobo and various fish meals. Dessert is cakes and fresh fruit.
If you're not a guest at Mandarin Hotel, the price for a buffet is PHP 1,300 per person. For guests it's PHP 843 for the regular breakfast buffet (internet rate).
Near the reception there's a hall with green glass (very cool). At the end of the hall, you'll find the restaurant.
The staff is professional and very helpful. When me and my boyfriend wanted to go to Manila Ocean Park, they arranged a private car with air-con (PHP 1,000) that brought us there. Later on they picked us up (we had to call them 30 minutes in advance).
Where: Makati Avenue Makati City 1226, Metro Manila.
The hotel is located in the heart of Makati. Only a walking distance from shopping malls, restaurants and bars in Makati.
Review of
Intercontinental Manila
Price per night: Starts at 6,516 PHP (King deluxe non-smoking room, high season)
Note: We paid about 14,500 PHP per room for one week when we stayed at Intercontinental Hotel in December 2009.
Since we were attending a wedding in Manila during this time, the wedding planner helped us arrange a special deal for us since we were 16 people and were going to stay there for a while.
What so great about this hotel in Manila is its central location. Just outside your door you have the popular Glorietta Mall, arrays of restaurants and shops. So you don't need to take taxi to get around Makati - everything you need is just a couple of steps outside the hotel.
Another great thing is the Intercontinental's service: they were professional and helpful. They can help you with anything: from arranging taxis and rides to giving you advice about which attractions to visit in Manila. They were eloquent and informative - no wonder Intercontinental is a 5-star.
A funny story: After a wild night at Hard Rock Cafe, some of us got pretty drunk. On our way to the rooms we had to pass the swimming pool. One of us couldn't hold it and threw up in the pool :-S Some of the security men of the hotel came over to us, and asked if everything was alright.
You would think that they would react to the fact that one of us was throwing up in their expensive pool, but they were more worried about the well-being of my friend.
The room: Clean and comfortable room! I'm used to small beds at hotels, but at Intercontinental the bed was large and comfy. We could look out the window and find a nice view of Glorietta Mall.
Free wi-fi is available at Intercontinental (I think it only worked in the lounge), and for us flashpackers that's a huge advantage!
Food was included in the room price. The breakfast buffet was unbelievable – it was a colorful combination of lunch and dinner buffet, and not the ordinary toast and jam :-)
The only thing I can put my finger on is the life at the hotel.
In the middle of the night, we would hang in their lobby to hook up with the others. Intercontinental is a hotel in Manila where hundreds of international business people spend their nights.
We noticed that some of these business men would bring beautiful women, and then come down again the same night... This is not only a problem at Intercontinental Hotel in Manila or other hotels in Manila, but a worldwide phenomenon.
Address: No. 1, Ayala Avenue
Best-rated hotels in Manila
Here are a few other suggestions on Manila hotels, including Ermita district. Just click on the links to read reviews on Tripadvisor - all links open in a new window:
The Bayleaf Intramuros: from PHP 4,000 per night (double room in the high season, included taxes and fees)
Read reviews of The Bayleaf Intramuros at TripAdvisor
Best Western Hotel La Corona: from PHP 3,650 per night (double room in the high season, included taxes and fees)
Read reviews of Best Western Hotel La Corona at TripAdvisor
Casa Bocobo Hotel: PHP 2,200 per night (double room in the high season, included taxes and fees)
Read reviews of Casa Bocobo Hotel at TripAdvisor
White Knight Hotel Intramuros: from PHP 2,375 per night (double room in the high season, included taxes and fees)
Read reviews of White Knight Hotel Intramuros at TripAdvisor
---
| | |
| --- | --- |
| Further reading: | Like this page? |
Return to top of hotels in Manila

---
---