---
Koh Phi Phi Nightlife

:


Bar Reviews and Cost of Alcohol



---
"Koh Phi Phi nightlife" was last updated on Nov 23, 2013
All information below is subject to change
Ton Sai Village is the party place of Ko Phi Phi!
You can find bars everywhere! After the sunset, the streets fill up even more than during the day.
The nightlife in Ko Phi Phi is very special.
Have a cocktail right away when you're surrounded by beautiful beaches, an arousing sunset and an intense atmosphere.
Watch out for flyers announcing parties and special deals, like Happy Hours.
Here are the bars I tried in Ko Phi Phi - all of them located in Ton Sai village.
Enjoy!
Rolling Stoned 2003 Bar
We went here on New Year's Eve (2007/2008). Just imagine drinking Singhas and gin tonics while listening to a live local band singing Led Zeppelin, The Doors and other classic rock songs.
When it got close to midnight, the place was packed! The bar has its charm to it: chess-patterned floor, a huge wall with famous Western celebrities (like the Beatles), teak tables, pool table (I love pool!) and a warm atmosphere!
Rolling Stoned is one of the most popular bars in Phi Phi! ;-)

Sunflower Beach Bar
Want do grab some drinks right by Lo Dalam beach?
The Sunflower is surrounded by palm trees and they have pillows so you can sit right on the sand. To me, it was a perfect spot to watch the beautiful sunset.
On New Year's, we spent the last hours before midnight at Sunflower Beach Bar, which was packed. I mean, who doesn't want to spend New Year's right on the beach with fireworks, music and dancing? ;-)
Fortunately, we got our own beach mats.
Let me tell you about this place:
One of the special things about Sunflower Beach Bar was the interior. It was weird, but unique and comfortable.
You'll feel like you're on a pirate boat or a stranded island because of the stuffed fish, bricks of wood, sea shells, wooden flutes and bowls hanging from the roof net. And there was a tailor-boat in the middle of the bar... as I said.. UNIQUE!!
QUICK TIP!

Feeling warm after all the dancing?
Try a refreshing night dip in the ocean.
Outside Sunflower, some guys threw me in the water while I was still wearing my dress. I took a night dip and felt like a kid again, playing and rolling in the water. It was so relaxing just letting my hair down.
But beware of the strong current combined with alcohol.
I even saw a small library at the left-side of the bar where you can just relax during daytime.
The party atmosphere was just amazing, I felt like dancing all night.
We danced to a local "band" and drank buckets and Banana Daquiris. Some of the staff played "music." When I started to sober up after midnight, I noticed how non-music the music was.
To be honest, it didn't sound like party music and I wasn't the only one noticing it.
One local hippie tried an instrument resembling a Didgeridoo. Well, all I can say is...nice try...!
On the other hand, I didn't know if the guys were just too drunk (perfectly normal on New Year's), or if it was normally like that at Sunflower Beach Bar.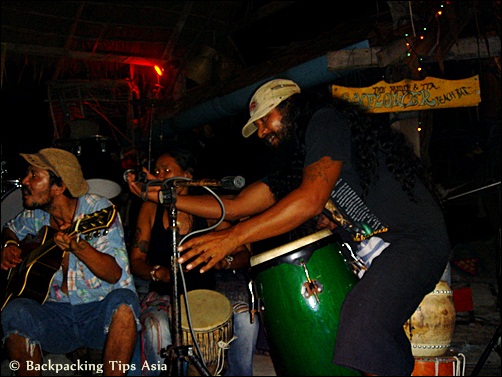 Sunflower Beach Bar is all about location, drinks and atmosphere!
Where: Right next to Phi Phi Viewpoint Resort, Lo Dalam beach
Alcohol prices in Ko Phi Phi
At restaurants and bars: the prices vary from bar to bar, and from restaurant to restaurant. It's not exactly cheap to get drunk every night on Ko Phi Phi or any other popular island in Thailand.

The prices below are only meant as guidelines
Big Chang beer: 60 B
Small Singha and Tiger: 60-80 B
Heineken beer: 90 B
Guinness beer: 100-200 B
Sangsom bucket: 200 B
Mekong Whisky bucket: 180 B
Cocktails: 100-140 B
Glass of wine: 120 B per glass
---
| | |
| --- | --- |
| Further reading: | Like this page? |
Return to top of Koh Phi Phi Nightlife
---
---