---
Introduction to
shopping in Phnom Penh
---
Last updated on Dec 30, 2013
All prices listed below are subject to change
Where is the real shopping in Phnom Penh?
Whatever you want to buy, you can get in Phnom Penh.
Markets, malls, silk shops and boutiques are scattered around the city and you will definitely find something you like.
One of the famoust shopping areas in Phnom Penh is street 240 where you find shops, book stores and you can take a look at the unique and beautiful art at the art galleries. But street 240 is more like an upper-class area, and you'll find expensive and elegant restaurants.
Your cheapest option is the bustling markets where you have to plough through the crowded lanes to get your shopping don ;-)
Russian Market in
Phnom Penh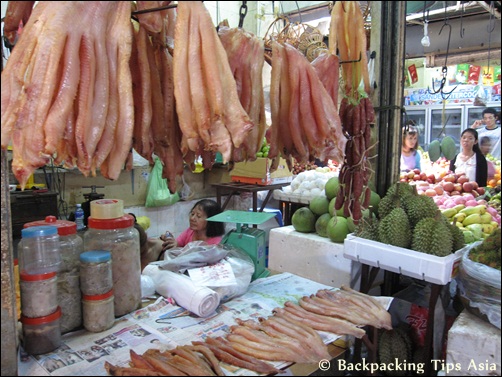 The Russian Market is where the Russians went shopping in Phnom Penh during the 1980's - hence the name.
In the far south of town, you'll find the Russian Market (Toul Tom Poung).
Indulge yourself in a wide range of clothing, robes, party dresses, shoes, pottery, antiques, handcrafts, silks, card holders, silverware, handbags, DVDs, computer programmes etc. I even found car parts, like engines. Haha.
And if you need a new backpack - I saw a bunch of them at the market. I bought one backpack for $7 (the seller wanted $10).
When it comes to Western clothing:
... you can get brands like Calvin Klein, Quicksilver, Next, GAP and much more. They're made in Cambodia.
The market is packed with tourists and backpackers from all over the world, so the sellers are used to foreigners.
A tip is to stroll around to compare prices - then bargain! Cut off the price with at least 50%. The bargaining on the good deals, like ceramics can be tough because they look authentic.
Locals with amputeed limbs are walking around selling books. Buy a book from them for $ 3. Otherwise, you can get t-shirts from them for $ 2.
Note:
Russian Market is HUGE! Here's what you can do to find your way back to the same entrance - the one you entered before you started the shopping.
Find a recognizable spot.
It can be anything from unique items to large stains on the floor! Every human being remembers things in different ways. So you have to find your own way of not getting lost!
The way I do it is to remember the first three shops near the entrance and if I can, memorize the faces of the owners of these three shops.
Pasah Thmay Market
(Central Market)

Pasah Thmay Market (Central Market) is huge, and you're going to get lost there at least once.
You can find electronical goods, clothing, jewelry, books, flowers, daily items like Colgate and so much more. In my opinion the items were overpriced. So, I ended up just looking rather than buying.
The best part about the market was the cheap local food. If you're on a budget, this is the best place for you to find delicious street food. 
Friends 'n' Stuff Shop
In April 2010, we stopped by the Friends and Stuff shop - a program supporting Cambodian street children and their families.
This is a good cause, so buying something from the shop gave us a good feeling. Pretty much everything in their shop is made by the children and their families. You'll find toys, purses, cups, souvenirs, clothing, krama scarves and they even have a corner where you can get a hand or foot massage.
We got the hand massage ($ 3 for 30 minutes), and they're good even they're so young. I also bought a turtle soft toy ($ 11), a green paper bracelet ($ 2) and my boyfriend bought a wallet ($ 4.50).
Where: House 215, street 13 next to Friends the Restaurant. Not far from the National Museum.
---
| | |
| --- | --- |
| Further reading: | Like this page? |
Return to top of shopping in Phnom Penh

---
---