---
Sihanoukville Accommodation

-


Reviews and Recommendations



---
Last updated on Jan 11, 2014
All information below is subject to change

Looking for rooms in Sihanoukville?
Some of the cheapest accommodation options you can find around Serendipity beach are the bungalows and guesthouses near the main road, within 2-3 minutes from the beach.
There's still some cheap beach bungalows right on Serendipity (the cheapest I know of is $10). The bungalows are often basic, but you get a great view of the ocean. Just remember to book early because beach-side bungalows are definitely the most wanted ones. Who doesn't like waking up to an ocean view? :-)
A tip when it comes to Sihanoukville weather:
We visited Sihanoukville in April 2010. During that time of year, the sun is scorching at its fullest and the humidity is high as hell (it's almost a suffocating combination).
That's why you should pick a bungalow or a room with air-con.
I've always relied on fan rooms when I've traveled, but March and April are exceptionally hot and humid months in Southeast Asia. Even the locals thought it was too hot. It's the combination of heat and humidity that will be an issue.
Just so you know - AC rooms cost more than fan-rooms, so take that into consideration when calculating your budget ;-)
Enjoy your stay in Sihanoukville!
Review of Coasters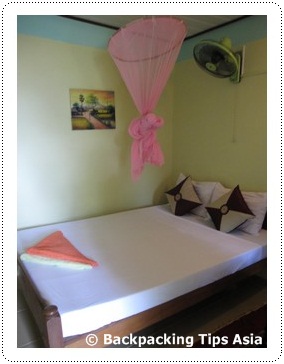 Price per night: from $31
Note: We arrived in Sihanoukville in the beginning of April 2010. The guy at the Coasters told us that since there was few people traveling to Sihanoukville at this time, we were given a "discount"-price, aka $18. Otherwise, it would have cost us more.
Laundry service: $2 per kilo
The charming room included a fan and a private bathroom. The plus-side about Coasters is its location. It takes you 30 seconds to get to the beach. And some of the local staff we got to know was friendly and laid-back.
But after two nights, we switched to an air-con room because it was too damn hot.
My general impression is that Coasters was pretty run-down and they haven't adjusted the prices accordingly.
Where: When you're walking down the hill to Serendipity, Coasters should be on your right side, near Tranquility Guesthouse.
Other rooms in Sihanoukville
- near Serendipity Beach
The accommodations below are not tried and tested by the author.
Utopia
Price per night: $1-2.5 for a dorm, $6-7 for a room
Utopia is probably your cheapest option in Sihanoukville/Serendipity. We met some British travelers who enjoyed the social atmosphere, and the cheap draft beer served at Utopia ($ 0.25). Cheap, eh? ;-)
Where: Near Serendipity beach, by the main road
Monkey Republic (closed!)

Price per night: $6-10 (room), $3 for dorm beds
Some of the bungalows can house three people, others can house four travelers.
They've got fan, bathroom, balcony and security box. For each check-in, they give you free draft beer. They have pool table, playstation and movie rooms. It couldn't get any better! And I don't have to tell you that Monkey Republic is Western-owned...!
Unfortunately you can't make room reservations!
Where: Near the Golden Lions roundabout, 3 minutes walk to Serendipity beach
Website: Monkey Republic website
PS: There was a fire at Monkey Republic in March 2013 and it has been closed until further notice.

Cloud 9 Bungalows
Price per night: $30-100
I stopped by Cloud 9 Bungalows to have a look, but never stayed here. But I wished that I did stay here because, man, those bungalows were charming and inviting, especially the bungalows facing the ocean! What an experience!

Where: Serendipity beach

New Sea View Villa
Price per night: $ 10-35 (high season prices, double fan room cost $15)
New Sea View Villa is known for its terrific food!
There aren't many places in Sihanoukville serving "high-class"-food like baked scallops and tuna tartar ;-)
So if you're looking for a decent place to sleep and eat in Sihanoukville, this is where you should go!
Where: 1 minute walk from Serendipity beach
This is another accommodation in Sihanouville that has received good reviews from other travelers. Read what other travelers have to say about Sea View Villa.
---
| | |
| --- | --- |
| Further reading: | Like this page? |
Return to top of Sihanoukville accommodation

---
---