---
Getting to
Pai Thailand
---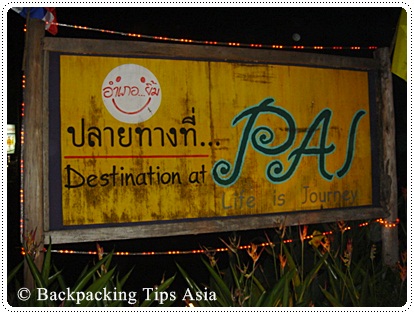 "Pai Thailand" was last updated on April 30, 2013 
All information below is subject to change
Why does every backpacker who has been to Pai talk so much about it?
Every backpacker I met who had been to cool, friendly and bustling Pai, was enchanted by the bohemian atmosphere in this village.
But Pai is not just all about the party and Thai buckets. 
The hills and scenery around Pai is all for you to explore and enjoy. 
Pai is a typical destination where you can stay for 4-5 days, even more if you want to try a meditation retreat or a yoga course. 
Getting there and
leaving Pai Thailand
By air:
There's one airport in Pai (1,5 km north of town), where flights from Chiang Mai arrive. Operated by Kannithi Aviation, Kan Air flies from Chiang Mai to Pai.
If you're in a hurry and want to get to Pai the fastest way, you might consider flying to Chiang Mai. Then another flight to Pai which takes 30 minutes.
Cheap flights to Pai:
By bus from Chiang Mai to Pai:
The bus stop in Pai is located in Th Chaisongkhram.
Bus is the common means of transport from Chiang Mai to Pai village. You can choose between minibuses or ordinary local buses. Minibuses are actually quite comfortable - you have leg room and seldom bump your head in the ceiling.
Ordinary non-AC buses are slower and more uncomfortable, but cheap (average 70-80 B, 3-4 hours). The buses for Pai leave the Arcade bus station in Chiang Mai between 07.00 am to 04.30 pm. It's better to purchase tickets at the station. Show up at least 30 minutes before departure, or else the good seats will be taken.
Minivans are also commonly used by backpackers and takes 2-3 hours. The roads are zig-zag, so pop a motion-sickness tablet before you head to Pai. They usually stop once for a 10-minute break.
Minivan transportation can be arranged at the bus station in Chiang Mai. We did that and paid 250B each.
Ordinary buses and minivans stop at the tiny bus station in Pai. From there, you can walk to your guesthouse or pay 15B to ride on a bike.
Leaving Pai
Take the local bus as described above, or hop on a minivan. Minivans depart from Pai's bus terminal and booking can be made at Aya Service (which also provides bike rentals). A ticket cost 150 B to Chiang Mai (3 hours), 550 B to Chiang Rai, 150 B to Mae Hong Son (2,5 hours), 650 B to Chiang Khong, 500 B to Bangkok and 1350 B to Luang Nam Tha for the Chinese border. 
Minivans to Chiang Mai provided by Aya Service leave at 05.30, and then every hour from 08.00 to 16.30. 
More information on minivan service on Aya Service site
Some important places to know about in Pai:

PSSSST...
Having trouble on where to travel in Thailand? How to set up an itinerary?
Solve your Thailand itinerary with Map Your Adventure: Thailand, one of our most popular tutorials.
---
| | |
| --- | --- |
| Like this page? | Search this site |
---
---