---
Vang Vieng
Laos
---
"Former City of Backpackers in Laos"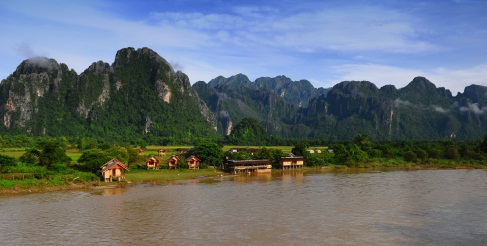 Beautiful and relaxed Vang Vieng is known for its activities, especially tubing on the Nam Song River and caving in Tham Sam Triangle limestone caves.
This backpacker town is surrounded by beautiful limestone hills, and hidden adventure secrets like secret waterfalls, tubing and kayaking opportunities.
Many travelers got stuck here because of the vibrant atmosphere, and the partying! I mean, why not? You go tubing on the river, grab some drinks and meet other backpackers just like you!
Now, Vang Vieng is no longer known as the party destination in Laos. There was a government crackdown on illegal bars along the Nam Song river in August/September 2012, resulting in far less backpackers coming to this place.
Vang Vieng was known for its notorious "Happy Pizzas" aka Drug pizzas. It was a common sight to see people pass out at the bars because of this.
It's also known for its Western food and Western TV bars, so the place charges way higher prices than any other towns in Laos. But this might change because of the crackdown.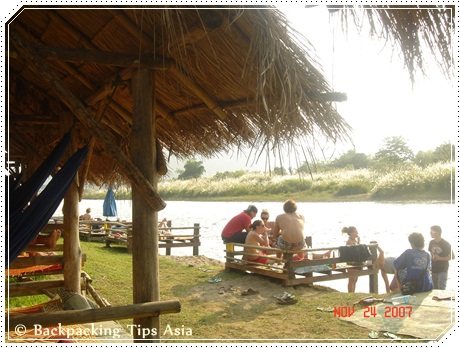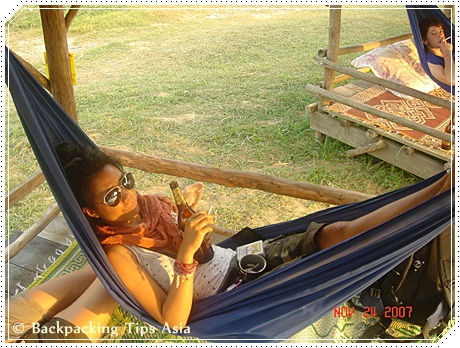 Since the drugs and heavy partying is gone, we can finally enjoy Vang Vieng for what it really stands for. This town offers other exciting things like caving, climbing, trekking and delicious Laotian food!
The countryside is just stunning and I think that you will have a great time here, even without the booze ;-)
How to get there
From Luang Prabang:
The local buses for Vang Vieng leave the Southern bus station. Take a Songthaew to get there.
We took the local bus from Luang Prabang, and it took about 8 hours (in theory 6-7 hours).
I can tell you that it was one in a life-time experience. Just writing about it now, makes me laugh!
If you're taking the local transport, be prepared for packed buses and bring a good portion of patience!
We got tickets with seat numbers, but when we got onboard the bus, the seats were of course taken.
So we were forced to sit separately. I got a seat by a an old man who kept pealing off his callus in my direction. And my Australian friend was seated next to a mother, 2 kids and 4 large boxes.
What I remember is that the bus kept stopping, whether the bus driver wanted to take a piss, or people wanted to board the bus. Even if the bus had no more seats, they put plastic chairs in the aisle.
You can also take a minivan from Luang Prabang (100,000 kip per person, 6-7 hours, first departure at 09.00). Tickets for minivan to Vang Vieng can be bought at travel agents, hotels and guesthouses in Luang Prabang. The transfer to the station is normally included in the ticket price.

When you're dropped off at the bus station in Vang Vieng, you can just walk to most accommodations in town.
- Don't be fooled by the Songthaew drivers who say that it's a long way to the guesthouses in town...!
When we arrived at the bus station, a Songthaew driver gathered travelers to be taken into town.
Our songthaew driver was a very stubborn man. Even though 7-8 backpackers were yelling in his ears that 'hey, that's the guesthouse I'm staying at - STOP!', he wouldn't stop. Instead, he drove to his friend's guesthouse. He didn't earn any commissions because we left the minute he stopped the vehicle.
From Vientiane:
Buses from Vientiane run daily to Vang Vieng.
Minivans and express buses from Vientiane take about 4-5 hours and the local bus takes 5-6 hours, give and take.
Many backpackers travel by minivan which cost around 80,000 kip per person. A ticket for a minivan can be bought at the guesthouse or hotel you're staying at in Vientiane, or at the numerous travel agents in town.

From Phonsavan:
From Phonsavan the bus takes 7-8 hours. Buses leave from the bus station 4 km west of town. Most long-distance buses from Phonsavan leave between 7.00 and 8.00 in the morning. You can also take a minivan which cost 100,000 kip per person. 
If you're prone to motion-sickness, you should consider taking an anti-motion-sickness pill before you go on the bus. The trip from Phonsavan starts with curvy roads and then after three hours, the road becomes more normal.

Onward to other towns and
cities in Laos

By bus: The bus station is located next to the old airstrip in town.
You can arrange also a minibus ride to Vientiane, Luang Prabang or Phonsavan, either at your guesthouse or through a travel agency.
It's more effective, so I personally think it's worth the money! We took a minibus from VV to Vientiane. It was on time, efficient and we arrived in Vientiane before noon!
Important places to know about:
Police station by the Main Rd, not far from Nana Guesthouse 1.
Hospital by Ban Sabai Bungalows (towards the river).
Pharmacies on the Market Rd.
Immigration office by Agricultural Bank.
Agricultural Bank on the Main Rd. BCEL Bank and ATM in a side street of Main Rd. Same street as Luang Prabang Bakery.
Post office beside the town market.
There are internet shops which charge you 300 Kip per minute.
Rent motorbikes and mopeds along the Main Rd.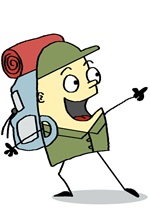 PSSSST...
Having trouble on where to travel in Laos? How to set up an itinerary?
---
| | |
| --- | --- |
| Like this page? | Search this site |
---
---