---
Getting to Luang Prabang Laos
by air, boat and bus

---
Last updated on Dec 17, 2013
All information below is subject to change

Luang Prabang (LP) was one of the places I loved when I went backpacking!
It's hard to describe the atmosphere because you have to be there to appreciate it.
But I can tell you that this town is peaceful and has its lovely charm. The whole town is built in French colonial architecture, and is surrounded by an incredible, luscious scenery.
I kept taking pictures when I traveled around!
On the other hand, some will maybe find Luang Prabang as too calm because it's not the ultimate party place. If you're more into cultural experiences, Luang Prabang is the right place for you, and you can easily stay here for at least 4-5 days.

Either way, I recommend staying in this lovely town in Northern Laos at least a couple of nights to find out...! ;-)
You won't regret it!
How to get to Luang Prabang
and out
By air: Luang Prabang International airport is located 4km from downtown Luang Prabang. This airport serves domestic and international flights.
There's a taxi counter at the airport - a trip to downtown cost $6.
There's an international departure tax: $ 10 per passenger. Normally, this is included in the flight ticket.
Cheap flights to Luang Prabang:
By boat from Huay Xai: The majority of travelers take the slow boat from Huay Xai to Luang Prabang.
The slow boat stops by Pakbeng, and continues to Luang Prabang. You should calculate 2 days for this trip alone.
Most backpackers arriving from north Thailand arrange a ticket for the slow boat in Thailand, as part of a package. This package includes transfer to Chiang Khong (the Thai border town), boat to Huay Xai (Laotian border town), and then slow boat to Luang Prabang.
Price for the package varies; anything from 1700B to 2000B.
Taking the slow boat is a once-in-a-lifetime experience. You're in the same boat with dozens of locals and you're passing endless green fields. There's no doubt that you have time to contemplate over your life ;-)
Make sure you bring something nice to sit on because the boat can become quite full, and most of the time you have to sit on the deck floor. Also bring refreshments like fruit and snacks.
By bus: Luang Prabang connects well with Udomxai, Luang Namtha, Phongsali, Sam Neua and Nong Khiaw. Buses to these destinations leave Kiew Lot Sai Nuan station in Luang Prabang. This station serves northern destinations.
For southern destinations, go to Naluang station. From here there are buses to Vang Vieng, Vientiane and Phonsavan. We took a local bus from Naluang station to Vang Vieng, and it was packed. Make sure you arrive early at the station. The bus we took left at 10.30 am.
Another option is to arrange minibus- or VIP-bus transportation through travel agents in Luang Prabang.
Map of downtown Luang Prabang:
A: Sisavangvong road is the main road in Luang Prabang. Along this road, there are tons of restaurants, shops, galleries and food stalls.
As you can see, Phousi mountain and Royal Palace museum are within walking distance.
First, some important places to know about:
Tourist Police: Phakham village, Sisavangvong Road. Open: 08.00 am – 11.30am and from 13.30 -16.00 (Monday to Friday)
Chinese Hospital is probably the best hospital in Luang Prabang with the best medical equipment. Otherwise, and if needed, you're redirected to Vientiane or flown to Chiang Mai or Bangkok.
Pharmacies on Th Sakkarin, open daily
Immigration office is in Visoun village, opposite Lao Development Bank. Open from Monday to Friday.
Lao Development Bank + ATM on Th Sisangvangvong and BCL bank on Kaysone Phomvihan Road.
Post office on Sisavangvong Road.
You can get internet access along Th Sisangvangvong, if not at your guesthouse/hotel.
Don't know how to make an itinerary?
How to connect the dots?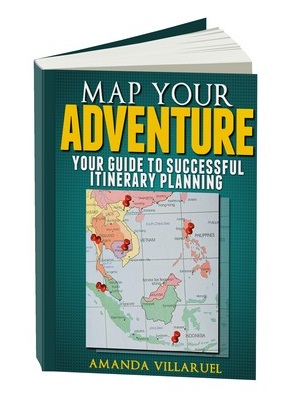 If you're feeling overwhelmed or have no idea on where to start, then you really need "Map Your Adventure" - it's a step-by-step guide on how to set up an itinerary for Southeast Asia and India - the right itinerary for you.
You'll be surprised to learn that itinerary-making can be fun and easy.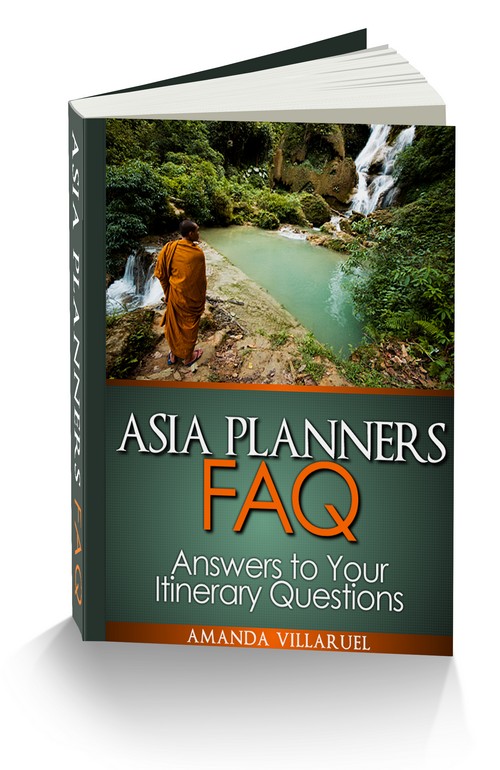 This book is made for you, with 70 pages of itinerary tips and maps, time tables and must-see destinations in the region :-)
Read more about Map Your Adventure here
"Asia Planners FAQ" is a supplement to "Map Your Adventure" and a compilation of real questions from visitors and answers from travel experts on itineraries found on Backpacking Tips Asia.com. You'll find your answers in this ebook.
---
| | |
| --- | --- |
| Like this page? | Search this site |
Return to top of Luang Prabang Laos
---
---
---