---
Review of the Bolaven Plateau
in Pakse, South Laos
---
Last updated on April 08, 2012
All information below is subject to change
Bolaven Plateau was last visited in Nov 2007
CLICK ON ONE OF THE PICTURES TO START THE PHOTO GALLERY!
Do you want to experience the Plateau?
The best and cheapest thing to do is to rent a bike ($ 7-10 a day) and drive outside Pakxe to explore the charming hill tribe villages and spectacular waterfalls close by.
You have the huge and amazing Plateau. It rises 1500 meters above Mekong Valley so it can be chilly there.
I recommend renting a bike instead of a tour because:
You'll get to see the things you want in your own pace and do whatever you want, like fruit picnics and as many village visits as you like.
Enjoy!
What should you
bring for the trip?
You should bring:
Bottles of water
A hoody or a sweater - it can get chilly at the top of Bolaven Plateau
A map
Buy the regional road map because of its accurate guide to the surrounding sites. Try to find an original map rather than copies!
You should also have enough gas in your bike, because the petrol shacks aren't always close by.
The shacks are usually close to the Lao villages. And the gas is contained in bottles with rubber tubes. You probably have to fill up twice, depending on your Bolaven Plateau route.
Price for gas per liter: 7000-10.000 Kip
Distance from Pakse to Tad Lo: 85 km
Before you rent a bike, shop around for prices. And make sure you test drive it before you actually rent it, if possible.
Look for scratches and take pictures of it. This way, you avoid any problems when delivering it back. I heard a lot of rumours in Pakse about rental places who will try to charge you for damages that weren't even your fault...!
We rented bikes from Lankham Hotel, and it went alright. I observed a stressed out couple downstairs, who accidentally forgot to return their rental on time. But the staff at Lankham was OK about it. They didn't have to pay any extra.
Example of a 1-day trip at Bolaven Plateau
1) Tad Pha Suam Waterfalls

Tad Pha Suam waterfalls are not more than 5-6 meters, but they were impressive!
It was so nice to just sit down and listen to the great volume and feel the cool breeze. You can have a nice picnic here or walk around the area. And there weren't many people there - we just saw a few Thai tourists. If you get hungry and didn't bring food, there's a restaurant at the top of the hill.
There was an entrance fee and it was a little pricey (I don't remember the price). But I still think it's worth a visit!
2) Village Stops

Stop by a couple of small and simple villages on your way to Taat Lo Waterfall.
It's just heartbreaking to watch kids in their blue/white school uniforms, playing and laughing. Some of the little cute girls approached us, smiled and just looked at us.
And it gets better...
You'll get to see how the tribes live their lives at the Bolaven Plateau - women weaving underneath their homes.
You can contribute to their economy by purchasing handcrafts and gorgeous silk textiles. They come in handy as gifts!
Hill tribes living at the Bolaven Plateau are for instance Alak, Arious, Ong, Loven, Souei, Katou and Nghe.
They all live on the edge of the Bolaven Plateau, between Pakse and Tad Lo.
But the first village we stopped at wasn't actually that much of a pleasure.
I wanted to take pictures of the local people, and asked first. The cranky old lady with a baby in her arms reached out her hand and yelled something I didn't understand. I assumed she wanted money before a picture was taken (you have to get used to that).
The problem wasn't the money she asked for, but her rude attitude. There were a few tourist minibuses in the area, so I sensed that the village was used to foreigners!
3) Stop by coffee and tea plantations

Next stop: Coffee plantations
Visit huge farms covered with tall coffee plants!
If you look closer, you'll see the dark red/brown coffee beans hanging in the shade of the plants.
It's kind of hard to believe that all the coffee we drink every day comes from these small beans...!
Did you know that Paksong is the coffee capital in Laos?
Over 5000 families in Paksong are working with coffee farming and this is the best place to see an organic coffee farm and see locals in action. If you want to learn more about coffee growing in Laos, try the coffee workshop in Tad Fan, called Koffie's Coffee.
4) Tad Lo Waterfalls and Tad Lo village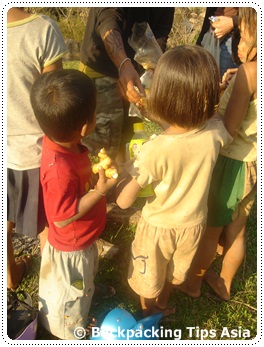 When you enter the village, you'll sense the quiet and relaxing atmosphere, the sounds of the waterfalls, kids playing and people doing their laundry in the river. The water was crystal clear and you have to take a dip in the refreshing water! It was cold, but still nice.
I had an interesting day at Tad Lo waterfalls. As soon as we arrived near the guest houses and bungalows, local children approached us.
One of them wanted my hair band - she reached out her hand firmly like I owned her a gift.
I didn't know what to do so I just gave it to her.
We decided to eat the rest of the mango we bought, and found a nice place to sit near the waterfalls.
Soon the place was packed with children who wanted a piece of the fruits and candies we bought for the trip :-)
I got the feeling that Tad Lo can be touristy and that the local people living here are used to foreigners (and getting "gifts").
We saw a few guesthouses by the waterfall, so you can stay the night if you feel like it. And some of them arrange elephant rides!
Accommodation
in Tad Lo
Sypaseuth Guesthouse
Sypaseuth Guesthouse is right on the river. They have two bungalow rooms for 60.000 kip with own bathroom and hot water.
Price per night: 40 000-60 000 Kip
They also have rooms in the building for 40.000 kip, with own bathroom and hot water. But you'll have better view on Tad Lo waterfall from the bungalow rooms. View from the 40.000 kip rooms is not good and not so charming as traditional bamboo huts.
Sailomyen Guesthouse
Price per night: 25 000 Kip
Cheap bungalows with porches facing the river. And also hammocks. But you do get what you pay for - these bungalows are run down.
Always secure the bungalow before you leave as there have been rumours about thefts.
Want even cheaper bungalows? Try Samly's for 20 000 kip a night. Simple bamboo rooms with shared bathroom.
At Tad Lo Lodge they arrange elephant rides - $12 an hour. They do rides at 8 am, 10 am, 1 pm and 3 pm.
If you want to stay a couple of nights at the Bolaven Plateau, you can add the popular and amazing Tad Fan Waterfall as well.
Watch your time at the Plateau. After Taat Lo water fall we decided to go back, but we decided that too late (around 4pm)!

We had to drive back to Pakse in the dark!
It was freezing, foggy and it was so scary to drive in the dark on bumpy roads. There were hardly any lamp posts.
There were honestly some moments when I thought I was going to get hurt/die... it was that bad!
When we finally arrived, I didn't feel my toes or fingers, my mouth was dry and my hair had flies, dust and dirt in it… a 80's hair-do is just what I needed :-S
---
| | |
| --- | --- |
| Like this page? | Search this site |
---
---
---
---