---
Review of Simply Butterflies
Conservation Center
in Bohol Island, Philippines
---
All prices listed below are subject to change
Why visit Simply Butterflies Conservation Center in Bohol Philippines?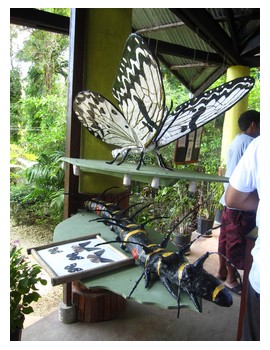 The conservation center houses hundreds of exciting butterfly species in Bohol and is aimed at preserving the existence of these beautiful butterflies. They're getting fewer and fewer due to illegal poaching and deforestation.
The aim of the center is plant research, breed and then release.
In addition to this, the center aims at giving the people of Bohol livelihood, by giving them jobs as breeders.
So by visiting Simply Butterflies, you're also helping the local community of Bohol Island! ;-)
When you get there, the staff will give you a personal lecture about the butterflies about how they breed the butterflies, why they're important to the environment and introduction to each species as you pass them.
A personal lecture also means that you can play with them and get in personal contact with the butterflies - whether they're in full shape or at larvae stage. 
Beautiful butterflies means beautiful colors - this is a great place for the photography enthusiast! I personally couldn't stop taking pictures and videos! (even if I hate larvae)
How to get to
Simply Butterflies in Bohol Island
On your way to Chocolate Hills and approximately 5 minutes from man-made Mahogany forest, stop by Simply Butterflies Conservation Center. It's located next to the town of Bilar, about 1 km from the Bilar market.
From Tagbilaran, get a bus at Dao Bus Terminal. Ask the driver to drop you off at Simply Butterflies in Bilar.
Entrance fee: 20 PHP per person
For more information on Simply Butterflies, visit their website (opens in a new window)
Personal review of
Simply Butterflies in Bohol Island
I love butterflies, so visiting Simply Butterflies was a real pleasure for me! But I have to admit that I don't like other insects and especially larvae, so the sight of stuffed beetles, moth and grasshoppers at the entrance gave me goose bumps.
I wouldn't think that I would say this: But when you look closer at them, they're actually beautiful.
Our nice guide led us through Larvae garden, and presented each species we passed, giving full details of how creepy larvae become pretty butterflies. He was speaking in English we could understand, and was very eager to show us the highlights of Simply Butterflies.
Best of all, you can hold a larvae in your hand.
I didn't try this, I would have to drop dead first.
But my dad and boyfriend tried it out, and they were excited. My dad, who moved from the Philippines when he was 24, didn't give in to fear despite the larvae's weird shape and colors. Well, can't blame him. He has eaten bugs, so I don't think holding one would give him any fright.
After this, we were led to colorful Butterfly Garden. We could hold butterflies if we wanted, but I preferred to admire it from a distance.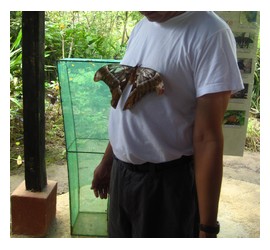 Then I noticed a large moth hanging on a net, and thought it was stuffed. But then it flapped its wings, and landed on my uncle's stomach. It was huge (to me).
This moth reminded me of the large moth I saw at Pai Hospital in Thailand (it must have been 30-40 cm in wingspan). It flew directly on one of the nurse's arm and covered her face from a distance, so you can just imagine how big it was!
Was the trip to Simply Butterflies worth it?
Well, the trip certainly tested my phobia for bugs. It was a nice trip and I learned a lot. I realized how important butterflies and insects are, and that they actually have a purpose in the environment and are crucial for the the food chain.
---
| | |
| --- | --- |
| Further reading: | Like this page? |
---
---