---
Cheap Asia Flights 5
---
"Cheap Asia Flights 5" was last updated on April 09, 2012
Should you buy flight tickets locally?
Alright, you're traveling to different countries in Asia; starting from East Asia in South Korea and Japan, and then you want to visit Southeast Asia, and then maybe India. 
In this example, it would have been possible to travel from South Korea to Southeast Asia, but through China and then Southeast Asia. But it takes time, so you need to fly. 
Let's say that you're from the Netherlands.
Should you buy a flight ticket from South Korea to Vietnam/Thailand while you're still in the Netherlands?
My answer is: You shouldn't.
It's usually cheaper to buy flight tickets locally (in this example in South Korea). And when you're in Southeast Asia ready to visit India, you buy a flight ticket in Southeast Asia. 
Before my departure, I talked to my Swedish friends who are well-experienced in backpacking. They strongly advised me to buy a ticket locally for the flight from India to Thailand because it was cheaper.
I was skeptic because I was afraid of getting stranded in India! (I was a rookie in backpacking, so I was a little paranoid.) But I eventually followed their advice when I was in Goa.
...And it was cheaper...
With Air India from Delhi to Bangkok, it cost me $120. I actually saved $200!
Still not convinced?
I also recommend buying tickets locally, because:
During long-term travel, it's hard to know exactly when to leave a country. Especially if you've never been to the country before. Buying locally allows you a high degree of flexibility! You might be having a good time and want to stay longer, who knows? :-)
I can tell you that before my departure, I was so determined to stay in India for 6 months. I even got an Indian tourist visa which lasted that long. But... surprise! I left India after 3-4 weeks. That was my first trip to India back in 2007. 
The same applies for Thailand or any other country in Asia. 
Even if Thailand is easy to love, there are still loads of unpredictable things that can happen during your backpacking trip...
... Anything from getting broke to meeting the love of your life.
If you get broke, you probably have to go home earlier than planned. And if you meet someone special, you probably want to extend your stay.. See my point..? ;-)
Return to top of Cheap Asia flights 5
You've bought a ticket to Asia,
what now?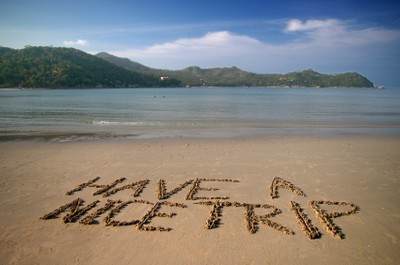 ENJOY!
And when you've purchased a ticket online..
Print out the e-ticket and the itinerary
After a couple of days before departure, call the airline to double check your seat
Then you're off to Asia! Wohoo!
---
| | |
| --- | --- |
| Further reading: | Like this page? |
Return to top of Cheap Asia flights 5
---
---