---
Koh Chang Tours:
Review of the Snorkeling and
Boat Trip to Koh Wai and Koh Mak

---
"Koh Chang Tours" was last updated on Nov 24, 2013
All information below is subject to change
Ready to take a day trip?

Many backpackers who visit Koh Chang make a day trip to the nearby islands of Koh Wai and Koh Mak, and go snorkeling at the same time.
I made my trip to the islands with Thai Fun Cruise, but there are plenty of other tours and companies you can choose from.

Price: 1,400 THB
The price included buffet, water and snorkeling equipment.
First stop was Koh Wai where you can snorkel for 45 minutes. You'll get to snorkel on top of large coral areas, and you'll see reef fish, anemones, and if you're lucky you might catch a glimpse of an eel.
But watch out...
... unfortunately, I scratched my feet on some black sea urchins, so be careful. It stings like h*** if you scratch your feet on them!
After a while, we moved on to Koh Rang which was alright, but the visibility wasn't as good as around Koh Wai.
Honestly - I didn't see one fish! So I didn't enjoy the snorkeling there.
Well, I buried my disappointment in the excellent buffet lunch at the boat; Thai sea food and barbeque.
Then we stopped by the tour's highlight: Koh Mak island - a tiny version of Phi Phi Islands with its crystal clear water and white powder beach.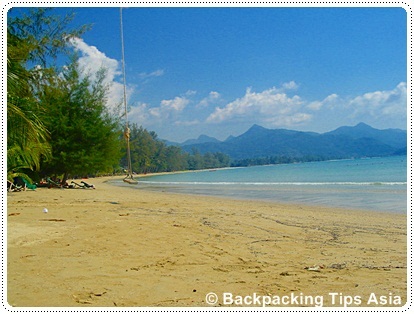 We only had 45 minutes on this beautiful island so I strolled along the beach, smelled the air, swam and took pictures!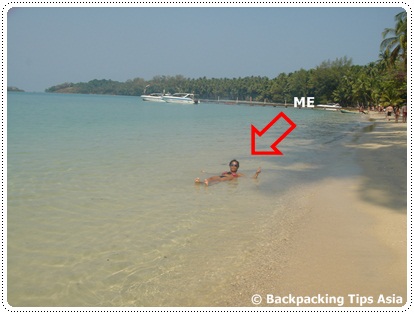 On the way back to Ko Chang Island, the boat stopped by an island filled with hungry and screaming monkeys. The boat staff threw bananas at them and they were all fighting for the food. The fight got pretty ugly, and the boat just moved on.
Was it worth it?

All in all, the tour was OK, but it was not the best. I preferred snorkeling on Ko Phi Phi.
And normally I don't go for scheduled tours because of the time squeeze, too many people and... you know the deal. If it was up to me, I would spend a couple of hours on Koh Mak island. Those 45 minutes on the island wasn't enough.

So, if you're in a hurry maybe you should try the tour. And if not, rent a long-tail boat on Ko Chang island! :-)
---
| | |
| --- | --- |
| Further reading: | Like this page? |
Return to top of Koh Chang tours
---
---