---
Information and review of
the tarsier captive display 
in Bohol Philippines
---
Last updated on Dec 22, 2013

All prices listed below are subject to change
As one of the smallest primates in the world, the Philippine tarsier has become an endangered species in the Philippines. Several legislations have been passed to protect these adorable primates.
Today they are only a few of them in the world, scattered in the Philippines, Borneo and Indonesia.
They're endangered because their natural habitat is vanishing in front of their eyes - their homes in the forests are turned into crops, farmland, roads and houses.
And why are large forest areas turned into crops and farmland?
A good answer for you: a fast growing human population means less space and forest for these animals and certainly for other species.
Another reason as to why they're endangered is their cute appearance. You know, those big eyes have caused them trouble. Some of them are kept as pets in private homes. Stress and not being in their natural habitat shorten their lifespan.
That's why I think it's important to support them by visiting the sanctuary and giving donations. The community in Bohol Philippines is dependent on your contributions.
How to get to
the Sanctuary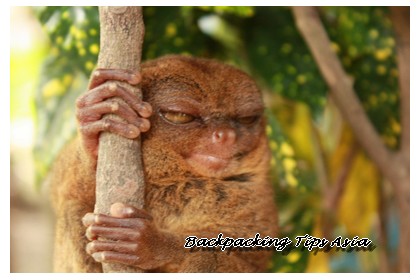 You can spot them in the sanctuary of Corella and Sikatuna in Bohol Island, maintained by Philippine Tarsier Foundation.
The start of the trail is near Corella. Take a bus from Dao terminal in Tagbilaran - from there it's a 10 km drive, and 4 km from Corella town.
Admission fee: 50 PHP per person
Address: 14 Canapnapan, Corella
Bohol 6300
Philippines
Website: Sanctuary (opens in a new window)
Since Corella and Sikatuna are off the tourist path, the Department of Environment and Natural Resources has given permits to some private individuals to display these primates. We went to a captive display which was on our way to Chocolate Hills, so it's only a pit-stop for travelers and tourists. 
If you have time, please visit the sanctuaries, where you can see these animals close to their natural habitat. A natural habitat of several hectares where they live more freely.  
Our review of the captive display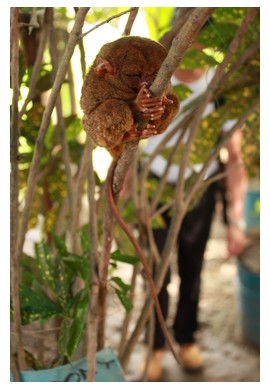 Seeing them in captivity was just heartbreaking. I would rather see them in a sanctuary, where they're very close to their natural habitat.
They weren't kept in cages or anything, but they only had a limited area to inhabit. They just got scared when we, people, approached them. The ones we saw couldn't exactly swing by the next tree, far away from us. It seemed like they were stuck to the tree they were holding onto.
But I don't regret seeing these primates, dozing off under a tree, and looking like cute Gremlins.
We could take pictures with them, but not touch them, and they sold all these souvenirs near the entrance. The money is supposed to go to the animals held captive there.
---
| | |
| --- | --- |
| Further reading: | Like this page? |
---
---