---
Things to do in Thailand 
Kanchanaburi
---
"Things to do in Thailand Kanchanaburi" was last updated on Jan 14, 2012 
All information below is subject to change
Kanchanaburi has become one of the most popular places to visit in Central Thailand.
If you're a history buff and want to experience nature at its best, this is the place!
It's popular because of the Death Railway Bridge over the River Kwai, Tiger Temple, Hellfire Pass and Erawan National Park.
I visited Kanchanaburi back in 2008, as a day trip from Bangkok. I wish I had more time to explore because the area around Kanchanaburi is just stunning.
Even though Kanchanaburi's attractions are packed (especially in the high season), I personally think it's worth visiting them :-)
How to get to
Kanchanaburi and around
There are many entry points to Kanchanaburi, but many travelers travel through Bangkok.
By air:
There are no airports in Kanchanaburi. The closest ones are in Bangkok.
Find cheap flights to Bangkok:
By bus:
Both minibuses and government buses ply the route between Bangkok and Kanchanaburi.
Government buses are cheaper and cost 100 B. The trip takes about three hours from the Northern bus terminal. Expect to pay double for a minibus trip from Khao san road or Soi Rambuttri area in Bangkok.
You can buy minibus tickets from travel agents in Banglamphu, but make sure they're reliable.
Travel agent tip:
I usually use the travel agent right next to 'My House' in Soi Rambuttri. Soi Rambuttri is located five minutes from Khao san road. I've used this travel agent for many years, and they haven't disappointed me.
I don't remember the name of the travel agent, but it's small and they have an internet corner, which is normally full. Enter Soi Rambuttri from where Sawasdee restaurant is located (it's the first restaurant you see on your right hand).
Keep walking and the road will turn left. Follow that road and you'll see a bunch of stands, restaurants and guesthouses. You should see the My House-sign on your right hand. Just a couple of meters before My House is the travel agent I'm talking about.
Another option is to arrange a day trip to Kanchanaburi from Bangkok. I did that, and the trip lasted from 09.30 to 18.00. That day I shared a minibus with two Danish girls. The minibus driver was 'our' driver that day, so he 'waited' for us at each attraction.
If you don't have much time, tours are good. But otherwise, I would do it independently.
By train: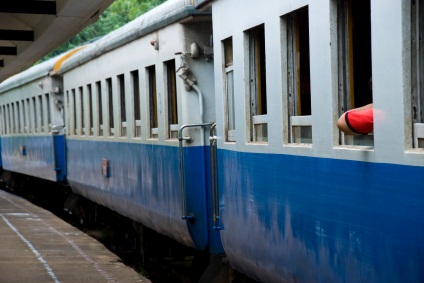 Trains for Kanchanaburi leave Thonburi station in Bangkok (100 B each way).
Trains in Thailand are comfortable, so the next time I visit Kanchanaburi I will definitely try the train. And if you take the train, you'll actually use the Death Railway itself.
If you want to see the Hellfire Pass (Konyu Cutting), get off at Nam Tok - the end station. You can choose to stay for the night in Nam Tok area, but the guesthouses there are pricier than those in Kanchanaburi.
Review of
The Tiger Temple in Kanchanaburi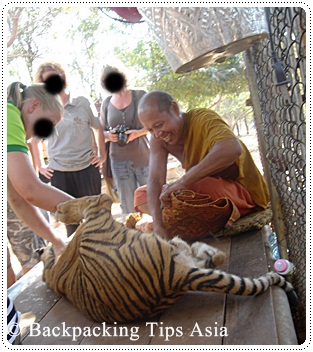 Admission: 600 B
Run by Buddhist monks, the Tiger Temple is one of the few places in the world where humans are allowed to pet and pose with the tigers. 
The Tiger Temple was alright, but it's crowdy there.
You have to stand in a long line to stroke tigers. Don't worry, there are monks and handlers there who look out for the tigers. It looked awesome to play with them, but in some way I felt I was wronging the animals by being there.
Tigers should be out in the free, and not to be touched on the head by thousands of tourists and backpackers. I really hope the money goes to taking care of these incredible, but endangered animals. The site is at least a bright spot for them as they've been rescued from poachers.
You can take pictures with the tigers up close for free. A lot of the visitors like to pose with the tigers. I didn't do this because it was just too many people. It was a turn-off to watch the long queue, so I just gave up. But since the admission fee was expensive, I should have done it! :P
Remember to not wear red or orange clothes. I guess they're intimidating colors for the tigers.
Tiger cub feeding: 1,000 B per person (on top of the admission fee)
'Special photo' with the tiger's head in your lap: 1,000 B per person (on top of the admission fee)
---
| | |
| --- | --- |
| Further reading: | Like this page? |
Return to top of Things to do in Thailand Kanchanaburi
---
---