---
Tips on what to do
in Pai Thailand
---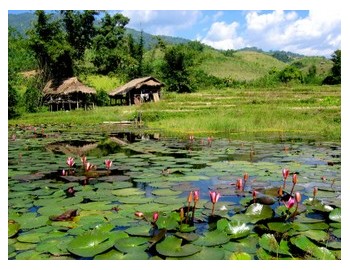 Wondering about what to do in Pai Thailand?
The best and cheapest thing to do is to rent a moped (80-140B per day) from e.g. Aya Service on Th Charongkham and drive outside town to explore the scenery by yourself.
Make your way to the waterfalls, Tha Pai hot springs, rice patties or caves. The most popular waterfall is Nam Tok Mo Paeng where you can go for a nice and refreshing swim!

Another option is to just drive and stumble across small villages and meet friendly locals. Maybe you'll find your very own hot spring or something like that.
It's easy to navigate in the area, and the chances of getting lost are minimal. If you still get lost, stop by a village and ask for directions.

However, make sure you start early so you won't need to drive in the dark (makes it almost impossible to find your way back), and watch out for the rocky and dusty roads. Tell at least one person where you're heading, in case you go missing!
Note: Be careful when driving a moped!
Don't think accidents won't happen to you! They happen frequently, and it happened to me. I was told at the hospital that dozens of Thai people come in EVERY day. I came to the hospital for wound check 11 days in a row, and I witnessed this myself. For the damages, I had to pay 1500 B for scratching the moped.
If you do get in an accident, get to Pai hospital which is a 10-15 minute walk from downtown Pai. Even better, get someone to drive you! It's not the cleanest hospital I've seen, but it's good enough. The staff knew what they were doing when they stitched me up.
Another thing:
I can personally tell you that I will not underestimate mopeds again after a wild incident in Pai.
When we hired a moped, my friend wanted me to try first (none of us had tried a moped before). I told myself that it wouldn't be a problem, so I got on the moped with my friend sitting behind me.
But when I turned the handle, I turned it too hard!
And before I even knew it, we were on a fast track towards a food stall selling pork meat! The poor old man who owned the stall, waved and waved, trying to shout at us. I stopped and was 4 inches from ruining his business..!
On top of this, we were in a crowded area and I felt pretty embarrased at that point. And my friend just kept laughing and laughing. The day couldn't get any better.
Other things
to do in Pai Thailand
Back Trax Trekking & Rafting
Back Trax arranges visits to the hill tribe villages where the amazing Hmong, Lisu, Lahu and Karen hill tribes live.
It's a good way of getting to know Thai culture and you get to spend a day in the wild green part of Pai. You'll never get bored by taking pictures here. But do remember to ask before taking a photo of the hill tribe people! (especially the elderly ones)
If you're interested, Back Trax can also arrange other trekking trips.
Where: Th Charongkham
Thai Adventure Rafting and other:
Experiencing the Pai River was wild, and you will learn a lot. Many of the local guides are experienced and will tell you all about the surrounding species in the jungle, and some will even learn you some Thai culture! - Yes, many of them can speak English!
You can also stop by the hot springs to take a quick roll in the hot mud.
But the trip itself could have been better. It was in the beginning of the dry season, and the rapids were slow.
I fell into the water once and it was kind of disgusting, because the water was brown and not clear as it should be.
But once I got used to the water, I just laughed loud and thought what a heck. It's not everyday I get to go rafting.
I also tried "body rafting" and felt like a 8-year-old again. They usually run trips from June through January.
You might also check out:

Pai in the Sky Rafting, Jungle and Trekking.
Thom's Elephant Camp Tours on Rangsiyanon Road.
A 2-hour elephant ride and bamboo rafting with Thom's Elephant Camp Tours cost 1200 B per person.

Check out the program and prices on their homepage. (opens in a new window)
Where: Rungsiyanon Road
Novice procession:
Get up early (around 6:30) to see a novice procession.
Here the locals offer the novices some food (I saw people giving them money as well).
Experiencing Pai at this hour might be fresh and chilly - bring a sweater. You have to go the main road of town to watch the procession.
I experienced the novice procession in Luang Prabang - click to find out more.

Reggae Festival:
Musicians from Pai and other parts of the country gather up, and play cool music, included ska. Ooh, I love ska!

I experienced ONLY happy faces and a lot of dancing to cool reggae tunes played by Thai bands! The music can be heard all over Pai, and the hippie factor is high!
The festival was running on November 10th the last time I was there, but the festival runs in January or February as well.
The next festival is on November 28-30, 2013.

Ticket prices: 500 B per person (one-day ticket), 1000 B (two-day ticket), 1500 B (three day-ticket)
Fun and Recreation:
Chanya Massage delivers great Thai, oil and foot massage.
Pai Cookery School at the House of Glass. Learn how to cook authentic Thai dishes, including vegetarian dishes. 1-3 days classes are available and range from 700-1000B.
Try Reika Crystal Healing aromatherapy on Rangsiyanon Road.
I decided to try something new, and came across this place. I didn't know what it was about until this nice Australian lady (not sure if I caught her dialect right) put stones on my forehead. I felt warm and refreshed after the session. For one hour I paid 600 B (Oct 2007). Look for a street sign near Mam Yoga House on Th Rangsiyanon!
Otherwise, there are lots of other reiki specialists in Pai.
And speaking of yoga, Mam Yoga House offers hatha yoga classes in small groups. The introduction course cost 500 B including two meals.

Meditation retreats. I never tried it myself, but it was bragged about by fellow travelers.
Tattoo Shops:
Here are the tattoo shops I've heard about. I never got a tattoo in Pai (only Chiang Mai), so I can't recommend specific ones I'm afraid.
Monkey Magic is located on the main street of Pai. It's also a bar and a restaurant.
At Space Tattoo you can get bamboo tattoos!
Korn's Tattoo: Here you can get bamboo tattoos!
Return to top of To do in Pai Thailand
Things to do in Pai Thailand:
Shopping

Day-time shopping

So many markets can be found in Pai, where they sell daily items, spices and fresh food.
There are several shops on Th Charongkham and Rangsiyanon Rd. Here you can get cool Pai t-shirts, postcards and buttons.
Hilltribe products can be found at Jaymee Shop.
Some shops on Th Charongkham (opposite of All About Coffee) have mail boxes where you can mail your postcards. Otherwise, you have the day market on Th Khetkelang. Here you can get fruit, vegetables and some meat as well.
Evening Market

The streets of Th Charongkham and Rangsiyanon Road are packed with vendors who sell everything from souvenirs, clothing, shoes (even fluffy Indian-looka like boots) colorful scarves, cool money belts and you name it.
Shops
Siam Used Books on Rangsiyanon Rd have second-hand books.
QUICK TIP!

I heard rumors about a "street designer" on Th Charongkham (he tends to stand across Aya Service in the evenings) who sells cool t-shirts, hoodies and jackets. He makes prints on clothes, and the design is awesome. The common theme was: Rock.

I bought several t-shirts and a hoodie. It was tough to bargain cause he was so nice. But at the end, I got two t-shirts and a hoodie for 400 B.
---
---
| | |
| --- | --- |
| Further reading: | Like this page? |
Return to top of To do in Pai Thailand
---
---