---
Getting to Don Det
(Si Phan Don), Southern Laos
---
Last updated on April 22, 2013
All information below is subject to change

Time stops at Si Phan Don!
It's a peaceful and charming island where the point is to kick off your sandals, and do nothing!
This island in Southern Laos is part of 4000 islands, and is a good place to stay for a couple of nights, to enjoy the laid-back atmosphere in a hammock, and the beautiful view of Mekong River.
Five years ago, there weren't many backpackers and tourists to be found on 4000 islands. Now, Don Det and Don Khong have gone through the tourism development boom, resulting in guesthouses and tourist facilities everywhere. The islands were so undeveloped that they had electricity for a couple of hours a day, and now it's 24-7. 

Just walk around the island, and it's dotted with rice fields, lazy buffaloes and rural village homes.
Most backpackers stop by this island or Don Khong before they head south to Phnom Penh in Cambodia. Or if you're coming from Cambodia, the island is a stopover before heading for Pakse.
This island and Don Khong are part of the 4000 islands, a collection of islands in the Mekong River, located in the far south Laos.
When you get there, you'll see that many of these 'islands' are very petite and have one or two trees on top of it. That's it - those are the 'islands' :-) It's a special sight, that's for sure!
Should you choose to stay at Don Det or Don Khong?
In my opinion, Don Det is a lot more relaxed than Don Khong. Don Khong is more crowded, while serenity can be found on the neighboring island. It's crowded on Don Khong because of the tourists.
There's a younger crowd on the island compared to Don Khong. It has a reputation of being a party island, but I totally disagree. I think it was just relaxed.
How to get there

Nakasang is the main port of entry to the island.
By air: The closest airport is in Pakse. Get to downtown Pakse and buy a ticket for a minivan ride to Nakasang. The ferry ride from Nakasang to the island is included in the ticket.
Cheap flights to Pakse:

By bus: There's no problem getting to 4000 islands from Cambodia or from Pakse. The boats to the island leave a boat landing a couple of km outside the town of Nakasang.
Boats in Nakasang to and from 4000 islands
For local buses to Nakasang, go to Pakse's Southern bus terminal. There are frequent departures and the trip cost 40,000 kip. I've already covered how to get from Pakse to 4000 islands.
Click here for more information (opens in a new window)
From Stung Treng in Cambodia, the most common way of traveling to Nakasang is by minivan. Book a seat at one of the travel agencies in Stung Treng. In Nakasang, you pay 15,000 kip per person for the ferry ride to the island.
Leaving Don Det and Don Khong
Most backpackers arrange transportation at travel agencies on the islands. You purchase boat and minivan tickets for Pakse, Savannakhet or other destinations in south Laos.
For Siem Reap, Phnom Penh, Kratie or Stung Treng, tickets are also widely available at travel agencies. A ticket to Phnom Penh cost less than $30 and includes the Don-Det-boat to Nakasang (departs at 08.00 am), and then minivan from Nakasang. The minivan doesn't travel directly to Phnom Penh - you have to switch minivans in Stung Treng.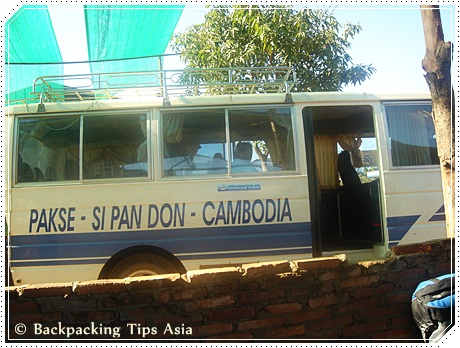 Minivan from Nakasang to Siem Reap
The minivan route I took drove from Nakasang and stopped at the border crossing. We got off the minivan, checked out of Laos, walked to the Cambodian side of the border and checked in.
Once the group was ready to leave, a minivan was waiting for us. The minivan stopped in Stung Treng where we waited for an hour or so, before another minivan picked us up. There were backpackers going to Kratie and Siem Reap, so the minivan made the first stop in Kratie, continued to Phnom Penh and then Siem Reap.
Important places to know about:
There is no police station, hospital or post office on the island. You have to go to the neighboring island Don Khong.
No ATMs here either, so you should exchange money in Pakse or in Phnom Penh. You can exchange money here, but at a very bad rate.
To get a hold of a post office, you have to go to Don Khong Island. It's located above the ferry landing, south of the bridge in Muang Khong.
Internet is expensive on Don Det, and a slow connection. So, if you're impatient, you'd better e-mail your friends and family before you get there (like in Pakse). Price: 400 Kip per minute
---
| | |
| --- | --- |
| Like this page? | Search this site |
---
Don't know how to make an itinerary?
How to connect the dots?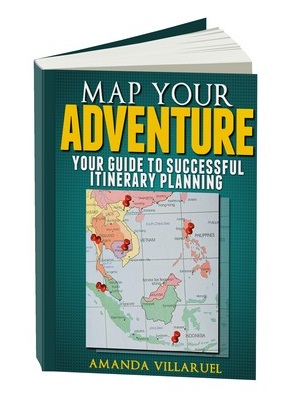 If you're feeling overwhelmed or have no idea on where to start, then you really need "Map Your Adventure" - it's a step-by-step guide on how to set up an itinerary for Southeast Asia and India - the right itinerary for you.
You'll be surprised to learn that itinerary-making can be fun and easy.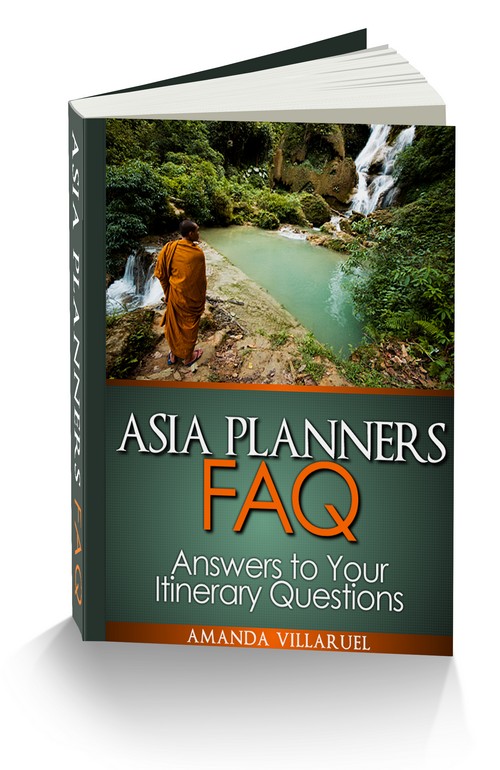 This book is made for you, with 70 pages of itinerary tips and maps, time tables and must-see destinations in the region :-)
Read more about Map Your Adventure here
"Asia Planners FAQ" is a supplement to "Map Your Adventure" and a compilation of real questions from visitors and answers from travel experts on itineraries found on Backpacking Tips Asia.com. You'll find your answers in this ebook.
---
---