---
IRCTC
Train Travel in India
---
"How to Book Train Tickets India through IRCTC"
"IRCTC" was last updated on April 23, 2012
All information below is subject to change

Get a cheap train ticket through Indian Railway!

Do you need help with train booking?

I've done the IRCTC railway ticket booking a dozen times, and I can help you by guiding you through the process -– step-by-step.

First some basic information:
Before booking: There are four things you need to know before you start booking train tickets online, and those are: Train route, date, travel class and which berth you prefer (upper, middle, lower, side upper and side lower).

Search for available trains on Indian Railway. You can't book through Indian Railway. So that's why you can use IRCTC.

Advance reservation period: 90 days

When can you book: The system of Indian Railway is closed between 23.30 and 00.30 (Indian time).

How many journeys: You can book 10 journeys a month

What is PNR number: ID number for your booking and the most important detail on your e-ticket.

Refund: If you wish to cancel your e-ticket, you can do so till the time of chart preparation for the train (which is normally 4 hours before the scheduled departure of the train from the train starting station) through the internet.

You can log on to www.irctc.co.in and go to Booked Tickets link and select the ticket to be canceled and can initiate the cancellation by selecting the passengers to be canceled. Cancellation would be confirmed online and the refund would be credited back to the account used for booking as for normal Internet tickets.
Click on the link, and start booking (link opens in a new window)
---
Step 1:
Register. Registration is free and very easy.

If you're traveling in a group, use the Master Passenger List.

Log in by entering your user name and password

The "Plan my travel" page appears

Type in the information: "From" and "To", "Date"

Example: Type "Jai" (Jaipur) and wait for the options to appear.

Ticket type: "E-ticket" or "I-ticket"

I recommend to choose e-ticket so you can print it out at home. If you choose I-ticket you need an address where they can deliver the tickets.

Quota: General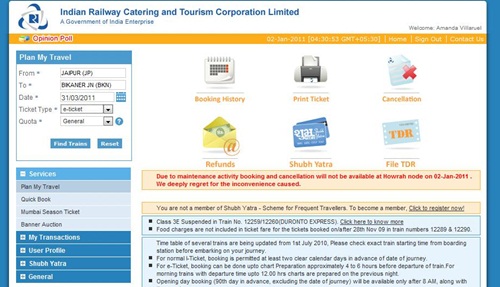 Step 1
---
Step 2:
Choose a train, and then class - by clicking on the circle.
Click on the train name to get train route and table. Train route includes station code, station name, arrival and departure time at each station and distance.
Step 2
---
Step 3:
After you've clicked on the circle, train details and availability will appear.
Click on "Book".
Step 3
---
Step 4:
Step 4
---
Step 5:
Check that the information is correct.
Click on "Make Payment" or "Replan" to edit.
Step 5
---
Step 6:
Choose mode of payment: Credit card, Net Banking, Debit Cards, Cash cards and EMI option.
This is where many travelers have problems with their booking.
I've tried ICICI, Citi Bank, HDFC and Axis Bank. None of the transactions went through. The message was either "not enough funding" (even though I had money in my account), "don't accept foreign cards" or "transaction failure."
Some travelers have had luck with American Express. If you own an American Express, try it.
If it still doesn't work, try Cleartrip. Go to Cleartrip step-by-step.
Transaction charges vary from 1,65% (AXIS) to 1,8% (HDFC and ICICI).
Step 6
This is how it looks like if you choose Citi Bank:
After successful payment you're shown the ticket confirmation details along with a "Print Reservation Slip" Button. You should also receive an email confirmation.
To double check that the transaction was successful, go to "My Transactions" on left column of the page. Then go to "Booked history."
If you want to cancel your e-ticket, visit this page: Canceling e-ticket
---
---
Do you need help with your itinerary for India?
Don't want to miss out on the must-see's in the country?
Don't know how to travel around in India?
Map Your Adventure India is a step-by-step guide on how to create itineraries.
I will help you create a good itinerary - one you'll never forget.