---
Getting to Vientiane
in Laos
---
Last updated on Jan 28, 2012
All information below is subject to change
Vientiane houses huge buildings and landmarks with impressive French colonial architecture. The lovely sunset view of the Mekong River will hypnotize you!
But I'll be straight with you.
If you want action, this is not the place to go!
I met many backpackers who just came in from Vang Vieng, and they only stayed for a day or two. I think the city is (too) quiet and has this awfully relaxing atmosphere.
I personally didn't do that much in Vientiane, besides eating and sampling great Laotian food and getting my Cambodian visa.
So, why Vientiane?
Well, backpackers usually stop by this place to cross into the Eastern Thai border, or to take the bus to Savannakhet, Champasak, Pakse or Vang Vieng.
Or backpackers stop by the city to get to North Laos, and from there head towards Vietnam's border crossings.
How to get there
By air: International flights land at Wattay International Airport, which is about 3,5 km west of town.
From the airport, there are frequent minibuses and taxis that are ready to take you to downtown. The taxi counter at the international airport is close to the arrival exit.
At the counter, buy a taxi coupon - the cost is about $6.
Cheap flights to Vientiane:
There's an international departure tax from Wattay International airport - by now, it's $ 10 per passenger. This should be included in the ticket price. So, there's no need to pay for it separately.
For domestic flights, the departure tax is 5000 kip per passenger.
By bus: Buses leave for Vientiane from major towns/cities like Luang Prabang, Vang Vieng, Friendship Bridge (if crossing the border from Thailand), Savannakhet, Pakse, Phonosavan, Luang Namtha etc.
I can personally tell you that the bus rides in Laos are in general safe, but the local buses are slow.
We took a minibus from Vang Vieng to the capital, and the ride was efficient and comfortable enough. The trip started at 09.00 am. They strapped our backpacks to the roof.
When we finally arrived in town at 12.30 (3,5 hours later), they dropped us off near the river. From there, it was only a short walk to guesthouses and restaurants.
Easy peasy. No hassle.
If you're in a hurry, I suggest you take a VIP- or minibus, arranged by your guesthouse or a travel agency.
By train: There's a overnight sleeper train from Bangkok (Thailand) to Vientiane.
For more information, click here! (opens in a new window - you'll be redirected to seat61.com)
Map of the city:

Leaving town
Going north of Laos:
Buses for Luang Prabang, Luang Namtha, Phonosavan, Udomxai etc leave the Khoua Louang Bus Station. These buses run frequently during the day.
Going south of Laos:
Buses for Lak Xao, Savannakhet, Pakse, Thakek etc leave the Southern bus station.
Traveling within the region:
Buses for Vang Vieng, and Friendship Bridge leave the Talat Sao central bus station.
The buses to Vang Vieng leave between 7 am and 2 pm, and takes about 4-5 hours.
By air:
If you're on a short journey, and want to visit the 4000 islands, you can take a domestic flight (like, Lao Airlines) to Pakse.
Lao Airlines also flies to Luang Prabang, Huay Xai (if crossing the border to Northern Thailand), Savannakhet, and Udomxai.
I flew with them back in 2007. It was an early morning flight at 06.30, so I had to arrange transportation from the guesthouse the day before.
The domestic terminal is small and quiet. The flight itself was effortless. It was a little late, maybe 20 minutes, but I still arrived early in Pakse.
Important places to know about:
Police emergency Phone: 191
Ambulance Phone: 195
Tourist Police on Lane Xang Avenue 
Mahosot hospital for minor treatments or International Clinic
There are many pharmacies around the city, you won't have a problem finding one

Banks and ATMs are scattered around the city, especially on Th Setthathirat. You'll find Lao Development Bank, Siam Commercial Bank and Banque pour le Commerce Exterieur Lao.

Post office next to the town market
There's internet available along Th Setthanthirat and Th Samsenthai. Or check if your guesthouse provide internet access. Price: about 200 Kip per minute
Rent motorbikes and mopeds along Lane Xang Avenue.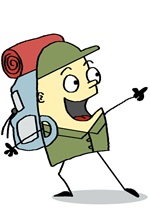 PSSSST...
Having trouble on where to travel in Laos? How to set up an itinerary?
---
| | |
| --- | --- |
| Like this page? | Search this site |
---
---