---
Backpacking Packing List
Footwear
---
"About the Right Travel Footwear 
and How to Break in Your Shoes"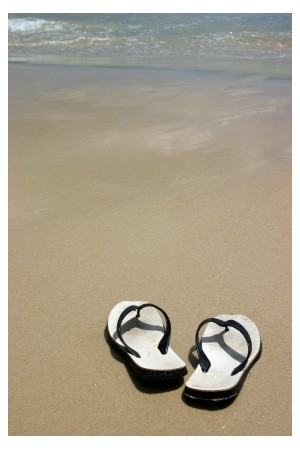 Choosing the right footwear for your backpacking packing list is essential!
When footwear hurts your feet, every step can be a misery, and your feet may take days or even longer to recover!
That's why it's important to find sandals or hiking boots that are compatible with your feet.
First, what to bring:
Flip-flops 

Sports sandals 

Hiking shoes or trainers
Flip flops
Use flip flops for easy day trips, short walks and the beach.
Your flip-flops should be water-proof so you can use them in dirty showers. This way you'll likely avoid fungus which can cause smelly feet.
Sports sandals
Use sports sandals when walking longer, rougher distances. Like, when you're traveling overland, trekking trips etc.
There are many types of sport sandals in the stores.
One brand that I love and recommend is Teva (opens in a new window)
I bought my Teva Terra Fi 2 (orange) in 2007, and have worn them so much during my travels.
This is why I personally swear to Teva sandals:
Even if you've been walking for miles, you won't feel no pain in the heels. It's like walking on clouds. I've done several long day trips in Cambodia, Malaysia and Thailand - and I haven't felt any pain in my back or in my heels. What's worse than ruining your day trip because you wore the wrong shoes?
No matter how thin or fat your ankle is, with Teva you can adjust the straps. I've got a "fat" ankle but never had trouble wearing Teva.
Even if you're hiking on mountains or walking in water, Teva is still standing because it's water-resistant. I would cross small water ponds in Laos with my Teva sandals, and there were no signs of loose straps.
They're easy to slip on and off - crucial if you're on the run, and it will save you time
Teva sandals are known for comfort and sturdiness. And you need comfort and sturdiness when you have to walk thousands of steps!
For men you have Teva Terri Fi 3 and for women Terra Fi Lite. 
Birkenstock Sandals
Another favorite among backpackers is Birkenstocks, since they're great to wear and last a life-time.
During my travels in Asia, I noticed that there are two major brands that most backpackers travel with.
Teva and Birkenstock.
Two of my travel partners wore Birkenstock when we traveled toghether in Asia, and they used these sandals wherever they went! We switched sandals for one day, so I could try it. They're like Tevas - it's like walking on clouds!
So my conclusion is: If you want good sandals, and not just flip-flops I RECOMMEND Teva and Birkenstock :-)
Your goal is to backpack and explore, not to complain about aching feet.
Note: Sports sandals usually don't support your ankles and give less arch support. So, backpackers using sandals need very strong ankles.
If your flip flops wear out, you can find another pair almost everywhere in Southeast Asia. 
When it comes to sport sandals, you can get Teva sport sandals in Luang Prabang (Laos). I bought mine on Th Sisavangvong (the shop is on the same side as Scandinavian Bakery towards Th Sakkarin).
Hiking shoes
Buy hiking shoes if you know that you'll be trekking a lot (mountain, jungle). Otherwise trainers are fine.
Whatever you choose, make sure you break them in before you leave home.
Here are some tips on how to break in shoes:
First wear them around your house
Then on short neighborhood walks (including some hills)
Then on day hikes 
This will allow the new shoes to soften and shape themselves to your particular foot shape. Any problems with the shoes should become noticeable during this break-in period.
When do you need to throw away shoes?
Lightweight footwear is less durable than heavier footwear. The moment you feel sharp rocks under the balls of your feet, that's your queue.
How can you
find compatible shoes?
If you have one foot larger than the other (like most people have), you should buy shoes that fit the larger foot.
Try the shoes unlaced, then stand up and slide your foot all the way forward, until your toes hit the inside of the toe box. To check if you have picked the right size, insert two fingers between your heel and the back of the shoe.
You need this extra length because shoes will shorten after you've worn them a while. Notice that wrinkles will develop on the top of the shoes where the toes bend, and this will shorten the length of the shoe.
Can you wiggle your toes, without feeling any tightness around them?
Now, walk.
If the shoes are the right size, your toes shouldn't feel squeezed when you're walking.
How is the temperature outside?
When it's hot or humid, and you've been walking all day long, your feet will swell. And they are some what larger than usual.
So, if I were you, I would deposit the shoes and try them at home. When you get home, try the shoes in the evening. Your feet should not be swollen anymore.
---
| | |
| --- | --- |
| Further reading: | Like this page? |
Return to top of Backpacking packing list footwear
---
Don't know how to make an itinerary?
How to connect the dots?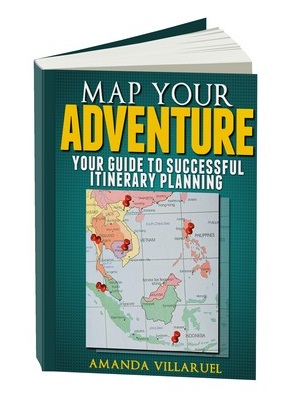 If you're feeling overwhelmed or have no idea on where to start, then you really need "Map Your Adventure" - it's a step-by-step guide on how to set up an itinerary for Southeast Asia and India - the right itinerary for you.
You'll be surprised to learn that itinerary-making can be fun and easy.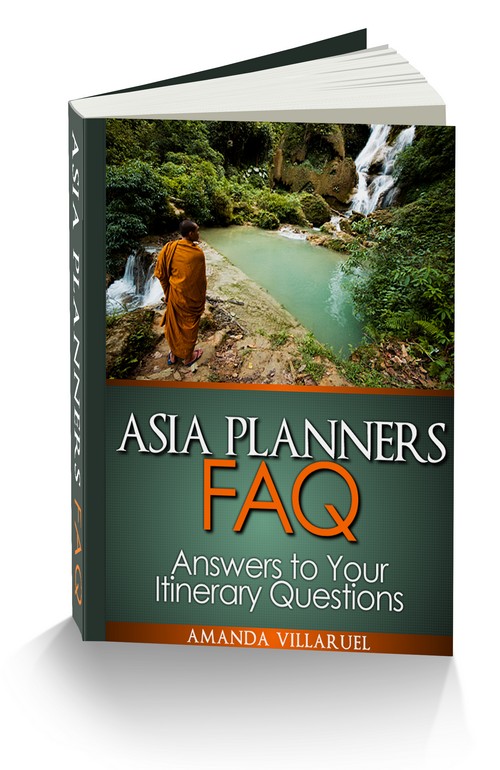 This book is made for you, with 70 pages of itinerary tips and maps, time tables and must-see destinations in the region :-)
Read more about Map Your Adventure here
"Asia Planners FAQ" is a supplement to "Map Your Adventure" and a compilation of real questions from visitors and answers from travel experts on itineraries found on Backpacking Tips Asia.com. You'll find your answers in this ebook.
---
---