---
Food in Malaysia -
Reviews of Restaurants
in Semporna
---
Last updated on Jan 07, 2014
All information below is subject to change
What's so special about the food in Semporna?
- Well, since Semporna is positioned right by the Celebs Sea, it naturally extracts its food resources from the ocean.
Just imagine fish in all sizes, lobsters, crabs, clams - all of the good stuff gathered in one place!
They even have dried seahorses at the market (aaah...they don't belong there...!)
And when a town like Semporna is located next to the world's largest seaweed producing areas, the seaweed becomes an important part of the food culture.
They've had a "seaweed culture" since the 1970s, and it's all because of the vast seaweed area which covers south Philippines and parts of Indonesia.
Where are the restaurants in Semporna?
If your guesthouse doesn't have an attached restaurant, most of the restaurants are centered near the waterfront towards the jetty.
A must-see is the popular fish market with remarkable fresh and fried merchandise. If you just want to grab a couple of bananas or something, they have a large fruit- and vegetable market on your way to the jetty.
If you want cheap cheap food, we also saw a couple of food stalls near KFC. Otherwise you can buy your breakfast from food vendors walking on the streets.
Mabul Café in Semporna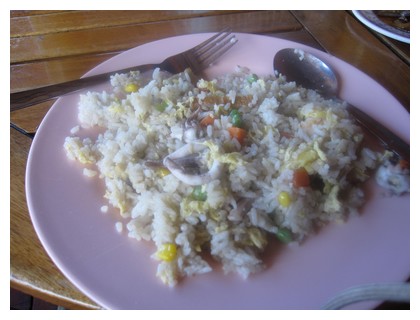 You can get Malay food at Mabul!
The dishes we tried were simple and prepared properly. We couldn't exactly complain when we only paid RM 5 for a dish! I'm from Norway and it's a damn expensive country. Everything that doesn't cost more than the food at home is cheap for us.… Haha.
I tried the Nasi Goreng Seafood and it was alright. I was hungry that day, so I ate fast. I couldn't really distinguish the taste in some way. All I can say is that when I'm writing about it now, I can't remember the taste at all. Maybe it wasn't that special….
My boyfriend tried the chicken fried rice, and thought the dish was OK. It was edible, but not the best.
Prices at Mabul Cafe:
Noodle dishes: RM 5-6
Mee Hoon Goreng dishes: RM 4.90
Nasi Goreng dishes: RM 4.90 to 5.90
Tiger beer (can): RM 7
A glass of red wine: RM 6
Mineral water: RM 1.50
Juices: RM 3 (medium), Rm 4.50 (large)
Beverages: RM 1.80
Tea and coffee: RM 1.50
Return to top of Food in Malaysia
Bismallah Restaurant
in Semporna
Bismallah is the perfect place to grab some Indian food in Semporna!
We got large portions with banana and egg rotis for breakfast (RM 1.50) and delicious chicken soup for lunch (RM 4-5). I love Indian food, so it's hard for me say anything bad about it! ;-)
I can almost guarantee their service. I'll tell you why!
The third time I ate there, I ordered banana rotis again.
Well, this time there was a thick, black hair straw in my food! I didn't know how to react - I was shocked (because of the sight of it and because I didn't expect hair in food).
Then this sweet local waiter saw me staring at my food hardly touching it. So she came closer. When she immediately saw the hair she grabbed the plate, and ran to the kitchen!
No questions asked.
After 5 minutes there was a new banana roti on our table, and it was of course on the house ;-)
Skuba Junkie Restaurant
in Semporna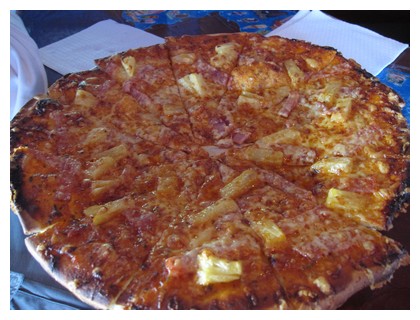 There's no doubt that Skuba Junkie is the hang-out for most of the backpackers who are staying in Semporna. They're famous for their homemade pizzas with thin bottoms.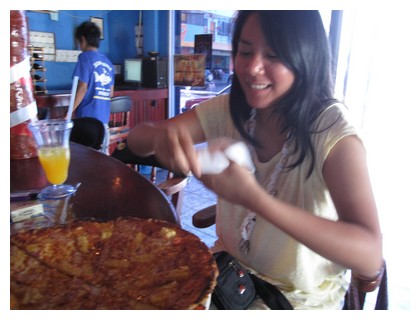 Since Skuba Junkie is a dive shop, they have of course "decorated" with aquariums, and blue walls.
Enjoy a pizza while glaring at the turtles and the fish swimming in the small tanks. I don't know if I was comfortable seeing turtles trapped inside a tank, but I guess they have a purpose with this.
We ordered the "Hawaiian Margharita" pizza several times, and damn it tasted good! And you can also order a self-composed pizza with all the goody ingredients you want! ;-)
Other good meals we tried were Nasi Goreng and the Chicken Curry, and we washed it down with Beck's beer. Yeah!
At nights, Skuba Junkie Restaurant turns into madness! The place is packed and the drinks are being served fast behind the bar. They play music like pop, rock, and alternative.
As for the entertainment, Skuba Junkie has movie nights, BBQ nights and pool contest! Not to be missed!
Prices at Skuba Junkie:
Large pizza: RM 25 Small pizza: RM 15
Cocktails: From RM 10 to RM 25
Pearl City Restaurant
in Semporna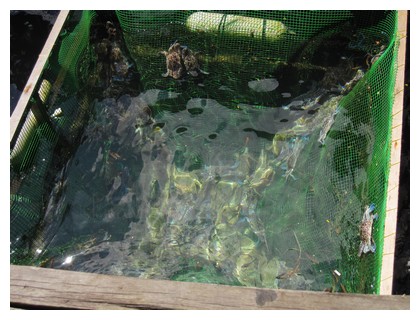 Semporna is a harbor city, so you can just imagine all the fresh seafood that comes in every day!
We didn't eat at Pearl City, because we weren't hungry when we stumbled upon it. But I did my research anyways!
Their menu is full of sea food menu. But if you're tired of fish and everything that can swim, they have some chicken dishes as well. If you order a crab dish, I can guarantee you that it's definitely fresh.
A few people ordered lobsters when we stopped by. The waitress gave the order to a chef. The chef went to the underwater cage right by the restaurant, and picked up a lobster...! There were several cages with different fish and crabs - all of them were on the death list.
Average prices for drinks at the restaurants in Semporna:
Beverages: RM 2
Small bottle of water: RM 1
Juice: RM 1
Chinese tea: RM 0.60
Soya Bean: RM 1.60
---
---
| | |
| --- | --- |
| Further reading: | Like this page? |
Return to top of Food in Malaysia
---
---