---
Reviews of restaurants and food
in Kuala Lumpur -
Malaysia food
---
Malaysia Food: Fried Chicken in Lemon Sauce
The fantastic Malay food is influenced by several countries:
Malay, Chinese, Indian, Nyonya (early Chinese immigrants) and the people of Borneo.
It's such an experience to try Malay dishes because of the great variety. And if you travel to Melacca, you'll get to try the Portuguese-influenced cuisine.
CLICK ON ONE OF THE PICTURES TO START THE PHOTO GALLERY!
... I can't come up with any people who I met who didn't like the food in Malaysia. It's just so damn good!
What's so special about Malay food?
It's the spices and herbs which make Malay food so remarkable in its taste.
Lemongrass and kaffir leaves are among the ingredients in day-to-day Malay cooking. A combination of dried spices and fresh seasonings make a fine paste, and it's finally cooked in oil.
Lucky for me and other fish-lovers, fish is a popular guest in Malay cooking. Rice (often enriched with coconut milk) or roti canais are always supplements for a dish.
Hungry?
Here are some options for where to eat Malaysia Food! I've divided this article into areas: First up is Chinatown, then Little India and Golden Triangle!
Food in Chinatown, Kuala Lumpur
In Chinatown, you can eat whatever you want and it cost like nothing. Along Petaling Street and in the side streets of it, you'll find Chinese food stalls selling soups from RM 3-4. Or noodle dishes like Hokkien Mee (from RM 5).
Other food stalls sell Malay dishes like curries called Nasi Campur (rice, anchovy, various meat like beef and lamb, egg and vegetables) for as little as RM 3.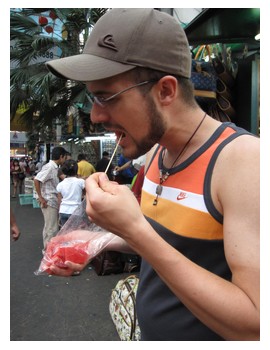 All day, food vendors sell fresh fruit which they cut into small pieces just for you. Then they bag it and give you a stick. One bag of fresh fruit cost RM 1!
Every day we ate water melon, papaya, yellow mango, honey dew and my favourite: Jackfruit.
Other goodies to try:
Sugar cane juice in a bag - RM 1
Sugar cane drinks are the most popular cooling drinks in Malaysia.The sugar cane is boiled, then it's mixed with pressed fruit. You can get all types of sugar cane juice, mixed with different fruits like logan, chestnut, coconut etc.
Dried pork 100 gram - starting from RM 7.50
Rice with chestnut packed in a banana leaf, called Tepong Bungkus - 
RM 3.50. Strange taste though. The look of it reminds of the ones we have in the Philippines, but it wasn't sweet at all (Filipinos do have a huge love for sugar).
If you dare, try frogs 100 gram - RM 5. 
| | |
| --- | --- |
| Toads | Tepong Bungkus |
Here are some restaurants you should try (and perhaps not try):
Pavilion Restoran
Mango Chicken salad (RM 35)
Our first meeting with Malaysia food was at Pavilion Restaurant. We were hauled in by the staff and they were trying to promote Tiger Beers at 4 pm in the afternoon.
Well, we ate their delicious food and washed it down with 1 liter of ice-cold Tiger (think the Tiger cost RM 18)!
For starters, I tried the fried dumplings (RM 15) with chili sauce. It was so crispy and just melted on my tongue. Mmmm!
Then I had fried Assam fish for dinner (starting from 19 RM). I ordered a "small" portion, but it was large. I still ate the whole damn thing!
Restoran Mee Hong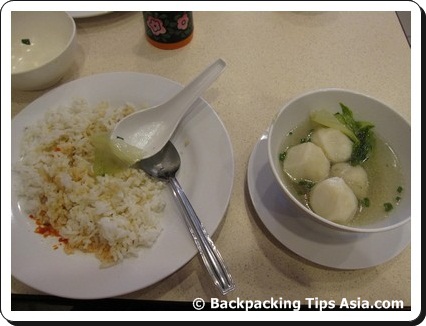 Mee Hong is located next to Backpacker's Travellers Inn and serves top Chinese breakfast, lunch and dinner.
During lunch hours, the restaurant is full of locals and Chinese tourists - it was sometimes hard to get a table.
I got some soup with fish balls and rice (RM 4), while my friend was excited about his beef soup. Then finish your meal with a lovely hot green tea.
One funny thing is that we didn't know how to use the extra plates and bowls. We observed how the others were eating, and they were eating the rice right from the little bowl. But we got confused when we got a plate.
We thought: "Couldn't we just eat from the rice bowl?!" What a heck, we used the plate!
Seng Kee Restoran
This restaurant is heavily packed every night. They set up tables and plastic chairs on the sidewalk, and your food is made out in the open.
I personally prefer these kinds of restaurants because you can actually see what's being done to the food - more like a "quality check."
You can guarantee that no one's spitting in your food ;-)
First the good part…:
Their menu was full of exciting meals and I had trouble choosing. So I ended up with BBQ pork with wanton noodles (RM 9).
My boyfriend chose the sweet and sour chicken (RM 15), and based on his sounds going "Mmmm" the whole time, I assumed he liked it!
But my choice turned out to be a mistake. I got this too fatty noodle lump on my plate, and it only tasted like burnt noodles. It wasn't worth the RM 9.
I only ate the pork and the part of the noodles which wasn't burned, so I wouldn't feel like I've wasted food.
Typical flavors at local restaurants and food stalls in KL
Central Market
If you're shopping at Central Market, get tired and need a break from all the bargaining, they have a food court on the 2nd floor. They open as early as 9 pm and it's a good place to have your warm breakfast.
I got addicted to their Malay-Chinese soups (RM 4.50 RM-10), especially at Aneka Sup. The variety of ingredients is only limited by your imagination, and you can add fish balls, chicken, beef or just vegetables!
For example, we tried the Herbal Chicken Soup (RM 5.5) with some hot green tea (RM 2).
Little India
in Kuala Lumpur
We didn't eat that much in the neighborhood of Little India, but we did try some hawker stalls selling Indian fast food like Roti Canai (20 sen-RM 2).
Plain Roti Canai cost 20 sen, and Roti Canai with egg can cost up to RM 2. The typical drink to have it with is the soothing Teh Tarik. The usual deal at these stalls is that you get a Roti Canai + Teh Tarik for only RM 1.
Return to top of Malaysia food
Golden Triangle
in Kuala Lumpur
The Golden Triangle has an array of local, Thai, Japanese and Western restaurants, coffee shops, bakeries filled with colorful doughnuts and bakery goodies, and large food courts inside the malls.
Malaysia Food: Doughnut bakery outside Low Yat Plaza
Many of the eateries are found inside the shopping centers, or just outside the malls on the sidewalk.
If you miss the coffee at Starbucks (average price RM 12-13 for a coffee, 
RM 9 for an orange juice, sandwich RM 4-5), you'll have no trouble finding it along Bukit Bintang and Sultan Ismail. Or if you want to run off to Hard Rock Cafe, they have it as well.
We tried only one restaurant in Golden Triangle because of our budget.
Here's the one we tried:
Bangkok Jam Restaurant
We found an open-air area near Low Yat Plaza where they hide some of Kuala Lumpur's restaurants. Since I was craving for Thai food, we tried Bangkok Jam.
The Bangkok Naked Duck (kind of a sexy name and it cost RM 18) was a definitely a big hit. My boyfriend explained that it wasn't spicy at all, but had this strong flavor which tasted VERY good.
Again, I ordered a huge fried fish with chili sauce (RM 45.90), but the meat was dry. It was the second time I was disappointed. I got the meal on our table 10 minutes after we ordered, and sensed that they didn't cook it with love.
Altogether, the food in Kuala Lumpur was just delicious and it can be very cheap if you can handle sitting on a sidewalk and eat. My all-time favorite was the soups in Chinatown and at Central Market ;-)
---
| | |
| --- | --- |
| Further reading: | Like this page? |
Return to top of Malaysia Food Kuala Lumpur
---
---