---
Jaipur Attractions
---
"A Personal Guide to Sights and Activities in Jaipur"
"Jaipur attractions" was last updated on May 06, 2013 
All information below is subject to change
Ready for some action in Pink City?
Every tourist and backpacker traveling in north India manages to find their way to Jaipur - the City of Castles.
For backpackers, there are 3-4 places that are considered must-sees.
Inside Pink City's walls you'll find The City Palace, the popular Hawa Mahal and the astronomical instruments of Jantar Mantar observatory - the pearls of Jaipur!
I'm going to introduce you to some of Jaipur's finest attractions... the Amber Fort! I have a lot of good memories from this place, so you better buckle up and read.
Astrology is a big thing in Jaipur, so if you're interested in astrology, I suggest you read about my experience at the Rajasthan Astrological Council. And maybe try it yourself ;-)
I tried the astrology and the palm reading!
Jaipur is a city where backpackers typically stay for 3-4 days. Jaipur is also an awesome place to celebrate the Holi Festival.
City Palace Complex
in Jaipur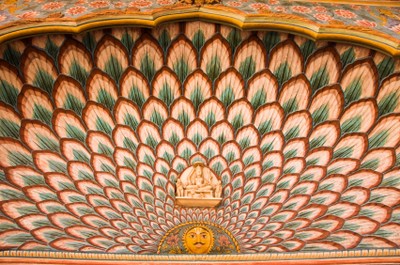 Jaipur Attractions: Peacock Gate of City Palace
The mighty City Palace covers a large area which can be divided into courtyards, buildings and maintained gardens.
It's the best example of an exquisite blend of Rajasthani and Moghul architecture, and the site can be explored without a guide.
My favorite was the Peacock Gate, located in the inner courtyards. If you're interested in getting to know Indian history, Maharani's Palace might interest you. Here you'll find the largest collection of deadly Indian weapons, paintings in Rajasthani, Mughal and Persian style, mirror walls and ceilings.
There's a lot to see at the City Palace, but if you just want to take a look at the most important buildings you should calculate at least a half-day trip. Time goes fast when you're studying the detailed work at the museums!
Practical info on City Palace:
Admission adult: Rs 300/75 (foreigner fee/Indian) incl. still camera
Admission student: Rs 200/40 (foreigner fee/Indian) incl. still camera
Video camera fee: Rs 200
Opening hours: 9.30 am - 5 pm (Monday to Sunday).
A ticket also includes entry to Jaigarh fort. If you're a student, remember to bring a valid student ID!
Hawa Mahal
(Palace of the Winds)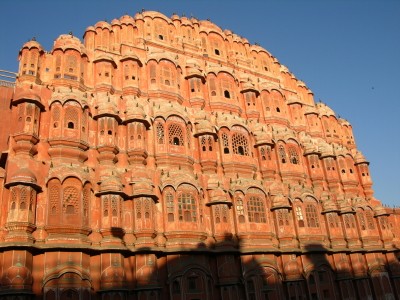 Jaipur attractions: In front of Hawa Mahal
Personally I wouldn't call Hawa Mahal a palace. It's more like a pink sandstone facade. Hawa Mahal is a 5-story building and was built for the women in the Royal Family, because they weren't allowed to go out. It looks large and stunning from the outside, but from the inside there's not that much to look at.
Have in mind that it's packed on the main streets by Hawa Mahal.
Once you've crossed the street, you'll find yourself in the middle of the touristy market. And just down the streets you'll find snake charmers! That was probably the coolest part when visiting the site.
Practical info on Hawa Mahal:
Admission adult: Rs 30/10 (foreigner fee/Indian)
Camera fee: Rs 30/10 (foreigner fee/Indian)
Video camera fee: Rs 70/20 (foreigner fee/Indian)
Opening hours: 9.30 am - 4.30 pm (Monday to Sunday)
Jahar Mantar
in Jaipur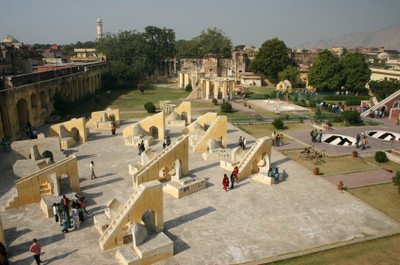 Jaipur attractions: At Jantar Mantar
If you want a break from the crowded city, you might like Jahar Mantar! It was one of the few peaceful attractions I've been to because there was a lot of open space. I didn't feel that it was crowded.
Astrology is important in Indian culture, and Jahar Mantar today is the largest stone astronomical observatory in the world. I have to say that the place looked weird.
But if you take a closer look, the huge instruments are actually interesting. The instruments are placed strategically so they can predict eclipses and the sun dials are accurate.
I believe that you can spend about 1-2 hours here.
Practical info on Jahar Mantar:
Admission: Rs 100/5 (foreigner fee/Indian) includes camera fee
Opening hours: 9.30 am - 4.30 pm, Monday to Sunday
Amber Fort India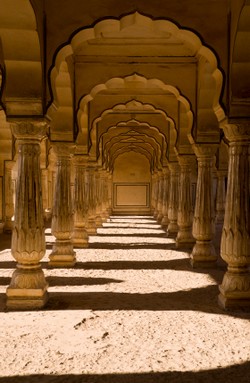 Amber Fort India is one of the most popular attractions in Jaipur.
Great place to be to learn about Indian history and culture, but the place can be crowded!
I've written a separate article about Amber Fort :-)
Astrology Reading
in Jaipur
Do you believe in the stars?
If you want one of the most famous Indian astrologists to read your palm or to read your star sign, visit Dr. Vinod Shastri at the Rajasthan Astrological Council & Research Institute.
You can choose to get a computerized astrology report or palm reading! I paid Rs 1000 for both (Rs 900 for the detailed report - 5 years).
We gave our names, date of birth, time of birth (time of the day) and place of birth. A computer was apparently doing the dirty job. 
This is what you'll get in your report. The report is yours to keep.
Your favorable points (like lucky number, friendly and evil numbers, good years, favorable days, planets, stones, metal, color, direction, time, liquids and so much more).
Summaries of your personality, appearance, nature, intellect, love, romance, children and alike.
Once I got my results, I thought some of it was unrealistic. Don't get me wrong, I believe in astrology to a certain point. Some of the results matched what I already knew about myself, so that part was OK. But I think some of the summaries were nonsense.
I got the palm-reading as well because I was curious. The astrologer was right about my love for traveling (not exactly a surprise!), and my personal love life. But one thing that confused me was that I had "women disease"... Weird stuff!
So, what will you learn from this experience?
... You'll learn what you already know about yourself, but didn't dare/care to admit it to yourself (or others)…
.. You'll learn even more about yourself, because some of the results will come out as... nonsense. If you know yourself good enough, you'll know what's right and what's not right.
... You'll learn that astrology is an important part of the Indian culture.
Where: Near City Palace, Chandni Chowk
---
| | |
| --- | --- |
| Like this page? | Search this site |
Return to top of Jaipur Attractions
---
---
---