---
Khmer Music, Hip-Hop
and Breakdance
- Welcome to Tiny Toones
---
"Khmer music and dance hip hop" was last updated on April 15, 2012
All information below is subject to change
Before we left Phnom Penh in April 2010, we stopped by Tiny Toones.
I was first introduced to Tiny Toones by a visitor of Backpacking Tips Asia - June from the United States. It sounded like an awesome place so we took a Tuk-Tuk to the Russian market.
But Songkran festival had just finished, so the place was almost empty. We stumbled upon Peanut - who introduced us to Tiny Toones and showed us around. Peanut decided to travel to Cambodia from Seattle (US), and now he works with Tiny Toones music production.
Peanut gave us the grand tour - you'll notice the striking features of their open space with surrounding walls of cool painting and graffiti, a class-room which they want to renovate, a computer room and a music recording studio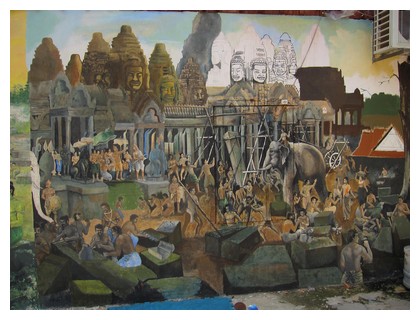 He told us that hundreds of children pass their center each day. They're homeless, staying at an orphanage or just neglected. A lot of the kids had been sniffing glue in a very young age. It might not sound realistic, but it's true.
According to official reports, thousands of at-risk youth are living off drugs in the capital of Cambodia.
To get quick money, many of them sell their blood. Officials speculate that 20% of 2000 kids are HIV-positive. That's one way of getting HIV. Many reports also show that they reuse needles/syringes. It's obvious that the combination of poverty, lack of knowledge and most importantly lack of motivation, has led to a large number of young drug users.
It is thought that the drug trafficking and the country's economic status have led to the illicit use of drugs in Cambodia, especially amphetamine-type-stimulants (called "Yama"), which in 2007 accounted for approximately 80,9% of the illicit drugs in the country.
Youth accounted for 80% of the use of illicit drugs, with 59% in the age of 18-25, 16,9% in the age of 10-17 (Statistics from UNESCO's works for peace and development in Cambodia)
When these kids arrive at Tiny Toones, they find motivation and inspiration.
The purpose with Tiny Toones is to empower the street children and youth so they can live free from drugs and HIV. They also have a harm reduction program and provide free classes in English and Khmer, building their way to proper education. Monday to Friday they have classes during the day, and then dancing in the afternoon.
There are many NGO's and governmental organizations who work with drug users, I thought. I asked Peanut about how NGO's work with young drug users in Cambodia. His answer was simple and logic:
"These kids are not like other kids. NGO's can't reach these types of children. Probably because they feel more comfortable with "gangsters".
When he mentioned this, I came to think about the founder of Tiny Toones, Tuy Sobil or just "KK."
Before we came to Cambodia, I listened to a podcast interview with "KK."

Khmer music and hip-hop dance: Tuy Sobil/KK dancing -
Photo courtesy of tinytoones
What caught my interest was the fact that he was deported from the US to Cambodia in 2004 because of an armed robbery conviction. He was a previous gang member in Long Beach, California. KK has a dirty past as well.
But he turned his talent: break-dancing into something valuable and started Tiny Toones. Think about it, he started break dancing at an age of 8!
I think it's kind of ironic that he's keeping children off the streets when he's been on the streets himself. I assume that when you've already been on that road and lost "everything", your urge and need to prevent others from doing the same mistakes is immaculately strong.
KK has proven that those who have "been there" know their stuff and can actually reach out to those in need. The same with Aki Ra, the founder of Land mine museum outside Siem Reap. He was a former Khmer child soldier laying landmines in Cambodia and turned into a respected mine remover 15 years ago.
Besides helping out the youth in Phnom Penh, Tiny Toones wants to keep blending traditional elements of Khmer music, arts, and dance with Hip-Hop. With so many talented youth and mentors, I'm sure they will accomplish this! :-)
If you're in Phnom Penh, you should definitely stop by!
If you want to support them you can buy merchandise like shirts ($15), hats ($25), CDs/photos ($10), stickers ($1) and postcards ($1). Maybe you'll even catch a dance performance.
Where: Near the Russian Market, Phnom Penh. Street 460, House 4.
Website: Tiny Toones
---
| | |
| --- | --- |
| Further reading: | Like this page? |
---
---