---
Reviews of Restaurants and Bars
in Perhentian Kecil

Malaysia Food 2
---
"Malaysia food 2 Perhentian Kecil " was last updated on April 19, 2012 
Prices listed below are subject to change
Most of the chalets and guesthouses on Perhentian Kecil have attached restaurants where most travelers eat their meals. Sometimes it pays off to eat there because they offer discounts/special offers for their guests.
Like if you're staying at Panorama, you get one dinner for free which is included in the room price (depends on what chalet/room you have).
But if you're tired of the food served at your guesthouse, you can try the small restaurants by the beach.
And some restaurants serve alcohol, and some don't. But if you bring your own, they usually don't mind!
I only stayed at Long Beach on Perhentian Kecil, so you're going to read about the food and drinks we tried there.
Panorama Restaurant
There's a reason why 70% of Long Beach's travelers go to Panorama to eat dinner. The food in general on Panorama is cheap and variable!
But when it comes to quality, it really depends on what you're ordering there. Keep reading and you'll know what I mean!
Wake up!
You can do it the easy way and order a breakfast set at Panorama's (RM 10-15). The cheapest breakfast set contains toast with jam, and some tea or coffee.
If I had to choose a breakfast set, it would have been the one with banana pancake and fresh juice! They also serve omelets (RM 6) and mueslis (RM 5-6). I couldn't eat it all up because there was just too much food. But you can't really complain though - you get large portions for little money!
These kinds of Western breakfast sets tasted... alright. I mean, it's cheap enough so we couldn't really complain. You can't expect Malays to make Western breakfasts as good as they make local food, especially when they don't have a real chef.
Speaking of local food.
Panorama's Malaysian soups (RM 7-13) are on the other hand excellent. I especially enjoyed their vegetables soup and beef noodles soup.
For dinner...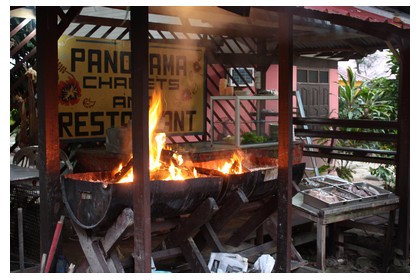 ... the options are many! Choose from various pizzas and BBQ food (RM 18)! They even have BBQ Tandoori. They start the BBQ session around 7 pm, and you can order fish, chicken, prawn, king fish, blue marlin, squid, lobster just to mention a couple.
As a complimentary sauce to the BBQ meat, you can choose anything from pepper to sweet and sour.
To make things interesting, I ordered the BBQ Barracuda with chili sauce and "baked potato." It wasn't baked potato as we know it in the Western world. It was sliced potatoes. But I'm not picky at all, and as long it was potatoes, I didn't care how they served it! The meal itself was good.
My boyfriend enjoyed his BBQ Chicken with satay sauce which he thought was spicy and alright. The only thing he was pushing aside on his plate was the old rice.
Palm Tree Café
Day food
Malaysia food 2: Pineapple fried rice
We used to grab lunch at Palm Tree after we had been sunbathing for hours. It's a good place to hide from the scorching sun on Perhentian Kecil!
The restaurant is located just a few meters from the shoreline, and it's a great spot for watching people do nothing on Long Beach. While you're waiting for your food to be served, enjoy the ocean view and let the light breeze cool you down.
We tried the fried noodles with beef and the local meal - pineapple fried rice which was pretty good. My boyfriend love pineapple on pizzas, so pineapple with rice was absolutely delicious! It's a good veggie dish -- not too heavy and not too greasy!
The fried noodles was OK (I was hungry and ate fast, so I didn't really take the time to chew and taste...)
Evening food
Malaysia food 2: Fried noodles with beef
During the evening, Palm Tree is not as popular as the bar by Matahari Chalets.
We noticed only a handful of people drinking beer and chatting loudly. We tried the chatting, but they played too loud reggae/rock music and it was kind of hard to follow up a conversation.
But they do have water pipes (Shisha)! Just follow the water pipe smell if you want to grab some beers here. We washed down the food from Panorama with Tiger Beer (RM 18) (expensive... :S)
Daniel's Café
We decided to try a new place and went to Daniel's Café on the beach. I ordered fried fish with garlic and melted butter, but to be honest, it didn't taste anything. And there was just too many persistent flies swarming around our food, and the food experience dropped even more!
My boyfriend went for the ginger chicken and he was like: "What is this?!" His only words were:
"This was nothing special."
He has a great sense of taste (his mother has taught him a thing or two about cooking since she's a chef) so I believe him when he said that the ginger chicken had almost no taste. To paint the picture even better, the chicken was dry and tasted old.
All in all, the food at Daniel's didn't seem to be freshly made. But maybe we were just unlucky that day... Who knows...?
Restaurant at Bubu's Resort
Malaysia food 2: Delicious food at Bubu's
No doubt that Bubu's restaurant probably serves the best food on Long Beach! If you're longing for some real Western food which actually tastes something, go to Bubu's. They also have a Thai cuisine if that is of interest.
Bubu's have a wonderful and talented chef, and his name is Salim. All of his dishes are fresh and home-made. I think we tried 8 dishes in total and all of them were excellent!
Every time we got the food, we noticed that the Chef came out and "checked" if we liked the food. He was just smiling the whole time!
These are the dishes we tried at Bubu's Resort:
Salad with balsamic vinegar
A good Western salad is hard to find in Malaysia.
As you know, balsamic vinegar is considered as a luxury complimentary to salads and sauces. I didn't believe my eyes when I saw some in my salad. Just like home!
Fettuccini with salmon: RM 25
Loved the fettucini!
Pineapple fried rice with shrimps and chicken: RM 20
This local dish was added with meat, and my boyfriend was kind of disappointed because he thought it was a veggie. He's not exactly a big fan of shrimps. But still he ate it - don't want to waste food, huh? ;-)
Pad Thai: RM 18
The Pad Thai at Bubu's was good, but the Pad Thai in Thailand is of course much better!
Pasta: RM 22-28
Home-made burger: RM 22
This was our first meal at Bubu's and it was a real burger! Besides the bread though. It wasn't hamburger bread, but wholegrain bread - still good!
Sea food platter: RM 120
Bubu Club Sandwich: RM 25
Cheese burger: RM 22
Desserts like creme brule and fruit platter: RM 18-22
The creme brule was awesome even though it was served in a tea cup. It had this perfect caramelized crust which I love!
Drinks at Bubu's Resort:
Tiger beer: RM 9
Coke, 7-up, Spritzer: RM 3
Espresso: RM 10
Juice (mango and other delicious fruits): RM 10
Bar near Matahari Chalets 
& Party at Mohsin
The "wild" activities of Long Beach happen on these bars!
By Matahari:
At night they set out mats on the sand, low tables, candle lights and the whole place lit up like the laid-back bars in Thailand.
This is pretty much the only place where you can get decent drinks, and the cocktails have a high amount of booze! There are so many travelers gathered here that you won't have a problem getting to know someone. Do that while you're digging the disco/pop music!
Where: The small bar is located between Matahari Chalets and Panorama. You can't miss the good music and the lights!
Remember to put some repellent on! The mosquitoes can be aggressive….
Party at Mohsin's:
Rumors (the restaurant) is where all the dancing AND the drinking happen at night!
The restaurant/bar is located on a a hill, and is a great place to get to know other travelers, flirt, dance and drink!
Family stores on Perhentian Kecil
You'll find a couple of family stores by Daniel's Cafe and one inside Panorama's area. They sell smoke, drinks like Chinese ice-tea, Red Bulls, fruit flavored beverages, chips etc. And the family store inside Panorama also sold fruit and vegetables, like mangos, calamansis, bananas and much more.
Don't be intimidated by the flies swarming around the fruits and vegetables -- it's inevitable.
Marlboro, Camel (20s): RM 9-11
Beverages in can: RM 2,5
Chips: From RM 3
---
| | |
| --- | --- |
| Further reading: | Like this page? |
Return to top of Malaysia food 2
---
---