---
Reviews of
Siem Reap Restaurants
---
"Siem Reap restaurants" was last updated on Jan 04, 2014

Looking for cheap food in Siem Reap?
Even if Siem Reap is an "expensive" town, you can still find cheap local food in Siem Reap, and it's just delicious! Head for the food stalls and markets if you want cheap cheap food ;-)
You can choose from Khmer, Thai, Mexican, Vietnamese (Soup Dragon), Indian, Italian (Ecstatic Pizza), French and so much more!
What you'll also notice is that many restaurants are owned by westerners. So if you're craving for Western food, that shouldn't be a problem in Angkor town.
Here are some excellent options! :-D
Food Stalls and Markets
in Siem Reap
Head for the markets and food stalls on the Eastern side of the river near National Route 6.
In the evenings, food stalls set up all over town. The most visited are the ones just outside Red Piano, near Sivatha Road and Pub Street (4,000-8,000 riel, open from 16.00 - 03.00).
Select your meat on a stick (barbeque chicken) and order some plain sticky rice - that will make your mouth busy!
Average price on meals: $2
Fish-lovers shouldn't get disappointed either - they have amazing fish which you can dip into a combination of lime juice, black pepper and some salt. A simple meal and CHEAP! If the food is too salty for you, soothe your tongue in fresh fruit juices ($0.5)!
You have more food stalls at the Old Market (Psar Chaa) where the locals come in to have breakfast and lunch (4,000-8,000 riel). Some stalls have a menu on English, but otherwise you can just look into the pots to see what they're cooking.
Blue Pumpkin Bakery
in Siem Reap
Want European bakery goods or ice cream?
Go to Blue Pumpkin!
Upstairs you have a very modern white lounge with huge comfortable bed/sofas. It's a great place for you to cool down if you want to escape the hot weather!
I don't like minimalistic (soul-less) interior, but I actually enjoyed the trendy, minimalistic look of the 2nd floor (or maybe I liked the air-con...hmmm...not sure!)
And when it comes to the food, I tried the chicken sandwich and the cappucino - excellent, but a bit overpriced. But then again, restaurants that serve Western food in Siem Reap, is all in all overpriced.
When I visited again in April 2012, the place was packed with tourists and some backpackers. Most of them were sitting in the AC-lounge on the 2nd floor where they have wi-fi access. A good place to cool down from the Siem Reap hot climate!
We tried their crispy, yummy spring rolls and bakery goods - they were delicious! :-)
Address: 2 Thnous Street
Siem Reap restaurants:
Soup Dragon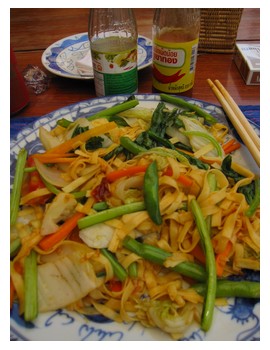 Soup Dragon has probably the best Vietnamese food in Siem Reap! They also serve Moroccan, and of course Khmer food, along with some pizzas.
Their menu is extensive and you just want to try out everything, so use your time! ;-) I tried their simple Vietnamese noodle dish, and it was delicious!
Prices:
Vietnamese soups: $2
Western soups: $3
Noodle dishes: From $2.50
Fish, beef and chicken dishes: $4-5
Duck dishes: $5-6
Pad Thai with beef or chicken: $2.50
Pad Thai with seafood: $3
What caught my eye when I looked in the menu was their statement saying: "7 cents of each dollar goes to Angkor Hospital for children."
A great place!
Where: Pub Street
Vegetarian food at Peace Cafe
in Siem Reap
Ready for some healthy, vegetarian food? ;-)
At Peace Cafe, grab some paninis and salads! I tried the panini roast pepper with hummus ($4) and the panini with mozarella and tomatoes ($4), and they were alright.
The food tastes healthy and surprisingly delicious.

We tried the health drinks as well, like their detox drink. I thought it was hard to get it down my stomach, but I just had to tell myself that it was...healthy! :-P
All healthy vegetable drinks cost only $2!
If you're not keen on their food, you can try yoga lessons, monk chat, meditation, pilates. And if you want to learn basic Khmer, you can learn it right here for free (Saturdays and Sundays, from 04.00-05.00) pm!
Another great thing about this place is their vegetarian cooking classes ($20 included lunch and recipes - booking is not necessary). Cooking classes are offered daily from 11.00 am to 01.00 pm.
Where: Street 26 in Wat Bo Area
Return to top of Siem Reap Restaurants
Dead Fish Tower
in Siem Reap
My first impression wasn't that appealing because it didn't look like an ordinary restaurant to me.
But when I finally entered this multi-leveled building, I was amazed by the unique concept. It looked like an old factory inside as the whole place used corrugated iron and low roof beams. They even have a croc pit in a corner - you can feed them for a dollar.
They serve good Khmer, Thai & Western food - I got the spicy eel dinner. Spicy of course, and delicious!
On the street sign outside, they advertised for live bands and Khmer dance performances. It's also a good place to hang out, and drink beers on their big comfy pillows.
There's not much people during daytime, but more crowded in the evenings.
Where: Sivatha road
Sala Bai Hotel
& Restaurant School
It's a free school for underprivileged young Cambodians. If you want to try something new, and want good Khmer or Western food, this is the place to go. All meals are prepared by the students at Sala Bai, ranging from $7-9.

I visited Sala Bai the first time in 2007, before the business really took off. The students were still in class or something and one of the responsible persons working there greeted me with a big smile.

I can tell you that...
... it was the biggest lunch I ever had - I think I was served two dishes and it was plenty of excellent Khmer food. The young waitors were just sweet, eager to please me and always had a smile on their face! I felt like a queen where I sat! ;-)
Breakfast: 07.00 - 09.00
Lunch: 12.00 - 14.00.
Closed in the evenings, weekends and public holidays.

---
| | |
| --- | --- |
| Further reading: | Like this page? |
Return to top of Siem Reap Restaurants
---
---