---
Siem Reap Shopping -
Reviews and Recommendations

---
"Siem Reap shopping" was last updated May 10, 2013
All information below is subject to change
The shopping in Siem Reap is growing steadily and the real treasure here is products made by Cambodians. Check out the Made-in-Cambodia market. 
Walk in the Pub Street Alleys and find small clothing shops and boutiques. Local designers have opened up shops in Siem Reap, and it's worth a look! They're talented! :-)
A favorite shop of mine is called "Binky Higgins" selling feminine and chic women clothing and accessories. 
We visited one mall in Siem Reap, called the Lucky Mall. They had a large supermarket downstairs, mobile and game shop, few clothing shops and restaurants.
Siem Reap Shopping at the markets can be chaotic - my advice for you is to be patient!
Money tip: If you buy something and get US dollars as change, make sure the bills aren't torn or else you'll have difficulties using it later.
I got stuck with a $20 torn bill, and even tried to use it at a local supermarket. But they only asked me if I had another bill. Fortunately, I could get rid of this bill when I got to Bangkok (I exchanged it to baht).
Psah Chas Market (Old Market)
in Siem Reap
The traditional local Psah Chas Market (Old Market) have stalls where they sell t-shirts, wood crafts, Buddha figures, books, food and more... Time to bargain!
The Tonle Sap River is full of fresh fish, and this is the market where their lives end. Local women butcher and sell fresh fish (some are still alive!), flowers (most of the time you'll see lotus flowers and orchids), fruit, dried goods like shrimp which they use for papaya salads.
Shopping inside
Angkor Park
You'll find shop stalls and vendors outside the major temple sites. They sell souvenirs, Krama scarves in different colours, flutes, clothes, booklets, guide books (like Lonely Planet Cambodia), handcrafts, silk purses, postcards, accessories and the list is long!
You can also get original paintings made by local artists.
Note: Inspect items before buying because some tend to have minor defects and flaws.
Angkor and The Noon Night Market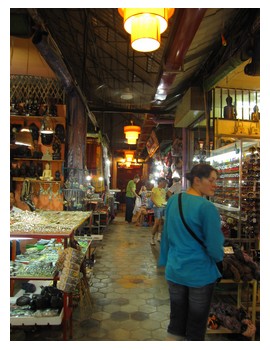 Backpackers will find their way to the Noon Night Market!
Find hundreds of stalls and rows of souvenirs, clothes, jewelry, stones, pearls, ornaments, CDs, books, color paintings - you name it!
This is also the place for you to bargain hard...with a smile! :-) You can at least cut the price in half!
When you're done shopping, get a quick bite at Khmer Bistro Restaurant or a drink at Lunar Bar. Yeah, I know a bar located inside the market. Me and my boyfriend went here for drinks after shopping. It was so hot, so it was perfect to just cool down with an icy umbrella drink.  
Prices:
 (only as a guideline)
T-shirts: $2 
Small/medium souvenirs (Ganesh, dragons, elephants etc.): from $3 
Tea: $1 
Krama scarf: $1
You'll also find a tattoo shop by the name Skin Art Shop, massage, fish spa and a night mart inside the market area. 
Where: Near Sivatha Road
Well-Made-in-Cambodia Market
Photo courtesy of Shinta Mani
Is it really made in Cambodia (and not China or India)? That's the real question for millions of products sold in Southeast Asia.
On March 2, 2013 the brand new Well Made in Cambodia market was launched. Finally, items sold at this market are made by Cambodians. The goal is to give Cambodians direct income. Find workshops, entertainment and food at Well Made in Cambodia.
Photos from Well-Made-in-Cambodia Market
All three photos below are by Shinta Mani. 
Where: In front of Shinta Mani Hotel
When: First Saturday of every month from 15.00-19.00 hours
Return to top of Siem Reap Shopping
Download Music at Rogue
Photo courtesy of Rogue, Cambodia
In downtown, you'll find Rogue where you can download music and movies to your iPhone, iPod and Creative Player.
Prices:
1-9 music albums = $1.50 per album

From 10 music albums = $1 per album

New movies = $2
While you're waiting for the download, you can take a look at their cool t-shirts ;-)
PS! You can't choose to buy one song from an album. You have to buy the whole album.
Pub Street Boutique Shops
in Siem Reap
If you're tired of shopping clothes at the market, real shops can be your savior! But the clothing will of course cost a lot more than it would have at the market.
Binky Higgins
Photo courtesy of Binky Higgins
This was definitely my favorite store in Siem Reap. Find chic clothes, purses and accessories. When you walk in to the store, you just want to try everything! I bought a very nice floral dress for $45.
Spicy Mango
Spicy Green Mango had just opened when we stopped by in April 2010. The shop wasn't finished, but we could clearly see the cool clothing. I would define this type of collection as "hippy and bohemian"-clothing. I bought a top for $22. Great store and friendly staff!
Twiggy
A new boutique shop called Twiggy opened in March 2013, selling vintage clothes and jewelry, and also spa products and hand-made items from local NGOs (Non-governmental organizations).
---
| | |
| --- | --- |
| Further reading: | Like this page? |
Return to top of Siem Reap Shopping
---
---