---
Practical tips for Angkor
Cambodia
---
"101 guide to Angkor Cambodia
and Angkor Thom"
Last updated on Feb 21, 2013
All information below is subject to change

Welcome to Angkor!
Doing an Angkor Wat trip? In this article you'll read about the temples Angkor Watt, Ta Prohm, Banteay Srei, Kbal Spean, Preah Khan and Bayon.
Some of the most beautiful Wats are in Asia, especially the Angkor Temples outside the north of Siem Reap town.
The temples represent a cultural diversity because of its mix of the Khmer, Chinese and Indian culture.
It's not a surprise that the temples have made their way to the World Heritage List (1992), and on the List of World Heritage in Danger.
CLICK ON ONE OF THE PICTURES TO START THE PHOTO GALLERY!
At that time, the great value of the temples was deeply affected by plundering.
You can witness this by taking a look at the many sculptures. The heads were removed so they could sell them abroad.
What should you watch out for?
Have in mind that you shouldn't touch the sculptures or the carvings.
The sweat of our hands can cause deterioriation and some of the temples are already in a bad condition.
Also watch out when you walk in small corridors, so your rucksack don't come in touch with the walls.
And another thing:
Here you shouldn't be thinking "off-the-beaten-track," because there are mines in the area! You can get lost in the huge rainforest of Cambodia.
If you still decide to explore, please do it with an authorized local guide.
How to get to
Angkor Cambodia

A) By tuk-tuk

If you take a Tuk-Tuk (motorcycle trailer), expect to pay $10-15 for an all-day Tuk-Tuk drive.
The price depends on how far they have to drive you.
For instance: It cost more to visit Kbal Spean or other outlying attractions.
Settle the price the first day you meet 'your' driver, not when he picks you up at the guesthouse or hotel.
Some drivers will say that you can settle the price when he picks you up. The thing is, if he's already at the entrance at the guesthouse at 05.00 am in the morning ready to take you to Angkor, and he gives an inflated price, it's a lot harder to say 'no' to that.
The ride from town takes about 15 minutes. When the driver picks you up, he will usually ask if you already possess a ticket. If you don't, he'll drive you to the ticket booths.
The drivers you can trust wear numbered light grey vests.
B) By moped

What about renting a moped? I'm afraid that local authorities in Siem Reap have banned tourists from renting mopeds and motorcycles.
C) By bicycle

Bicycling is becoming more popular, and the roads are paved. Many guest houses in Siem Reap downtown rent out bicycles between $1-3. It's the cheapest way to do a Angkor-tour. But of course, it takes time to get from temple to temple.
Renting a bike?
Well, you will need some help with the distances in Angkor Cambodia! ;-)
Distances (in km):
Siem Reap town to park entrance: 3 km

Siem Reap town to Angkor Wat: 7 km

Angkor Watt to the South gate of Angkor Thom (Bayon, Terrace of the Leper King, Terrace of the Elephants): 1,7 km

Angkor Thom to West of Ta Prohm: 1 km

Bayon to Preah Khan: 2 km

Banteay Srei to Kbal Spean: 15 km
Angkor Pass -
Information and Prices

You buy Angkor pass at the main entrance on the road to the park, at either checkpoints at Banteay Srei and on the road to Angkor from the airport. No other are authorized to sell these entrance tickets and that also includes guesthouses in Siem Reap.
Cambodians come in for free, so you don't have to buy a ticket for your driver!
Prices for Angkor pass:
1-day: $ 20
3-days: $ 40
7-days: $ 60
From July 1, 2009, new ticketing structure applied. The results - the $40 ticket will be valid for one week. And the 7-days ticket will be valid for one month. The purpose behind this is to try to make the tourists stay longer in Angkor.
An Angkor pass includes entry to the most popular sites in the park, including Angkor Wat, Ta Prohm, Banteay Srei, Bayon, Preah Khan and more.
To save time by the entrance, bring a passport-sized photo if you want to buy the 3- or 7-day Angkor pass. If you forget to bring a photo, you can take one for free at the main entrance. But there's usually a long waiting line.
Visiting hours:
From 5:00 a.m. to 6:00 p.m. Kbal Spean closes at 3 pm.
There's a separate fee for: Beng Melea ($5), Phnom Kulen ($20), Koh Ker ($10). You pay the fee at the respective temples. Entrance to these temples are not included in the ordinary Angkor pass.
Now for the big question!
How much time do you need
for Angkor Cambodia?

A few hours or one day is enough time to see the most important temple ruins, but this highly depends on your time and interest. I only bought a one-day pass because I was more interested in seeing Angkor Wat, Ta Prohm, Banteay Srei, Preah Khan, Kbal Spean and Bayon. On top of this, I also went to the Land Mine Museum.
Time goes fast here, so plan what you want to see! In my opinion you should buy the three-day pass, if you want to get a better impression of Angkor.
Here's my Angkor route:
It lasted from 05.30 a.m. - around 05:00 p.m. (includes the time I used at each temple, transportation + lunch):
Angkor Watt (1 hour)




Ta Prohm (2 hours + lunch 45 minutes)




Bantay Srei (30 minutes)




Kbal Spean (2 hours)




Land Mine Museum (1 hour)




Preah Khan (1 hour)




Bayon (1,5 hour)
What should you bring for
the Angkor trip?
You should bring sunglasses, sun screen, bottle of water, scarf (protects your head from the sun and dusty roads if traveling with moped/motorbike/Tuk-Tuk). And of course mosquito repellent if you're heading there for the sunrise or sunset.
I recommend wearing sports sandals or trainers, because you will walk on heaps of fallen stones at most temple sites.
QUICK TIP!

Are you on a tight budget and want information on Angkor for free?
There are plenty of tourist groups with local guides walking around the park. I used to either easedrop from a distance, or blend in a big crowd. I got away with it because of the size of the group.. A sleezy way, but I'm pretty sure I'm not the only one who has done it.
The best time to visit Angkor
Your real question is:
"How do I avoid the mass?"
The truth: The Angkor site is always going to be popular! So, you will always encounter tourists.
But to avoid the big crowds...
... you should avoid visiting Angkor in Siem Reap during the cool season, from November to February. Most tourists travel during the cool season because they like the combination of sunny days and cooler nights.
However, the period from April to October is considered as the low (wet) season for tourists.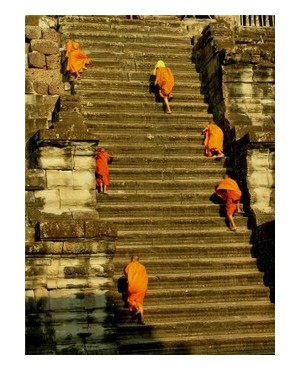 If you don't care about the weather, I can tell you that...
... Angkor is at its best in the wet season - the jungle is lush and deep deep green, and the moats and water pools are full. It's picture-perfect!
But if you choose to visit Angkor Cambodia during this period, you have to expect that it will rain and this will temporarily flood the roads. Your choice.

---
Click on the links below to find out more about...
---
| | |
| --- | --- |
| Like this page? | Search this site |
Return to top of Angkor Cambodia
---
Angkor Tips, Stories and Recommendations
Did you enjoy the Angkor Temples and have any recommendations? Or maybe you own a tour company and want to promote it?

What do you think of the small and big circuit?

Share your story, tip or review of the Angkor temple you like!

PS: I reserve the right to delete a submission if it's not original, duplicate content, or if it's too short.

By original I mean the content is NOT copied from another website. That also means your own website. I will check if the content you provide is duplicate or not. Sorry for sounding strict, but I aim to deliver excellent and original content to my readers - that's my priority no. 1.

Any submission below 300 words will be deleted.
See Other Angkor Recommendations
Click below to see contributions from other visitors to this page.

Cycling in Angkor Not rated yet
There is no better way to experience the beauty of Angkor than on a bicycle. Forget the motorbikes, rickshaws, taxis -- just get a bicycle! …
---
---