---
Our Experience from an
Apsara Restaurant in
Siem Reap Cambodia
---
"Personal Review of the Apsara Show
at Koulen II Restaurant"
Apsara Restaurant
Last updated on April 08, 2012
All prices listed below are subject to change
CLICK ON ONE OF THE PICTURES TO START THE PHOTO GALLERY!
Finding a restaurant in Siem Reap where they show Apsara performances is not hard at all.
Our Tuk-Tuk driver that day (in April 2010) had tipped us about a restaurant near the Angkor National Museum. I didn't know what we were getting into, but we followed him.
We arrived at the notorious Koulen II restaurant, which at that point we didn't know had received bad reviews. We got to pick a table, and chose one of the tables at the front and close to the stage.
Price (buffet and show): $ 12 per person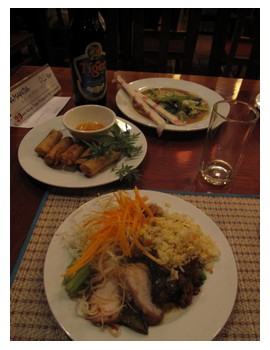 Me and my boyfriend were picked up at 7 pm, and the show started at 7.30 pm.
When we entered the restaurant, we were met by hundreds of tourists running forth and back - to the buffet. Ushered to our table, we were hungry and started collecting food.
They offer Khmer, Thai, Vietnamese and Chinese dishes and countless desserts. Drinks are not included in the price.
We were there for two things: the buffet and the Apsara show. The variety of Cambodian food was pretty good. You could choose a dish, and they would fry it in front of you. I personally thought it was delicious (and none of us got sick).
Then the Apsara show started!
They were gracious with their hands and decorative costumes, and my boyfriend thought so too.
Watch my video clips from Koulen II restaurant:
My boyfriend was mumbling: "Ah, they're so beautiful." We thought the show that evening was good, but frankly I haven't been to many Apsara shows, so I haven't anything to compare to.
At the end of the show, the dancers posed so the audience could take pictures. Honestly, that was not charming at all. Seeing dozens of tourists taking pictures of them, like they were dolls, was just obnoxious. You could see that the Apsara dancers were uncomfortable about it.
Apsara Restaurant: Traditional Khmer dancing - part of Cambodian culture
Was it worth it?
Seeing an Apsara performance is a great way to get an introduction to the Cambodian culture. It was worth those $12, but I would go someplace else the next time. The fact that there were hundreds of people around us was less charming. Koulen II restaurant has a capacity of 650 people...

When: The buffet starts at 18.00 and the apsara show at 19.30.

Where: Sivatha road, near Angkor National Museum.
Other places to see
an Apsara Performance in Siem Reap
Before Koulen 2, I wanted to go to Acodo Orphanage in Siem Reap. We found a flyer at Blue Pumpkin saying Khmer traditional dancing and music was performed by the orphans.
If you're interested, they have shows every evening at 6.30 pm and lasts for 45 minutes.
For more information on Acodo, visit their website (opens in a new window)
They have plans of opening an restaurant in November 2013 where you can have Khmer dinner and enjoy the dance show.

You can also try the Cambodian Children's House of Peace, where they also have traditional Khmer dancing performed by the children. The show is every Sunday evening at 7.00 pm.
---
| | |
| --- | --- |
| Further reading: | Like this page? |
Return to top of Apsara Restaurant
---
---