---
Introduction to
Hoi An Vietnam
As a Backpacker Destination
---
"Hoi An Vietnam" was last updated on Sep 09, 2012 
All information below is subject to change
Hey, welcome to Hoi An!
My cousin studied in Hoi An for two months in 2012, and he'll tell you all about Hoi An. All tips and advice about this town are his :-)
Old Town is the heart of Hoi An and unsurprisingly it's an UNESCO World Heritage Site.
Walking around in Old Town, is like stepping into colonial time. French colonial time to be exact.
What I love about Hoi An is the peacefulness and the historical feel, delicious food and nice beaches.
And speaking of beaches; there are basically two beaches in Hoi An, called An Bang Beach and Cuai Dai beach.
CLICK ON ONE OF THE PICTURES TO START THE PHOTO GALLERY!
My day started with a bicycle ride in the morning to our cultural study center passing long stretches of rice paddies along the way. The study center was close to Cuai Dai beach - my all-time favorite - so it was perfect! :-)
After studies, me and a couple of friends would head out Cuai Dai and spend the rest of the day sunbathing and swimming. And maybe a little reading, yeah well that didn't happen very often :-P
Cuai Dai beach was our little paradise away from the touts and large packs of tourists.
White-sand beach surrounded by crystal clear water. It wasn't all clean to tell you the truth, but it's not overly polluted. An Bang Beach on the other hand, is where most travelers and tourists hang out. Here you have access to typical beach amenities like sun beds and sun umbrellas, and of course there are restaurants here too.
How to get to Hoi An
By air:
The closest airport to Hoi An is near Da Nang, called Da Nang International airport. Da Nang airport is about 30 minutes from Hoi An, and 5 minutes from downtown Da Nang.
In February 2012, I flew from Hanoi to Da Nang with Vietnam Airlines which was OK. The flight took about an hour. After flying with Aeroflot from Moscow to Hanoi, the flight with Vietnam Airlines was 'heaven' compared to Aeroflot. It felt safer (PS: I thought I was going to die after the Aeroflot plane left Moscow. There was turbulence for at least an hour!)
Cheap flights to Hoi An:
From the airport's arrival terminal, you have these options:
Go to the taxi desk at the arrival terminal and arrange a taxi to Hoi An. We paid like 320,000 VND ($15) to our hotel in Hoi An. You might try Mai Linh taxi company which has a good reputation.
An ordinary taxi or a motorbike taxi to Da Nang's Intercity Bus Station, and then the local bus from Da Nang to Hoi An. 
Buses ply the route between Hoi An and Da Nang, so no need to worry about it. A local bus ticket is 15,000 VND. The local bus will drop you off at Hoi An bus station, in the outskirts of Hoi An center. Taking a local bus can be interesting; many pit-stops and to make up for the lost time they sometimes drive like satan. It took us about 40 minutes to get to Hoi An by local bus.
By bus:
Local buses drop you off at Hoi An's bus station. If you arrange a bus with a tour company, the bus will drop you off in different parts of Hoi An. If you need a specific location contact the bus company.
Hue: 5-6 hours, Mui Ne: 17 hours, Dalat: 18 hours, Nha Trang: 12 hours, Saigon (22 hours).
Of course, buses booked by tour companies are normally faster and effortless than local buses. As an example; we booked a sleeping bus in Hoi An to Hue ($10). Instead of 5-6 hours, the bus arrived in Hue in 3,5 hours.
By train:
The closest train station to Hoi An is in Da Nang. Grab a taxi at the train station. Expect to pay about $15 for the ride.
Leaving Hoi An 
Train Information
For Saigon:
In my opinion, it's more convenient to take the train from Da Nang to Saigon (Ho Chi Minh) than taking the bus.
SE1 is one of the fastest trains and will get you to Saigon in about 17 hours.
SE1, SE2, SE3 and SE4 are the best trains as they have air-conditioned sleepers and soft seats. The other train types don't have soft sleepers. You might consider soft sleeper since the ride to Ho Chi Minh will take you a while. We don't regret buying these tickets even though they weren't the cheapest.
Examples of price and travel time:
From Da Nang to:

Price and travel time:

Saigon

- 630,000 VND (= $30) AC soft seat (SE1, SE2, SE7 & SE8)
- 780,000 VND (= $37) AC hard-sleeper (SE1, SE2, SE7 & SE8),
- Time: 17 hours (SE1)

Nha Trang

- 337,000 VND (= $16) AC soft seat (SE1, SE2, SE7 & SE8)
- 402,000 VND (= $19) AC hard-sleeper (SE1, SE2, SE7 & SE8)
- Time: 9 hours (SE1)

Hanoi

- 600,000 VND (= $ 28) AC soft seat (SE1, SE2, SE7 & SE8)
- 755,000 VND (= $36) AC hard-sleeper (SE1, SE2, SE7 & SE8)
- Time: 16 hours (SE2)
I love taking the train in Vietnam since I always seem to get to know locals :-)
During the ride from Da Nang to Saigon, I got to know a nice Vietnamese lady on the train to Saigon, who was a professor at the University. She told us that at the end of Tet (Vietnamese New Year), the trains were so full that people had to stand in the aisle.
Return to top of Hoi An Vietnam
Getting around
Hoi An Vietnam
In Hoi An, you'll have to rely on bicycles or motorbikes because for some reason, larger vehicles are not allowed in Hoi An center ;-)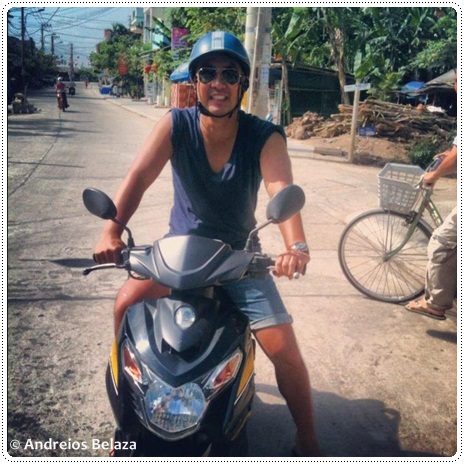 Renting a motorbike for the day cost 80,000 VND (= $3-4) and a full tank of gasoline cost about 40,000 VND, so in total - 120,000 VND (= $5-6).
Bicycle rent per day: 20,000 VND
And please, for your budget's sake, don't fill up the tank at gasoline stations in or near Hoi An. Some of these guys at the stations are sneaky. When they fill up the tank the price starts at 0, but suddenly jumps to 140,000 VND. I asked the guy why it was so expensive, but he didn't answer. I didn't want to argue with him, so I let it go.
But as we drove further away from Hoi An town, we got a full tank at 40,000 VND.
Important places to know about Hoi An Vietnam:
Police: tel. no: 113
Ambulance: tel. no 115
Hospitals: The tourist hospital is Pacific Hospital. Address: 06 - Phan Dinh Phung street.
ATMs are scattered around town. Just have in mind that some banks charge 20,000 VND for each withdrawal you make. There are also a nice number of banks in Hoi An. Vietcom Bank exchanges traveler cheques.
The main post office on Tran Hung Dao Street.

Internet is available everywhere, at hotels and internet cafes. You can now get free internet access through Net Mega Wifi, which allows you to access internet from your laptop, iPad or phone.
---
| | |
| --- | --- |
| Further reading: | Like this page? |
Return to top of Hoi An Vietnam

---
---