---
Backpacking Packing List Money 
and Travel Documents
---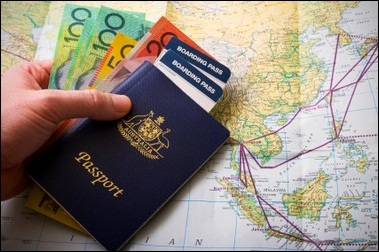 "Backpacking Packing List Money and Travel Documents" 
was last updated on April 08, 2012
First, some general info on money and documents:
This tip may sound obvious to someone. But when you're in a rush, even this can go wrong!
I've actually seen travelers locking up their backpack by the check-in counter at the airport, because they accidentally packed documents in there.
How to store your travel documents while traveling:
Use a travel document holder. I've used mine each time I travel, and it's a terrific way of organizing your important documents.
What's worse than losing your passport, and run around Asia to find the nearest embassy?
- A waste of your precious time if you ask me.
Travel document holders usually contain several card pockets, a pocket for your flight ticket and passport.
In a travel document holder you can keep electronic tickets (flights), train e-tickets, passport, accommodation bookings, vaccination card, insurance card and passport photos.
So, try to find a bank in town!
Want to know the exchange rate? Click into XE's Currency Converter.
When you're at the counter to exchange, 

ask for small bills

 as well! This will save you time at the local shops and bus stations.
Small bills are practical when taking the local transport in Asia, buying a bottle of water at small family-shops, at the market etc.
If you try to pay with a large bill, they will often ask if you have anything smaller (like in India). If you don't have anything smaller, they will tell you to exchange it into smaller bills. And THAT can take you some time! A bank is not always at close range.
When you're in a new country:
The worst case scenario is exchanging money with a local in the street. That person will likely take an advantage of your temporary ignorance. You will likely get less value for the money compared to what a bank would have given you.
Pre-departure, USD dollars are most likely the best all-round currency you can bring, because it's easily exchanged into local currency.
Example: In Laos, immigration officials at the borders prefer payment with $ rather than Lao kip because the rate is better with $.
$-dollars are also accepted as payment, at least in small bills.
When using ATMs in Cambodia, you'll get $ and not Cambodian riel.
Here are the currencies for each country:
Thailand - Baht 
Laos - Kip 
Cambodia - Riel 
India - Rupies 
Malaysia - Ringgit 
Philippines - Pesos 
South Korea - Won 
Hong Kong - Hong Kong dollar
Find an appropriate amount you are comfortable carrying, and can afford to lose. Then exchange it into the right currency.
You must bring:
Tickets (electronic) 

Money (cash, credit cards, travel cheques) 

Travel insurance card 

In case of accidents, the nurses or doctor can take a look at what vaccines you have taken.
And in cases where you have traveled directly from country with yellow fever (example Africa), you will have to show papers to the officials that you have been vaccinated for this.
Photocopies of all the above 

Passport photographs for visas (like in Cambodia, Laos and India where it's required)
When you take a photograph, make sure your whole head, face and top of your shoulders is clearly visible and don't cover your eyes with your hair. If you use glasses, the lenses must be clear and not colored.
Address book (for sending postcards)

Extra money purse (to keep different currencies separated)
How to store your cash while traveling:
Use a money belt!
I prefer the smaller version of money belts made of silk because:
They take less space
More invisible under your shirt than the ones made of cotton
More gentle on the skin (silk money belts are soft and don't scratch)
For more tips on money safety, click here. (opens in a new window)
Additionals to consider:
You can drive in Thailand, India, Cambodia, Malaysia and Laos.
But the real question is: Do you really want to?
Driving in Asia is not a piece of cake. They hardly follow traffic rules and most of them don't have any driving education.
And on top of this, there are cows, goats, camels, people walking in the middle of a driving road, bikes, bicycles etc. You have to expect that people can park in the walking streets and they will park around your car, if they have to! It's literally a driving h***!
If you're driving in Malaysia, you have to drive on the left side of the road (as in Great Britain and Australia). For more information on driving in Malaysia, click here.
---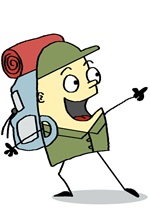 PSSSST...
Need more tips and information on money and document safety, or other travel safety issues in Asia?
This article is a taste of what you can expect in one of my eBooks called "Ticket to safe backpacking." Read more about Ticket to safe backpacking
---
| | |
| --- | --- |
| Further reading: | Like this page? |
Return to top of Backpacking Packing List Money and Travel Documents
---
---