---
Beautiful Beach Photos Gallery
---
"Explore Pearl White Beaches in Asia!"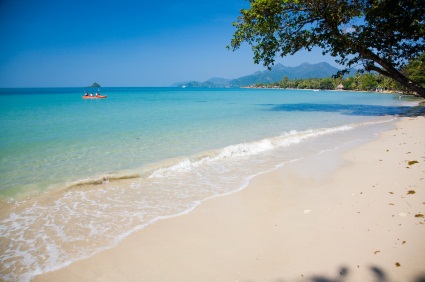 CLICK ON ONE OF THE PICTURES TO START THE PHOTO GALLERY!
I decided to make this Beautiful Beach Photos-section to show you how beautiful Asia is.
Despite poverty and famine, Asia has its private jewels as well!
Need inspiration on where to cool off and relax in Asia?
Or just need something pretty to look at? :-)
Whatever your need is, we've collected tropical beach pictures from our trips in Asia.
Hope you enjoy the pictures! :-)
Beautiful Beach Photos
This photo is from Cenang Beach on Langkawi island in Malaysia.
Cenang Beach is one of the most visited beaches on Langkawi, with heaps of restaurants, shops and accommodation options.
---
Hoi An Beach in Central Vietnam is one precious jewel in the country. This photo is taken by my cousin who has been studying there.
He sent me some other photos where he was sunbathing at Hoi An beach and going through the syllabus. That's a great way to 'study'! ;-)
---
For our adventurous and romantic get-away, me and my boyfriend visitedKoh Pha Ngan island in Thailand. This photo is from Had Yao Beach - it's such a beautiful sunset! :-)
Had Yao is a quiet beach and it's my opinion the perfect beach for couples and honeymooners. If you're up for a little partying, all you have to do is rent a bike and drive to the Full Moon parties at Had Rin Beach.
---
I love Palolem! This was taken close to sunset on Palolem Beach in South Goa, India. Palolem is probably the most beautiful beach in Goa.
Even though it's packed in the high season, there are still some quiet spots on Palolem Beach. You're not far from shops, restaurants, massage parlors and the best part is visiting and exploring neighboring beaches :-)
---
Indian mainland doesn't have all the beaches in the country. This is Havelock Island in the Andaman and Nicobar Islands.
Staying at Andaman & Nicobar isn't cheap, but it's worthwhile if you want to do that little extra with your loved one, on a couple- or honeymoon vacation.
---
Welcome to Long Beach on Perhentian Kecil in Malaysia! Perhentians are my favorite islands in Malaysia - with white beaches and crystal clear water.
Long Beach is the backpacker beach of Perhentian Kecil and has several restaurants, bungalows, small shops and snorkeling and diving opportunities.
---
The Philippines host some of the most beautiful beaches in the world, followed by excellent diving and snorkeling. This is at Banol Beach, in Coron Palawan.
---
Bali Bali! Bali offers great surfing, diving and nice beaches.
All of my friends who have been to Bali rave about the waves in Bali! :-)
Return to top of Beautiful Beach Photos
---
This is Sibuan island - one of the many islands off the coast of Semporna in Sabah, Malaysian Borneo. It's a tiny island surrounded by crystal clear water and macro diving. A white pearl!
We took the PADI diving course, and during the first two days of the course we were doing diving excercises around this island.
---
The Ko Phi Phi islands are the most popular islands in Thailand. This is shot at Phi Phi Ley!
What defines the Phi Phi-islands is the limestone cliffs surrounding the beaches, and also the fact that "The Beach" with Leonardo DiCaprio was shot at Maya Beach ;-)
The Phi Phi islands are packed - that's for sure, but still a must if you're in Thailand! You haven't been to Thailand, if you haven't been to Koh Phi Phi :-)
---
This picture is from Arreceffi island off the coast of Palawan in the Philippines.
A small island with an exclusive private resort. Here's my cousin and his friends cooling off, while surrounded by pure white beaches, super clear water and minimal trash! :-)))
---
| | |
| --- | --- |
| Further reading: | Like this page? |
Return to top of Beautiful Beach Photos
---
---