---
Beaches in Thailand
Railey and Phra Nang Beach
---
"Practical information about Railey
Peninsula and Phra Nang Beach in Krabi, Thailand"

"Railay beaches in Thailand" was last updated on Feb 21, 2013
Welcome to Railay Beach!
If you don't like Ao Nang, hop on a long-tail boat to Railey peninsula!
My favourite was Railay beaches, and was finally glad that I found some beautiful beaches in Krabi. Ao Nang wasn't one of them…
I was impressed by the gorgeous lime-stone cliffs, the large beach area and the clear water. And not to mention, the calm and quiet atmosphere.
So, most backpackers come to Railey to enjoy the scenery, watch the tropical sunset and just relax.
But don't get me wrong, there are certain places on Railey that aren't much to look at. You'll notice this when walking on the filthy paths!
How to get to Railay Krabi
...Boats run all day...

Boat to West Railey:

From: Ao Nang Beach
Getting there: 15 minutes
Price: 80 B per person, each way (subject to change)

Boat to East Railey:

From: Krabi town
Getting there: 30 minutes
Price: 100 B per person, each way (subject to change)

In most cases you have to wait for the boat to fill up with people.

To save time, rent your own long-tail boat from Krabi: 200-300 B (depending on your bargaining skills..)
Activities in Railay Krabi
And you'll notice that climbing is a popular sport on Railey!
It's clearly because of the huge cliffs with amazing rock formations, which have attracted rock climbers from all over the world.
Hanging from a vertical wall is an exciting (terrifying) challenge, and is a good option for thrill seekers!
If you're interested in climbing, or taking a climbing-course, try:
King Climbers is located on East Railey Beach.
Getting around Railey Peninsula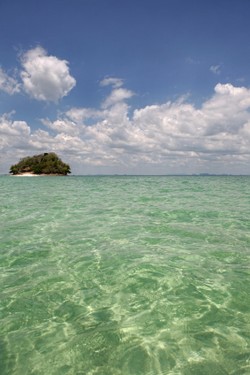 When it comes to getting around...
West Railey, East Railey and Phra Nang beach is accessible by foot paths.
If you walk from East Railey to Phra Nang, you'll get there in about 40 minutes.
And if you want to take the path to West Railey, this will only take you 5 minutes.
During the low tide, you can walk from West Railey to Ton Sai Beach.
But the trip itself is not an ordinary stroll.
You'll be walking on sharp rocks, and it's not the right time to slip. So, I recommend that you wear shoes if you're taking this path.
Click here to read my friend's travel tale from Railay (opens in a new window)
East Railey Beach
Accommodation on East Railey Beach:
If you want to crash a couple of nights on Railey Beach, you can of course do this!
BUT if you're coming here during the high season (November-February), you have to arrive early in the morning to get a room.
... The cheapest bungalows are located on the east side.
On the other hand, this side of the island is just mangroves, so you can't exactly go swimming here...!
But don't worry, it's just a short walk to Railey Beach (West). There you can go swimming, snorkeling and take nice pictures of Railey's beauty!
Rapala Rock Wood Resort
Price per night: 500-750 B
Rapala is a budget place with a good reputation. Cosy wooden huts with mattress beds. It's known for friendly service, and for cooking amazing Thai and Indian food.
Railay Princess Budget (YaYa Resort)
Price per night: 850-2240 B
Formerly known as Yaya Resort, this accommodation is popular with backpackers because it's one of the few budget options on Railay. They offer basic rooms with great views from the balcony, and the atmosphere is warm and friendly.
Read what other travelers have to say about Railay Princess Budget
Partying on East Railey
Having fun...
The Last Bar on East Railey was one of my favorite places. It's the closest thing you can get to a dance club, and the food is the best in Krabi in my opinion. Not to mention, you have to try their coconut shakes!
You'll get to watch Thai boxing and exciting fire shows. And if you love snakes, they have a cool snake show with King Cobras and pythons.
So, you see, the Last Bar is a place you must check out!
Or if you just want to chill out to reggae music, try the popular Gecko Bar!
Return to top of Beaches in Thailand - Railey
Phra Nang Beach in Railay Krabi
Phra Nang is a must when you're in Krabi, and one of the most beautiful beaches in Thailand. It is a popular paradise with all the right ingredients: like white sand beach, coral reef, caves, rock pools and translucent emerald green water!
So, just relax on the beach and feel the nice breeze from the ocean.
If you spot long tail boats with yellow/white boards, you've just spotted the "baguette" boats!
They sell delicious sandwiches with cheese/ham/chicken/tuna (50-60 B), and fresh fruit shakes, like mango, banana and orange (30-40B).
When it comes to accommodation on gorgeous Phra Nang, there's only one resort. If you want luxury and splurge (a lot), try:
Price per night: SHOCKING prices.
Read what other travelers have to say about Rayavadee - very nice reviews!
TIP! I arrived in Phra Nang around noon and it was packed.
So, you should come here early to avoid the tourists! When I say early, I mean around 8 or 9.a.m.
---
| | |
| --- | --- |
| Further reading: | Like this page? |
---
---