---
Review of the food
in Vang Vieng -

Laos food 4
---
"Laos food 4: Vang Vieng" was last updated on Feb 14, 2013
All information below is subject to change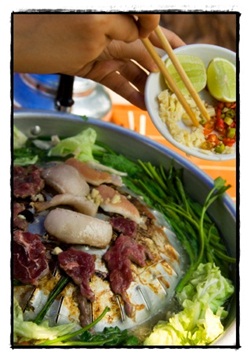 Finding a place to eat is not a problem in Vang Vieng... Indulge in Lao, Italian, Indian, Thai and much more.
But frankly, not a lot is going to remind you of Laos while you're staying in Vang Vieng downtown.
A lot is very Western-style with cafes and local restaurants playing American TV-shows like Friends, and then you have the Western-style bakeries.
It's like sitting at home watching Friends or Family Guy ;-)
There are some authentic Lao restaurants in Vang Vieng, like The Farm Cafe and Nokeo.
Here's the food I tried in Vang Vieng!
Food market
in Vang Vieng
Your cheapest option is to buy your food at the food market in Vang Vieng. You'll be amazed of how much different food the market has!
They sell fresh fruit, vegetables, pork, chicken, frogs, bats, insects, fish etc. You're going to notice that a lot of the food at the stalls and market are packed in banana leaf.
Fish in banana leaf, bugs in banana leaf and so on. Throw in some sticky rice and you're good to go!
I also enjoyed the fried bananas packed in banana leaf at the market :-) NAM! Other goodies are Lao sweets, BBQ, salads and laaps.
For instance: You can get a noodle dish for 1000 Kip (under a dollar), salads for 1000 kip.
Where: There are several food stalls near the airfield offering fried and steamed fish caught from the Nam Song River, and in front of Kang temple every afternoon.
Food vendors

Find food vendors on the Main road selling grilled meat, fresh fruit, fruit shakes/juices - average price: 5000 Kip.
Other delicious meals:
Fried meat (chicken, pork) with rice: From 5000 Kip
Curry soups: From 2000 Kip
Vegetarian soups with noodles: From 3000 Kip
Pancakes Lao-style: 10,000 kip
Local Restaurants
in Vang Vieng
Laos food 4: Laap dish
Even though there's a tourist wave in Vang Vieng, you can still find traditional Laotian food!
Some of the restaurants in Vang Vieng offer "laap" - their national dish. "Laap" contains chopped meat (beef, chicken or fish) with flavors of lime and fish sauce. The meat is mixed with rice and herbs. I tried the "laap" with mint. Unusual taste at first, but once you've come around the combination of rice, meat and mint taste, it actually tastes good.
Luang Prabang Bakery
Don't get confused by the name - the bakery is in Vang Vieng ;-)
A great place to have your breakfast! :-)
They had fresh bakery goods, pastries, shakes, juices and so much more. I enjoyed my banana pancakes, fruit salads and cappuccinos. It's hard to find good cappuccinos in Laos, so this was my favorite place!
But when I visited Luang Prabang Bakery in 2007, it was usually packed from 11 am - this was usually the time when most travelers woke up after a long night.
So try to get here early! The seats outside are the best, but there's only a few of them.
Where: You'll find the bakery on a side street of Main road, in Kangmuong street.
Note: Since the police crackdown on illegal bars in Vang Vieng in summer 2012, the number of backpackers have decreased so the chances of getting a table at Luang Prabang bakery are now high. 
Western Restaurants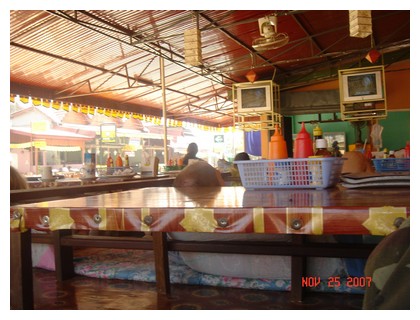 Many restaurants on the Main road play popular Western shows like: Friends, Family Guy and Simpsons on a rotational basis.
The idea here is to kick off your sandals, law down on the pillows, order food, and then watch a show while you're eating, drinking, smoking or whatever.
I went to two restaurants, one playing Friend and one playing Family Guy. I noticed that they had pretty much the same dishes on the menu: pizzas, fruit salads, sandwiches and pastas.
It can't get anymore Western-like than this.
If you're up for it, it's not hard to find these restaurants. Just follow Ross' voice or Stewie's posh accent. They play the shows really loud and are hard to ignore.
Average price for meals at the restaurants vary from 10.000-45.000 Kip.
Nisha Restaurant
Nisha Restaurant on the Main Rd serves cheap, delicious Indian food!
There was a lot to choose from the menu - masala and veggie dishes. Me and my Australian friend immediately went for the meaty dishes, and shared a tandoori chicken. All I can say is: Generous portions at reasonable prices.
Then wash it down with a cold, cold Lao beer :-)
---
| | |
| --- | --- |
| Further reading: | Like this page? |
---
---