---
Review of Limestone Caves of 
Tham Sang Triangle in
Vang Vieng, Laos
---
"Limestone Caves Vang Vieng" was last updated on May 11, 2013 
All information below is subject to change
The Tham Sam Triangle is a group of four caves, located 8 km north of Vang Vieng. The four caves are called Tham Sang, Tham Loup, Tham Hoi and Tham Nam. 
There are loads of caves around Vang Vieng. You need at least a half-day trip for the Tham Sang caves which are the most popular ones.
Each of these caves are within short walking distance.
When we visited Vang Vieng in November 2007, we definitely wanted to go caving.
We were three girls: me, an Australian girl and a traveler from Slovakia who I met along the road.
From Vang Vieng town we arranged a Songthaew which drove us outside town. After being dropped off, we walked over the bamboo bridge.
Then we met two young girls (11 and 13 years old) who wanted to be our tour guides. We were skeptic .
I mean, come on, two little girls walking us through the caves??! ... Ehm...
What a heck, we said yes!
On the way to the caves, we followed a dirt path and passed a local village, small streams and some weird insects. Like, black and yellow millipedes, colorful dragon flies and butterflies.
The best part was the limestone scenery around us. It gives you that wow feeling! You better have your camera ready :-)
Practical information:
Where is Tham Sang limestone caves: 8 km north of Vang Vieng, along Route 13. Turn left, and then a pretty rough road will take you the river.
At the river you'll see the bamboo bridge.
Fee to cross the bridge: 5,000 kip
What should you bring for the Tham Sang cave trip?
Sunscreen for the walk to the caves, your swimming shorts or bikini (for Tham Nam/Tham Hoi), bottled water and sun screen. You'll be needing appropriate sports sandals for walking on wet stones inside the caves, anything that supports your ankles.
Headlamp rental is available for 1 dollar, but they're rather worn-out so if you have one at home, bring it for the trip. 
What should you think about when caving?
Try not to touch the stalagmites or stalactites. The natural oils and skin sweat can make rock formations deteriorate by stopping the growth. But then again, you have to touch the rocks to avoid slipping! Hmm...tough one!
1) Tham Sang (Tham Xang) Elephant Cave
First, the girls took us to Elephant Cave (Tham Xang) where you can see several Buddha images and an elephant-shaped stalactite. It was alright, but not the highlight of the trip!
Admission fee: 5,000 kip
2) Tham Nam (Water Cave)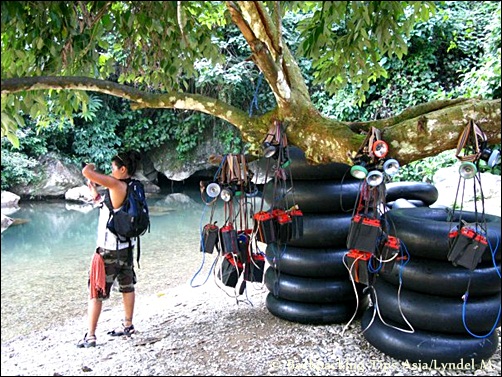 Then another cave, Tham Nam.
The interesting part about Tham Nam cave is the underground waterway. You'll get a tube so you can pull yourself along a rope inside the cave. But you can only tube during the wet season.
During the dry season, cross the river on foot.
Admission fee: 10,000 kip which includes headlamp, tube and a dry bag. 
Return to top of Limestone Caves Tham Sang
3) Tham Hoi Cave
Then we moved on to the 3rd cave, Tham Hoi.
Before you enter the cave, you'll be given headlamps so you can light up the dark.
We were told that there was an underground lake and a mini waterfall about 3 km inside the cave, so we started the journey.
It was fascinating to see the multi-shaped stalagmites and stalactites. The atmosphere was mysterious and kind of scary to walk in the "dark." You can hear the water dripping from the stalactites, creating mud ponds.
It sounds like you're in an old basement. I thought it was pretty exciting, I LOVE caves!
We had to crawl over and under huge stones, and it was a nice exercise. But some will likely find this cave as claustrophobic.. You'll fight through narrow paths, and the height of the cave corridors sometimes drop to one meter.
Be careful. It's slippery and humid inside the caves. You don't want to twist your ankle or something. And watch out for those mud ponds, which I stepped into several times!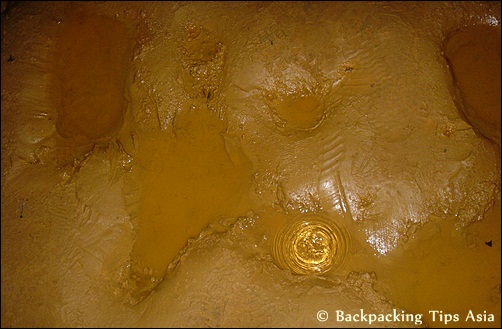 Follow the signed path from Tham Sang to get to Tham Hoi and Tham Loup. The path takes you 1 km northwest.
Admission fee: 10,000 kip (covers Tham Hoi and Tham Loup)
4) Tham Loup Cave
Then the girls took us to the 4th cave: Tham Loup (about 500 meters long).
We climbed down a wooden ladder and saw more amazing stalagmites and stalactites. These ones were unique and beautiful in their off-white and brownish glittery color.
Just look at this:
---
---
What's the difference between stalagmites and stalactites?
Stalactites grow from the ceiling of a cave, while stalagmites arise from the ground.
After the trip, we gave the girls 10,000 Kip. We were surprised of how the girls handled the caves so easily. While we used a lot of time to get across the muddy paths, they jumped from rock to rock, from stone to stone.
It was obvious that the girls knew what and where they were going.
So, if you're skeptic of having 11-year-olds as guides, don't be ;-)
---
| | |
| --- | --- |
| Further reading: | Like this page? |
Return to top of Limestone Caves Vang Vieng
---
---