---
Koh Phangan Activities
---
"Koh Phangan activities" was last updated on Feb 22, 2013
All information below is subject to change.
To cater the growing number of travelers coming to Koh Phangan, there are numerous things to do on this island! :-)
If you need a break from beach-bumming and full-moon partying, do some nature escape to the waterfalls and mountains, try a cooking class or visit wats (temples) in the jungle interior.
Here are some suggestions, hope you find something you like!
Than Sadet waterfall
in Koh Pha Ngan

Visit the unique Than Sadet Waterfall on the east coast of Koh Pha Ngan. It's the biggest waterfall on Koh Pha Ngan. There are water pools where you can take a swim or big enough to hop into.
The waterfall is known for its royal visits and King Rama the 5th's inscription on a huge stone. On your way to the waterfall, you can stop by various pools to cool off. If you're interested, you can visit the jungle temple which lies at the top of this stretch.
Do a day trip from Had Rin or rent a bike to get there.
Where: The waterfall is located in Than Sadet National Park (close to Haad Sadet beach and neighbor of Thong Nai Pan beaches).
Here's a map of Koh Pha Ngan:
A: Thongsala
B: Had Rin
C: Than Sadet waterfall
D: Thong Nai Pan beaches
Other waterfalls to consider: Phaeng waterfall (east side, 5 km from Thongsala) and Than Prawet waterfall (northeast, can be accessed from Thong Nai Pan Noi beach). From Thong Nai Pan Noi, there's a trail leading up to the waterfall, which is about 2 km.
Other fun Koh Phangan activities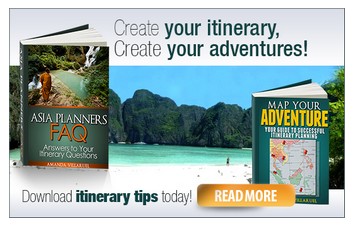 Koh Pha Ngan offers you this:
Diving
Thai boxing
Yoga
Meditation
Jewelry making
Cooking class
Diving in Gulf of Thailand
I don't have personal recommendations because I was on a tight budget on this trip. But here are the ones I've heard about from travelers on the road.
Price open-water: 12,500B
Price scuba diving course: 8000B
Price open-water course: 11,500B
Compared to Koh Phi Phi, the prices for the PADI open-water course are less expensive on Koh Pha Ngan and also Koh Tao.
Not the diver type? Try the snorkeling day trip to Koh Tao and Nangyuan island. Several tour companies offer day trips to these islands and also Ang Thong National Marine Park where you can go snorkeling and kayaking.
Muay Thai Boxing
Morning training: 400B per person
Full-day training: 700B per person
One week training (6 days): 4000B per person
One month: 11,000 per person
What so great about this place is they offer package deals. If you stay at their place, you get a good deal which also includes muay thai traning and breakfast.
They also offer Thai cooking and Thai massage courses! :-)
Where: Haad Tien Bay on east Koh Phangan
On Pha Ngan, you can also watch a muay thai fight live!
Yoga in Koh Pha Ngan
At Agama, the first day with yoga is free of charge. After this, you'll be charged 400B per day which includes two Hatha yoga classes and lectures.
Where: 42/4, Moo 8, Srithanu (west coast of Koh Pha Ngan)
Pyramid Yoga is run by David and Marina. They offer Classical Hatha Yoga retreats and healing.
Where: Haad Salad/Had Yao Beaches
Jewelry Making
In the midst of all the partying on Koh Pha Ngan, I heard about this fabulous work shop. I love to make jewelry myself in my spare time, so I wanted to sign up for a class. But I'm sorry to say that I didn't get that far.
Here's a short description about the workshop!
Yot owns the workshop and has been making jewelry on Koh Phangan for over 15 years. You can choose from a large selection of stones, anything from moonstone to beautiful turquoise. You can create your own unique jewelry or choose from Yot's own designs.
You can choose between 1, 2 or 3-day courses.
1-day course: 1500B
2-day course: 3000B
3-day course: 4500B
Where: There have two locations on Phangan; one in Had Rin close to Chicken Corner, and one in Thongsala on the main street.
---
| | |
| --- | --- |
| Like this page? | Search this site |
Return to top of Koh Phangan activities
---
---