---
Guest House Goa
Palolem Beach Huts
---
"Where to find
accommodation in Palolem, South Goa"
"Guest House Goa" was last updated on April 13, 2012
All information below is subject to change

Looking for accommodation in Palolem?

There are loads of huts, family houses and bungalows in Palolem. It's not a problem to find a place to crash! :-) Flyers promoting the bungalows in Palolem will be all over the place -- hanging on treebranches, restaurants, fences etc.

The most common thing to do for backpackers when they arrive in Palolem, is to walk along the beach, stop by the huts they're interested in and inspect it.

Should you book Palolem beach huts in advance?

It depends on when you're arriving, and what kind of hut you want. The nicest huts laying right on the beach are the ones that many travelers want. For Christmas and New Year's you should book in advance.

If you're not picky about accommodation, you don't need to book in advance.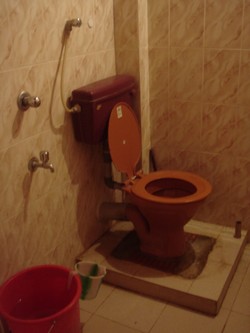 Guest house Goa: a typical bathroom in Palolem huts and rooms




Average price of huts per night: From Rs 500

The price depends on location, and whether you want hot water/attached bathroom or not.

How are the rooms/huts:

You get what you pay for -- so don't expect any particular room standard when it comes to the cheap huts.

Some huts/rooms are Spartan basic, usually not that clean and have squat toilet.

While other rooms have better standard, like Western toilets and hot water.

The two family houses/guest houses we stayed at didn't have a name, and my intention here is to give you a general impression of how the accommodation is in Palolem.

QUICK TIP!

Power outage occurs frequently in Palolem, so always carry a flashlight and watch your step!

When it gets dark, the chances of stepping into cow poop are big. My friend wasn't so happy when she did this a couple of times. She had to throw away her flip-flops.

Unknown family house
Price per night: Rs 450 (Oct 2007)
We stayed at a large family house. The 2nd floor had spacious, clean rooms and shared bathroom. The bathroom had Western toilet which occasionally worked, cold water and a kitchen area we could use.
You'll get an own key to lock yourself in at nights.

Unknown guest house not far from Cafe Del Sol
Price per night: Rs 650
Large room, small double bed, Western toilet, cold water and a narrow balcony where you can fit in a hammock if you've bought one. There was no ordinary shower, only showering from a water bucket. The guest house was next to a pig family running around the area.
Guest house Goa: the piggy family outside our guesthouse
Always lock your bungalow or room! While we were in Palolem, we were told that backpackers steal from backpackers.. They do this by breaking into a bungalow. I was disappointed when I heard this; fellow travelers stealing from each other is just...sad!
Best-rated guesthouses/bungalows in Palolem

The Nest:
Price per night: from Rs 300

Cuba Beach Bungalows:
Price per night: Rs 2500-4000
Read reviews of Cuba Bungalows

Dreamcatcher Resort:
Price per night: Rs 600-7000
Read reviews of Dreamcatcher Resort
Return to top of Guest House Goa
---
---
Do you need help with your itinerary for India?
Don't want to miss out on the must-see's in the country?
Don't know how to travel around in India?
Map Your Adventure India is a step-by-step guide on how to create itineraries.
I will help you create a good itinerary - one you'll never forget.