---
India Food Palolem
South Goa
---
"Restaurants and bars in Palolem and
Traditional Indian (Goan) Food"
Last updated on April 13, 2012
All information below is subject to change
What's so special about Goan food?
The staple diet in Goa (and hence Palolem) is seafood; fish, prawns, crabs -– you name it. Kingfisher is very common to eat, but also tuna, mackerel and so much more.
It's not hard to find fish curry and rice on the menu ;-)
Basic ingredients are coconut milk and in general spices. In Goan cuisine they use "kokum" to flavor fish curries.
Here's how I experienced the food in Palolem when I visited in October 2007.
Palolem: Beach Restaurants
India Food
If you love Indian food like I do, you have to try the restaurants along the south side of Palolem beach.
It's the perfect place to go after you've been swimming, or if you want to hide away from the scorching sun.
One thing is for sure is that you'll get to watch the beautiful view of Palolem beach.
You should try their fish curry or the fried rice with vegetables! And not to mention, the banana and mango lassi! The restaurants also serve Western food like toast, cereal, "salads" etc.
What are lassis?
Lassi is a popular and refreshing Indian drink made of yoghurt and ice.
There are other ingredients as well, depending on what kind of Lassi you want. You have sweet, salty, mango, banana, kiwi and pineapple Lassi.
There are loads of other types of Lassis, depending of how creative the chef is.
But when it gets darker, watch out for large dragonflies that will fly towards the lamps hanging above you.
They'll hit the lamps so hard that they land in your food or drink...!
They're like those poor birds who fly right into windows and get smashed. It gets so dark at the beach that the only light the bugs see, is the light at the restaurants.
During the day, there are food vendors who sell fruit and beverages.
Buy cheap fresh fruit like papaya, mangoes, pineapples and coconuts while you're relaxing at the beach. Or you can buy fruit for day trips.
India Food - Fish curry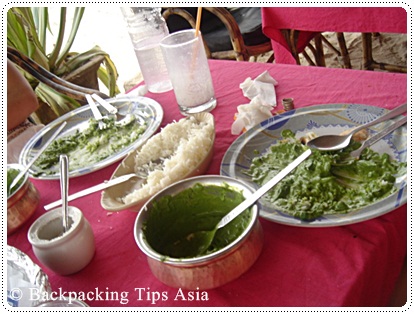 India Food
Cuba Restaurant
India Food: Cuba Bar and Restaurant in Palolem
At daytime Cuba Restaurant is the place to chill in their large, comfortable bean bags.
They serve Indian and Western dishes. You should try their delicious sea food!
They served red snapper, tiger prawns, kingfish, barbeque, lobster and even baby shark. I tried everything besides the baby shark.
Anyway, you can order fillet or a whole fish. As for entertainment, they have 4-in-a-row, playing cards and a pool table. There's no queue system, so be patient.
They get an extra point for their smoking water pipes and their selection of fruit tobacco (apple, liquorice, grapes, orange, mango etc).
At nights, Cuba turns into a packed bar. You should get here early if you want seats.
Cuba has also beach bungalows. Rates start from Rs 2250 depending on the season.
Casa Fiesta
Casa Fiesta serves excellent Mexican and Western food. Most of our breakfasts and lunches were at Casa Fiesta. It's on your right side before entering the "main road" where all the shops are located.
Don't be surprised
if you're offered drugs for breakfast/lunch/dinner.
We were sitting at a small cafe by Cafe Del Sol, when this local guy sitting next to us offered us marijuana... It was in broad day light (breakfast) and there were people around us, but still he asked!
Where to party in Palolem
I don't have many party places to recommend in Palolem because I basically went to Cleo's and Cuba every night. But here's what I've got for you:
Cleo's
Cleo's is the party place to be if you just want drinking and dancing!
Many travelers gather here for beers, wild hormones and crazy atmosphere. It's about a 15-20 minutes walk from the center of Palolem. Or you can get a bike ride near the beach.
Laughing Buddha
I heard that friendly Laughing Budda was a great place because of its cool atmosphere and ambient/house/hip-hop/trance music.
Beware of the fact that the local police tries to crack down beach parties in Palolem!
We went to a beach party, where they played trance music, and there were loads of backpackers who came to dance and drink the beers they brought along. But then two local police men came to the scene, and chased us away. They were pretty angry and shouted that beach parties were not accepted in this village.
---
---
Do you need help with your itinerary for India?
Don't want to miss out on the must-see's in the country?
Don't know how to travel around in India?
Map Your Adventure India is a step-by-step guide on how to create itineraries.
I will help you create a good itinerary - one you'll never forget.