---
South Thailand Insurgency
---
"Conflict between Thai Government
and Muslims in the South"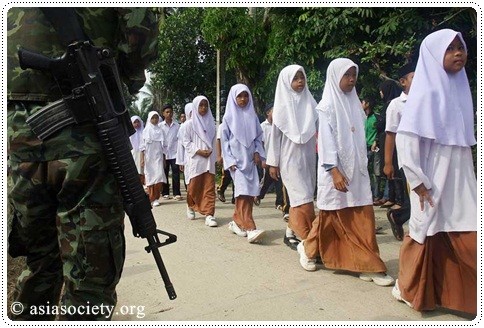 "South Thailand insurgency" was last updated on Jan 29, 2012
All information below is subject to change
Everyone who has been to Thailand, or have considered to travel to Thailand, should have heard about the conflict in South Thailand.
So, what is this conflict about?
How does it affect traveling and backpacking in the country or region?
South Thailand insurgency

It's basically a conflict between the Thai government and the Muslims living in the south provinces of Yala, Pattani and Narathiwat.

Violent actions (re)started in 2004, but the Muslims' rage go way back than this.

In 1902, the Pattani province was annexed by Thailand. Many of the region's Muslims adopted Thai names and the Thai language, but local traditions were suppressed.

So, between 1940s and 1980s there were a lot of uprisings. It is said that the Muslims carry a lot of resentment against the Thai government because of a deep sense of alienation. Poor socio-economic conditions add to this resentment.

The 1980's and 1990s were quiet, non-violent periods because the Thai government reversed the assimilation policy and supported cultural and economic rights of the people in the south.

The attacks began again in 2001 when Thaksin became prime minister. His government responded quickly and aggressively, and Thaksin has been blamed by a lot of people for his actions which led to more violence.

The military imposed martial law in the south in 2004. Incidents between security forces and insurgents led to over 100 deaths.

Thaksin replaced martial law with an emergency decree in July 2005. This emergency decree transferred authority back to the government and gave the police and civilian authorities significant powers to restrict certain basic rights.

The military seized control from Thaksin in September 2006 because of his history of corruption. There were peace talks after this, but they failed.

2007 was the worst year of violence. The insurgents started to target Buddhists living in the south.
South Thailand insurgency
In the first six months of 2008, there were over 300 deaths.
What makes this conflict difficult, is that no group has claimed responsibility for the attacks and made no specific demands. So, the government doesn't really know who to negotiate with.
Since then, the violence has increased. In 2011, the insurgents stepped up the violence.
Advice to backpackers
It's obvious that you should avoid traveling in the three main provinces in the south: Pattani, Yala and Narathiwat.
The attacks have not been directly aimed at tourists, but since the attacks occur at public places like the railway stations, it's right to say that tourists might become collateral damage.
If you want to go border crossing to/from Malaysia, you should travel via Satun.
Return to top of South Thailand Insurgency
---
Feedback, say hello or want to add a correction? Do it here!
---
---