---
Jaipur Shopping
---
"Where to shop in Pink City - Jaipur"
Jaipur Shopping - Beautiful patchwork
"Jaipur shopping" was last updated on April 14, 2012
All information below is subject to change
You will shop till you drop in Jaipur. You'll find many bazaars and retail shops scattered inside the Old City and around town.
But here's the deal...
If there's one place you have to shop in the city, it has to be the retail shops.
It's because of their variety of things. But if we're talking budget shopping, retail shops are usually not the place to go.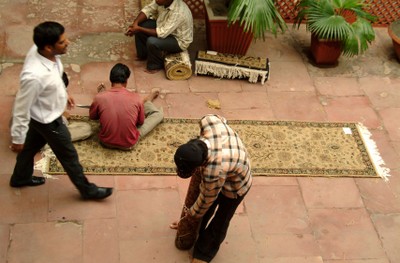 Jaipur Shopping - Jaipur is known for selling quality carpets
Well, we took our chances.
We were thrilled about our shopping purchases at the three wholesale warehouses we were taken to (Oct 2007 and March 2011) (I'm afraid that I don't remember the names, but you'll have no problem in finding others)!
Let me tell you about my experience with the 3 wholesale shops... You just can't miss it!
Updated on July 01, 2011: During my re-visit to Jaipur in March 2011, I visited several retail shops and the staff were not easy to bargain with.
Enjoy!
Retail shopping in Jaipur
At the first warehouse, we were impressed by the vast selection of beautiful shawls, pillow cases, block print bedspreads, paintings on silk cloth, Indian slippers, table runners, pouffe covers, curtains and downstairs they sold carpets.
I saw ready-to-be shipped-carpets addressed to European and American names, so I guess the warehouse was a trusted company.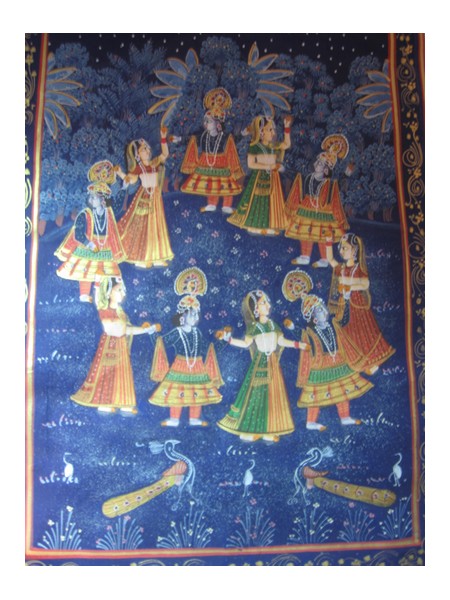 One of the silk cloth paintings I bought




Then our Rickshaw driver took us to 2nd retail shop.

Here I bought two sets of bedspreads (the bed spreads I bought cover a double bed and 8 pillow covers with the same pattern as the bed spreads were included).

It was tough to bargain with the seller, but I eventually got them for
Rs 500 (= 10 $). The key to bargaining is to be patient and smile!

The third retail store was located outside the center of Jaipur. We drove up a hill for 30 minutes and ended up at a huge wholesale warehouse.

They sold pretty much the same stuff as the first one, but they also had clothing, purses, framed paintings and souvenirs. The place even had its own sewers.

Conclusion: I don't think it matters if you shop at wholesale warehouses or at the bazaars. If you have bargaining skills, you can get it cheap if you want!

But I do recommend retail shops because they have a wide selection of items. You'll get to choose the perfect gifts for yourself and your family/friends.

Our shopping results!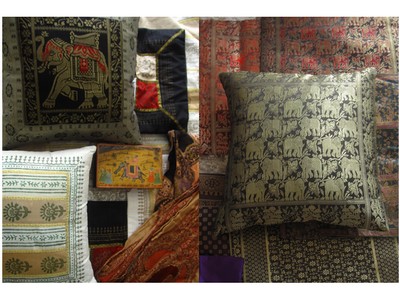 My Shopping Results: Bedspreads, pillow covers, wooden box, shawls etc.

Jaipur shopping: Cute hanging elephant decor
The next day we went to the Old City
... just outside the entrance to the Gate to the Old City, my friend noticed a handcraft shop.
Jaipur is known for its beautiful handicrafts!
I don't remember the name, but there you'll find unique wooden artifacts.
My favorite bargains here were two hanging décor with elephants and umbrellas (Rs 175) + two handcrafted wooden boxes (Rs 250 for the small one + Rs 350 for the bigger one).
If you hire a rickshaw-driver for the day, I'm sure he will suggest shops to visit. There's usually a commission involved.
Updated on July 01, 2011: During my re-visit to Jaipur, the rickshaw driver asked where we wanted to shop, and we told him handicrafts.
He took us to shops near Amber Fort. There was this store that sold all kinds of handicraft.
I bought two wooden chest for Rs 2350 (I bargained as hard as I could).
Bazaars in Jaipur
Jaipur Shopping: Bapu Bazaar
If you want to shop at the bazaars, you'll find most of them inside the Old City. We tried that, but it was too crowded. And there were pushy touts wherever we went. So, we lost the urge to shop.
We honestly just called it a day and did other things.
Updated on July 01, 2011: During our re-visit to Jaipur in March 2011, we stopped by Bapu Bazaar inside Pink City. It's still crowded and sellers are all over the place trying to sell their stuff to you.
Anyway, I did buy some shoes - they're really nice! I bargained down to Rs 400, and they painted them brown for free.
Jaipur Shopping: Shoes at Bapu Bazaar
Other stuff we bought here was shawls (bargained to Rs 300), pillow cases (Rs 150) and wall hangings (Rs 700).
I noticed that the price for wall hangings are a lot more expensive in Jaipur. I bought wall hangings in Kerala (Varkala), and the price was cheaper there.
A lot of things are overpriced at the bazaar, so remember to compare prices and bargain!
Jaipur Shopping: At Bapu Bazaar, trying out shoes and shawls
Return to top of Jaipur Shopping
---
---