---
Shops in Mumbai
---
"Shopping Places in Mumbai,
especially the markets and stalls"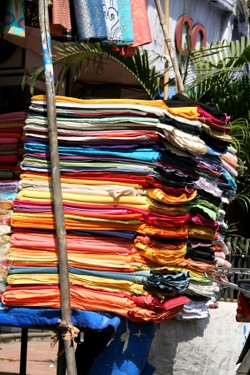 Shops in Mumbai
Prices listed below are subject to change
Where do you find the cheap shops in Mumbai?
If you want cheap shopping places in Mumbai, you'll find it at the stalls and markets!
At the markets in Mumbai, you'll find clothes, silks, bags, souvenirs, antiques, beautiful jewelry (wooden ear rings and bangles are everywhere) and much much more!
We went shopping at the stalls on the Colaba Causeway, starting from Regal theater.
My favourite bargain was the Aladdin pants (Rs 150). They're baggy and comfy, and comes in different colors. I also bought other loose pants (resemble pyjamas) for $2. In countries like India, you can't exactly wear a miniskirt, and jeans are too hot to wear. So these pants are perfect.
I also bought some nice tunics (Rs 200) for me and my boyfriend and a party dress for Rs 200 (ordinary price Rs 250-400).
If you're looking for shoes or sandals, you'll find these in different colors, purple, yellow, orange, pink etc. for Rs 250-800.
A t-shirt shouldn't cost you more than Rs 100, and sometimes they yell at you "For you, sir -- Rs 30." Slings bags should cost between Rs 100-150, "silk" scarves - Rs 200-1000, ordinary scarves (not silk) Rs 40-100 (depends on quality).
Note: If you buy antiques, remember that it's illegal to take anything over 100 years old out of the country.
Another cheap option for cheap Mumbai shopping is buying from vendors.
If you love the smell of old books, or just want to read one -- you can get old books for Rs 10 (if you bargain) and up to Rs 1000. Clothing, like blouses and tunics should cost Rs 25-40.
But I experienced that the prices in Mumbai were higher than other cities in India. So, if I were you, I would save most of the shopping for Jaipur shopping!
Chor Bazaar (Thieves Market) in Mumbai
Chor Bazaar is a large flea market where you can get anything from furniture and engines to Bollywood souvenirs. A good treasure hunt for the patient ones! But the antiques are the most interesting items -- they look real, but whether it's authentic or not is questionable.
Stroll around the market to compare prices because there are supposed to be "fixed" prices - but it's ok to bargain.
We didn't find it touristy here when we visited in October 2007, so the market is worth a visit.
Chor Bazaar is located in a muslim area in south Mumbai. So when you`re done at the market, visit the surrounding mosques.
Shopping Malls in Mumbai
Otherwise you have the shopping malls in Mumbai. Oberoi mall is one of them. Here you can get brands like Adidas and Tommy Hilfiger, perfumes, cosmetics, clothing and sportswear.
Another one is Inorbit Mall where they sell national and international clothing brands.
Return to top of shops in Mumbai
---
Other pages you'll enjoy:

---
---
Do you need help with your itinerary for India?
Don't want to miss out on the must-see's in the country?
Don't know how to travel around in India?
Map Your Adventure India is a step-by-step guide on how to create itineraries.
I will help you create a good itinerary - one you'll never forget.