---
Food in India
Mumbai
---
"Personal reviews of where to
eat delicious food in Mumbai"
"Food in India Mumbai" was last updated on April 2012
All information below is subject to change
Photo Courtesy of MyCameraSpeaks
Hungry? -- Try the Mumbai food!
Your cheapest option is to eat at local restaurants. And there are loads of options around Mumbai, whether it's vegetarian or chicken kebabs.
Mumbai is located in the province of Maharashtra. So the Mumbai food belongs to the Western Indian cusine.
The staple food of the people of Maharashtra is rice, while a huge variety of vegetables, sea food and coconut is a part of their diet.
The local restaurants serve mouth running authentic Indian food, and it's very cheap. I got a plate with Indian Thali and some hot Chapatti (bread) for under a dollar. And you should also try the masala dosas and the chana! Or the samosa! There are so much to try!
What is Thali?
Thali is a vegetarian dish. On a large metal plate, there are small metal bowls called Katoris. The bowls are filled with vegetable curry dishes, rice, pappadams, puris and so much more. There's enough food for two persons!
And we don't stop there...
Try dried Bombay ducks at the markets which is popular in Mumbai. It doesn't live up to its name - it's actually a fish dish and it's not only found in Mumbai. But along the coastline of India.
The Bombay "ducks" don't look appealing at all when they're fresh.
But once it's fried -- all you can think of is EAT! This lovely dish has the strong taste of chilli and onion, and some chefs like to throw in a little lemon juice as well. YUM!
Food in India - Fried Bombay Duck
- Image credit: purplefoodie.com
Image credit: purplefoodie.com
A typical fruit and vegetable market in Mumbai
If you want fresh cheap fruits, that's not a problem!
They have this at several markets around town.
Here you'll find watermelons, bananas, tangerines, mangoes and so much more. It's hard to know where to start when you have a vast selection of delicious fruits in front of you!
Leopold Café
Leopold is a popular café and restaurant among tourists and some backpackers. They serve Western food, like pastas, pizzas and chicken/fish dishes.
I tried the pasta and it was alright, while my friends ate pizza. I also remember that we left hungry - the portions were small! Before we tried the food at Colaba, we had seen bigger portions at more reasonable prices in Mumbai. So we felt that we didn't get what we paid for.
If I recommend this place? -- No. There are better cafes serving Western food just around the block.
Where: Colaba area
Kamat Restaurant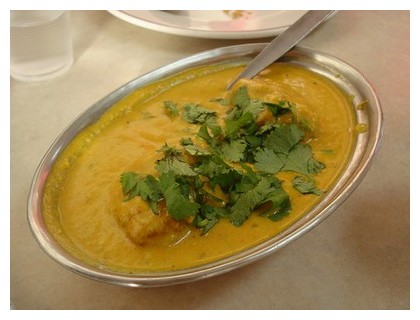 Food in India - Malai Koftha -
Image credit: flickr.com




Want vegetarian food? Or just a quick lunch?

Here you'll get anything from pastas to Dim Sum to Malai Koftha. It's known for its North-and South Indian food. And.. at reasonable prices!

If you just want to relax, go upstairs where they have a air-con lounge and try their tasty juice drink!

After we went sightseeing in Mumbai, we needed to get away from the sun... All I can say is that this place was our savior!

Where: Colaba area

Return to top of Food in India Mumbai
Have A Great Tip on Where to Eat?
Got any recommendations for where to eat in Mumbai? Or maybe you own a restaurant and want to promote it? Share your story, tip or review of the restaurant or food stall you like!

PS: I reserve the right to delete a submission if it's not original, duplicate content, or if it's too short.

By original I mean the content is NOT copied from another website. That also means your own website. I will check if the content you provide is duplicate or not. Sorry for sounding strict, but I aim to deliver excellent and original content to my readers - that's my priority no. 1.

Any submission below 300 words will be deleted.
---
---