---
Where to Find
a Jaipur Restaurant
---
"About Rajasthani food & where to find
delicious and traditional Indian food in Jaipur"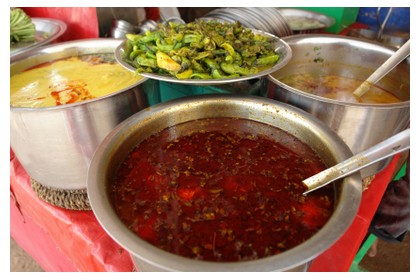 Where do you find a good Jaipur Restaurant?
If you're looking for restaurants that serve great India food, then that's not a problem in Jaipur! Most restaurants and pubs are scattered along MI Road (Mirza Ismail).
Most meals cost between Rs 10-90 - it all depends on where you're sitting! Drinks and coffees start from Rs 5.
Here are some examples:
Thali: From Rs 40

Soups: From Rs 10-15

Chow mein: Rs 20
Your best choice is to eat at restaurants where locals are. The food is likely cheaper here compared to the ordinary restaurants filled with tourists!
What so special about Indian food?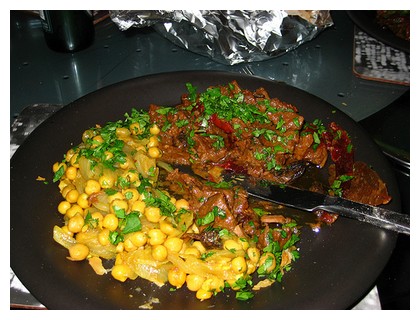 Jaipur Restaurant: Lal Maas
- image credit: flickr.com

Like elsewhere in the planet, the cuisine in Rajasthan (where Jaipur lies) is unique with its own traditional dishes and own specialties.

The Rajasthani food has been influenced by rich people food and war people food, as they call it.

While the warriors ate meat dishes called Mutton, the upper class ate vegetarian food.

The cooking included minimal use of water because that's how it was done during the wars in Rajasthan - they had to survive on the ingredients found in the desert!

Dried lentils and beans of sangria (the pods of khejri tree), ker (fruit) and gram flour are the usual ingredients in Rajasthani cooking.

When it comes to the daily food in Jaipur, bread made of barley, millet, maize or wheat is the common supplement.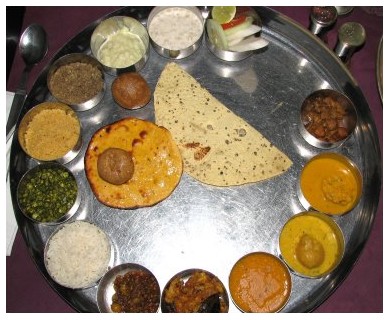 Jaipur Restaurant: Dhali Bati Churma served with curries
- image credit: eats-shoots-n-leaves.blogspot.com

Meat dishes like Lal Maas, is a great lamb dish floating around in red chili! If you want an authentic food experience, try the Dhal Bati Churma which is the most popular of all Rajasthani dishes.

Dhal is like a lentil soup, bati is bread and churma is a sweet made of ground wheat flour cooked with sugar and ghee.

For dessert , try the Kalakand (or Mishri Mawa) which is one of the popular traditional sweet from Rajasthan. It's made of milk and crystallized sugar lumps!
Where are the cheapest restaurants in Jaipur?
Jaipur Restaurant: Dosas

The basic food stalls in India are usually called Dhaba, or low-cost Bhojanalayas. Here you can grab some curries with dhal, bread or rice.

Most meals cost between Rs 5-15, like curries with fish/meat and chapati cost only Rs 10, and it tastes do damn delicious!

Other mouthrunning food to try:
Masala Dosas: From Rs 10

Plain chapatis: From Rs 2
You'll find the food stalls within the markets and on street corners all around Jaipur.
Standard restaurants vary in price and quality, non-vegetarian and vegetarian. I don't have many specific restaurants to recommend, because most of the time we ate at Hotel Pearl Palace and Dhabas.
But here's one restaurant we loved!
Four Seasons
Probably one of the best restaurants in Jaipur! Packed with locals and the food is just light and delicious. And their selection of meals is outstanding!
They serve some of the best North and South Indian food (like Rawa Masala Dosas -- Rs 55) and Chinese food (loved their Mushroom Chopsuey!)
I had a sore throat while I was in Jaipur, and tried their Tomato Soup. It was refreshing and had this thick sauce (which good soups should have) … I miss their food!
Return to top of Jaipur Restaurant
Have A Great Tip on Where to Eat?
Got any recommendations for where to eat in Jaipur? Or maybe you own a restaurant and want to promote it? Share your story, tip or review of the restaurant or food stall you like!

PS: I reserve the right to delete a submission if it's not original, duplicate content, or if it's too short.

By original I mean the content is NOT copied from another website. That also means your own website. I will check if the content you provide is duplicate or not. Sorry for sounding strict, but I aim to deliver excellent and original content to my readers - that's my priority no. 1.

Any submission below 300 words will be deleted.
---
---
Do you need help with your itinerary for India?
Don't want to miss out on the must-see's in the country?
Don't know how to travel around in India?
Map Your Adventure India is a step-by-step guide on how to create itineraries.
I will help you create a good itinerary - one you'll never forget.